Missouri native George Phillips joined the US Marine Corps in April 1944, at the age of 17. As part of the 5th Marine Division, Phillips joined the fight on Iwo Jima in March 1945. On March 14, Admiral Chester Nimitz declared Iwo Jima United States' territory. That day, young Phillips, after just two days in the fighting on Iwo Jima, was in a cave with three other Marines when a Japanese soldier threw a hand grenade inside. As many young men had done before him, Phillips threw himself on the grenade, absorbing the blast and saving his comrades. Private George Phillips was 18 years old.
---
Medal of Honor Citation 
"For conspicuous gallantry and intrepidity at the risk of his life above and beyond the call of duty while serving with the 2d Battalion, 28th Marines, 5th Marine Division, in action against enemy Japanese forces during the seizure of Iwo Jima in the Volcano Islands, on 14 March 1945. Standing the foxhole watch while other members of his squad rested after a night of bitter handgrenade fighting against infiltrating Japanese troops, Pvt. Phillips was the only member of his unit alerted when an enemy handgrenade was tossed into their midst. Instantly shouting a warning, he unhesitatingly threw himself on the deadly missile, absorbing the shattering violence of the exploding charge in his own body and protecting his comrades from serious injury. Stouthearted and indomitable, Pvt. Phillips willingly yielded his own life that his fellow marines might carry on the relentless battle against a fanatic enemy. His superb valor and unfaltering spirit of self-sacrifice in the face of certain death reflect the highest credit upon himself and upon the U.S. Naval Service. He gallantly gave his life for his country."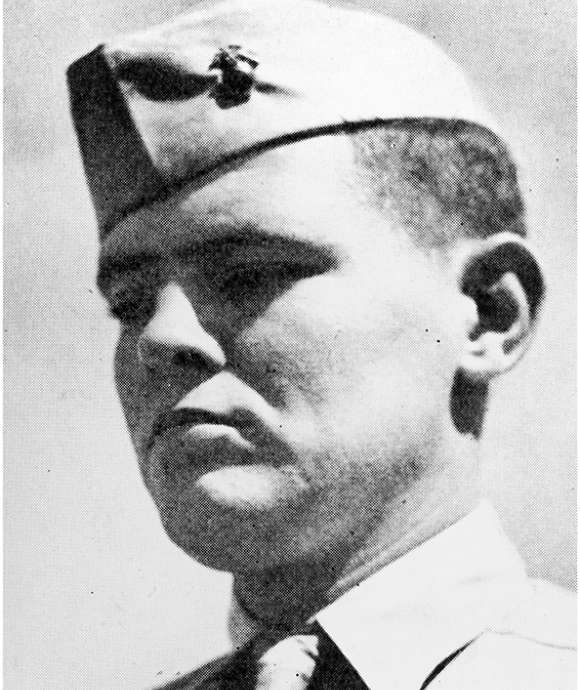 Medal of Honor Series
Read Pharmacist's Mate First Class Francis J. Pierce's story next. He received the Medal of Honor for actions on March 15, 1945.
Explore
More on Medals of Honor

Contributor
Kali Martin earned a bachelor's degree in International Studies and German at the University of Miami and a master's degree in Mili...
Learn More