Learn More about the History of the Stage Door Canteen
Bette Davis served the desserts. Marlene Dietrich and Lauren Bacall danced the night away. Red Skelton told the jokes and Bing Crosby crooned. The place was the Stage Door Canteen and the guests were the steady stream of GIs headed off to war. Many were leaving home for the first time and the Canteen offered a welcome opportunity to forget their anxieties—if only for a time—with entertainment, fellowship, and a little American spirit.
The National WWII Museum in New Orleans honors this memorable wartime tradition in our very own BB's Stage Door Canteen, an exciting entertainment destination.
BB's Stage Door Canteen presents a wonderful series of unique entertainment, showcasing the songs, style, stars, and spirit of this incomparable era. Enjoy evening and matinee performances by headliner acts, signature musical productions, big bands, dancing, the Victory Belles vocal trio, and more! It's all at BB's Stage Door Canteen!
Per current City of New Orleans guidelines, Museum visitors are not required to wear masks or provide proof of vaccination. However, the CDC strongly encourages unvaccinated individuals to continue wearing a mask when indoors.
BB's Stage Door Canteen
The Victory Belles
Matinee Luncheons: August 31 | September 14 & 28 | October 12, 19 & 26 | November 2, 16, 23 & 28
Vignette: August 20 & 27 | September 10 | October 8 & 29 | November 5 & 26
The Victory Belles are a delightful vocal trio performing the music of the 1940s, serenading audiences at The National WWII Museum and across the globe.
Learn More
BB's Stage Door Canteen
Wartime Piano Happy Hour
August 19 | September *16 & 30 | October *7 & 28 | November 4 & *18
After your Museum visit, join us in BB's Stage Door Canteen for a casual instrumental performance of wartime piano music! Tap along to favorites like "Sentimental Journey" and "I'll Be Seeing You" and learn how these tunes coincided with significant events of the war. Beverages can be purchased at the bar in the American Sector Restaurant.
*The following dates will be held in the Patriots Circle Lounge at the Higgins Hotel:
September 16 | October 7 | November 18
Learn More
BB's Stage Door Canteen
Latin Music Dine & Dance with Muevelo
Saturday, September 17
Back by popular demand!
Muevelo means "move it" in Spanish, and that's just what you'll do during this special 1940s Latin-themed Dine & Dance featuring New Orleans band Muevelo. Lead singer Margie Perez and saxophonist Brent Rose have put together a talented ensemble that will take you on a musical journey to the Caribbean. Book your musical passage to an evening of Muevelo magic today!
Learn More
BB'S STAGE DOOR CANTEEN
Dinner with a Curator: Wine & Warfare
Tuesday, September 20
Join Intellectual Property Manager Walter Wolf as he presents a talk on the German occupation of France's major wine regions during World War II. The Third Reich appointed men—whom the French dubbed sarcastically "wine Fuhrers"—to buy, commandeer, and otherwise bully high-quality wine from French wine growers. 
Learn More
BB's Stage Door Canteen
Dine & Dance with the Victory Swing Orchestra
The National WWII Museum's own Victory Swing Orchestra celebrates the great big bands of the WWII era. This amazing ensemble of talented New Orleans musicians will have you In the Mood to dance the night away!
2022: October 8
2023: January 21, April 15, May 13, June 10
Learn More
BB's Stage Door Canteen
Bette Davis: Larger Than Life
October 21, 22, & 23
Actress and playwright, Jessica Sherr, powerfully channels Bette Davis' fight against the male-dominated studio system.
Learn More
BB'S STAGE DOOR CANTEEN
Teddy Bear Tea
December 3, 10, and 17
Teddy Bear Tea is the perfect holiday experience to share with children and grandchildren—delicious food and sweet treats, lively music from the Victory Belles, and a special visit with Santa!
Learn More
KNOW BEFORE THE SHOW:
SOME PERFORMANCES CARRY INCREASED RISK
Please note that singing and instrumental music produced by wind instruments are still thought to be higher risk activities for COVID-19 spread. Older adults and people with certain medical conditions are at increased risk to become severely ill from COVID-19, and it is especially important for people at increased risk of severe illness from COVID-19—as well as those who live with them—to protect themselves from getting COVID-19.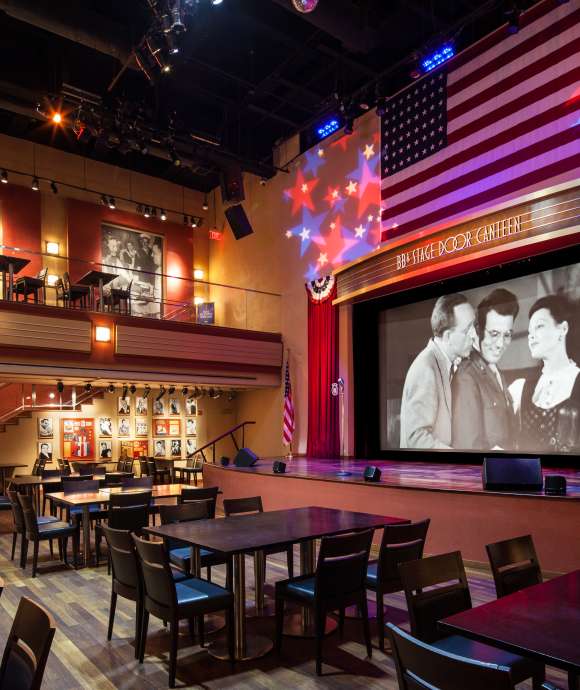 Auditions & Employment Opportunities
Find out about audition information for future productions or learn more about employment opportunities at BB's Stage Door Canteen.
Learn More
The story of how Bob Hope gave levity and laughter to troops during one of the most brutal conflicts in human history is a crucial component of the history of the war—and a demonstration of how humanity can shine through in the darkest of times. The National WWII Museum is proud to have BB's Stage Door Canteen performances supported by the Bob & Dolores Hope Foundation. If you are a veteran of any war, you may be eligible for free show only tickets to BB's Stage Door Canteen performances through our Tickets for Troops program. Please call our box office at 504-528-1943 for more information.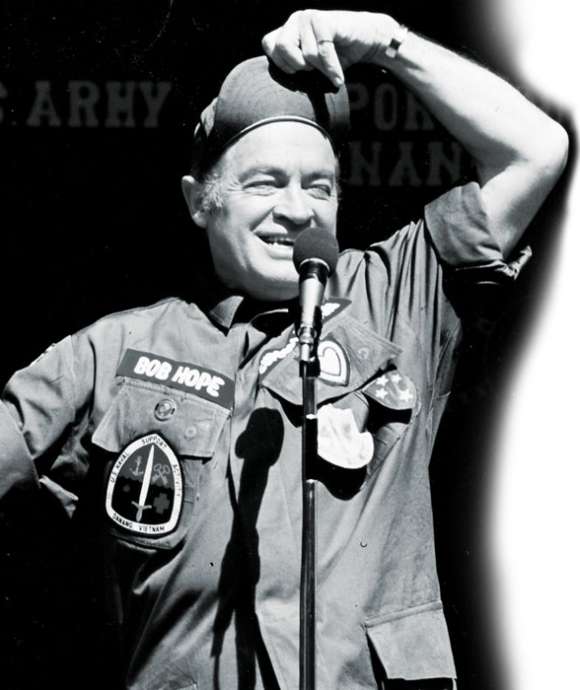 Now Playing: So Ready for Laughter
An 11-minute documentary, featured in the recent special exhibit dedicated to Bob Hope's tireless efforts to entertain servicemembers during World War II, now plays continuously in BB's Stage Door Canteen. Look for it on your next visit.
Supported by the Bob & Dolores Hope Foundation.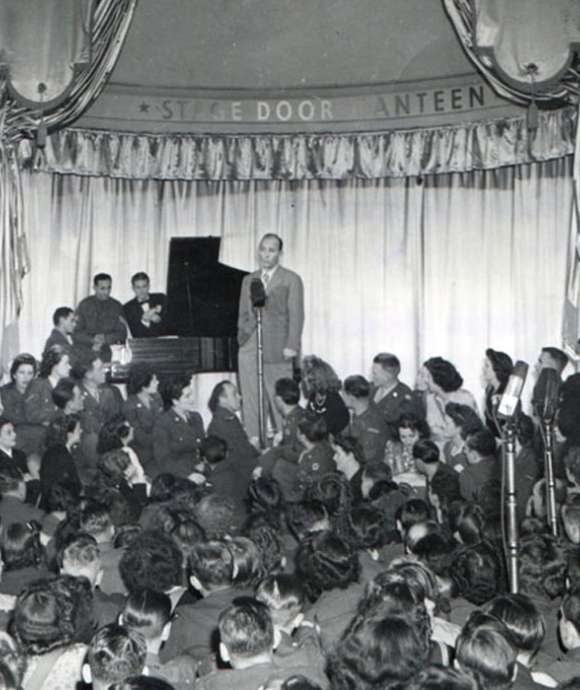 The Original Stage Door Canteen
Where could a GI enjoy the best big bands, dance with the ladies, and rub elbows with the likes of Marlene Dietrich? Only at the Stage Door Canteen.
Read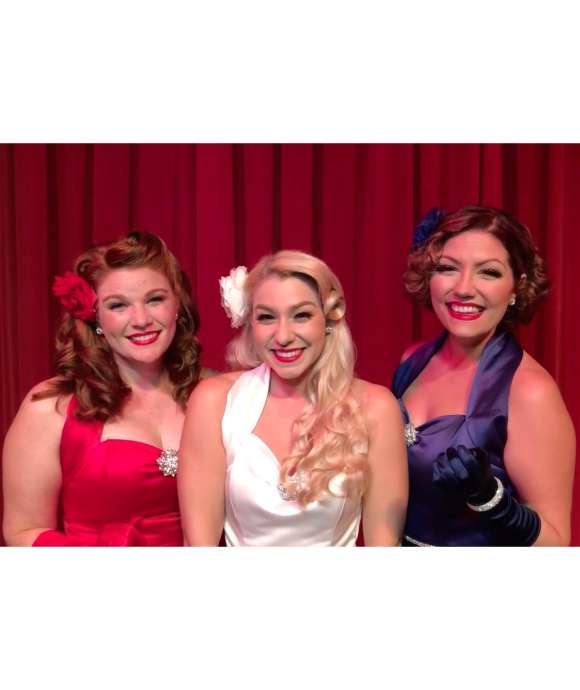 Victory Belles Birthday Serenade
Do you know a WWII veteran or Home Front worker who's about to celebrate a birthday? Invite The National WWII Museum's 1940s songbirds to the party!
Learn More
The National WWII Museum
Museum Campus
Location
Solomon Victory Theater