Image: Inclusive Productions LLC, photographer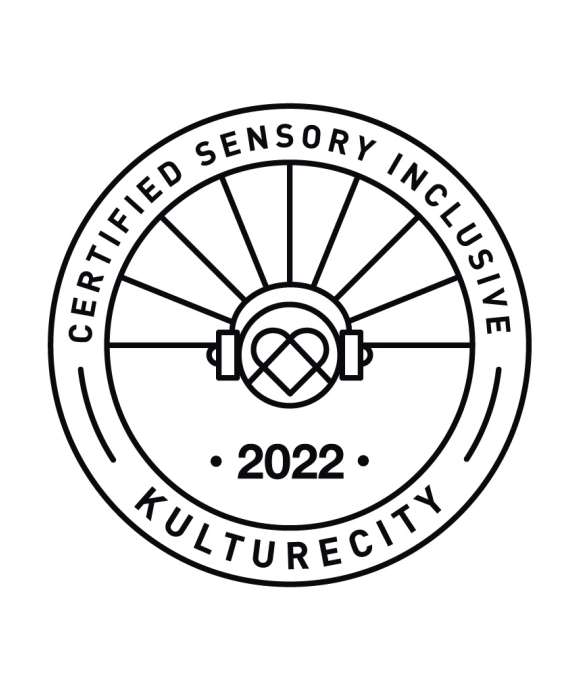 Certified Sensory Inclusive with KultureCity
The National WWII Museum is proud to announce that it has renewed its Sensory Inclusive certification with KultureCity for another year! We look forward to welcoming all of our visitors safely and comfortably. For more information about KultureCity and the resources we can provide those with sensory challenges, please read below.
Featured Dates:
9/30/23 - Sensory Friendly Mornings partnering with Autism Society of New Orleans - Interactive Educational stations along with a special appearance by the Victory Belles
10/21/23 - National WWII Museum hosting a table at ASGNO's Inclusive Halloween Party
Visitors with Limited Mobility
Complimentary manual wheelchairs are available on a first-come, first-served basis. Motorized wheelchair or scooter rentals are not available, but they are allowed on campus. They can be rented through third-party companies in the Greater New Orleans area.

Museum staff and volunteers are not able to push guests in wheelchairs around the Museum. An aid assisting a guest in a wheelchair will receive complimentary admission into the Museum.

Handicapped parking spots are available in the Museum garage.
The main entrance (located on Higgins Boulevard) includes an accessible ramp.
All public restrooms have wheelchair-accessible stalls.
Elevators are offered throughout the Museum wherever stairs are available.
Limited bench seating is available throughout the galleries. The Museum's campus is spread throughout multiple buildings over two city blocks. Please plan accordingly. Complimentary wheelchairs are available if this will benefit your comfort during your visit.
Visitors Who are Blind or Low Vision
Tours for Blind/Low Vision guests are available upon request with the cost of admission, and subject to docent availability. A minimum of two-weeks notice is required. The tour is 1-hour and includes a tactile component as well as a guided tour of a gallery of your choice. Please contact accessibility@nationalww2museum.org for more information on accommodation.
Large-print visitor guides are now available on campus for those who need them.
Visitors Who are Deaf or Hard of Hearing
Staff members with American Sign Language (ASL) training are indicated by wearing ribbons saying "I'm learning ASL."
Exhibit videos have open captioning in English.
The main feature for Final Mission: USS Tang Submarine Experience does not have captioning.
Beyond All Boundaries is captioned via monitors in front of the main screen. Please alert your theatre technician to your captioning needs so they can indicate the best seats for your viewing of the film and captions.
Sound amplifying devices for Beyond All Boundaries are available by request in the Solomon Victory Theater.
Visitors on the Autism Spectrum/Visitors with Dementia/Visitors with Post-traumatic Stress Disorder (PTSD)
Partnership with KultureCity®

Our accessibility partners at Kulture City have offered the following social stories to help you stay safe during your visit.
Social Story & Location Information
Sensory Bags and Weighted Lap Pads available through KultureCity® are subject to availability.

Due to the nature of the content, we advise discretion in Museum exhibits and especially for Beyond All Boundaries and Final Mission: USS Tang Submarine Experience.
Families and Breastfeeding/Pumping Mothers
Changing stations are available in most family restrooms.
Mothers can breastfeed anywhere on campus.
A private space is available in the Kushner Restoration Pavilion via employee escort.
Foreign Language Visitors
Campus Guides in French, Spanish, Chinese, and Japanese are available.
Staff members fluent in other languages are indicated by a nametag ribbon.
General Information for Accessibility
We offer visitors with disability and accessibility needs a discounted admission rate of $20 plus tax. We also offer a free Museum Campus Pass for one professional aide assisting a visitor with accessibility needs.
Only service animals are allowed around the Museum's campus and exhibits.
Small bags and backpacks are allowed into the Museum as well as Beyond All Boundaries and Final Mission: USS Tang Submarine Experience. All bags are subject to random search at the discretion of security. Coat and bag check are not available at this time. Small lockers (purse and backpack size) are available.
For further assistance on-site, please visit the Guest Services Desk.
For more information email: accessibility@nationalww2museum.org
All guests who enter the Museum are required to go through a metal detector and are subject to bag search. For more information or if you have further questions, please email accessibility@nationalww2museum.org.
Sensory Friendly Mornings at The National WWII Museum
The National WWII Museum is committed to making its galleries, exhibits, pavilions, and programs accessible to all visitors. For more information about Museum access for visitors with disability or accessibility needs, please review the following options. If you have any further questions, please contact accessibility@nationalww2museum.org.