In order to create lasting memories, you must first pave the way.

With a brick or paver at The National WWII Museum, you have a unique opportunity to create a lasting tribute to the WWII generation and to heroes who served our country during the war, US veterans, veteran organizations, and individuals who exemplify the American spirit.

Since the campaign's launch, over nine million Museum visitors have seen the more than 55,000 classic red Victory bricks that line our campus sidewalks. As we complete our physical campus, we also offer Victory pavers in four different size options that will be installed in the heart of our campus on the Col. Battle Barksdale Parade Ground and Founders Plaza.
Your commemorative brick or paver will honor grandparents, parents, children, friends, and other inspirational leaders and organizations for generations to come.
8" X 4" CLASSIC VICTORY BRICK
Price: $250
You can honor your personal hero with a classic red brick to be installed on the perimeter of our New Orleans campus. Three lines of personalized text allow you to list your name, the name of a WWII veteran or civilian, a military unit, squadron, ship, or branch of the armed forces active during the war. These grandparents, parents, children, friends, and other inspirational leaders and organizations overcame a once-in-a-generation challenge, and they deserve a memorial that will last for generations to come.
Purchase Today
Victory Pavers
These new pavers will be located at the heart of the Museum's campus, guaranteeing that your hero's commemorative Victory paver will be appreciated by hundreds of thousands of Museum guests every year. The pavers are available in four different sizes, including larger format 12″ x 12″ and 18″ x 12″ options. There are only a limited amount in reserve, so take this special opportunity to honor the WWII generation with a Victory paver.
Purchase Today
Replica Brick, Paver, or Tile
Already purchased a brick? Take advantage of our exclusive opportunity to bring your personal tribute into your home or office to share with family and friends.
Learn More
Commemorative Books
This elegant, 44-page hardcover book immortalizes the story of America's role in World War II through powerful and awe-inspiring images from the Museum's archive. The cover can be personalized with an image of your commemorative brick or paver, or choose from two new images—Iwo Jima or the American flag—and customize with up to three lines of text.
Learn More
Commemorative Flags
Fly a flag at The National WWII Museum in honor of your loved one, a meaningful way to pay tribute to them or recognize their service and sacrifice.
COMING SOON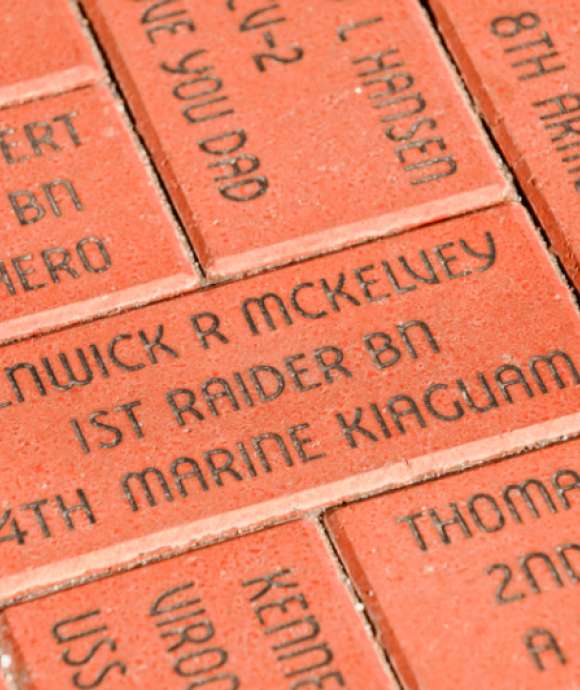 Brick Locator
Trying to find where your commemorative brick is located? Just enter your honoree's name into this form for exact coordinates.
Find Your Brick