Image: Inclusive Productions LLC, photographer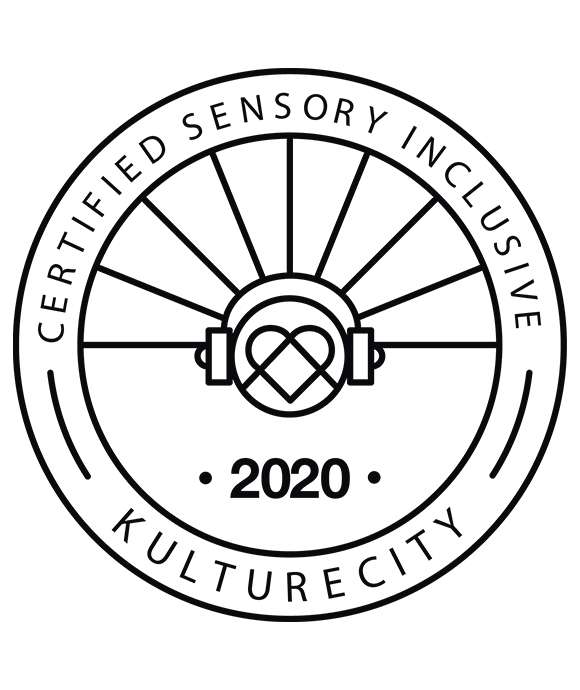 Certified Sensory Inclusive with KultureCity
The National WWII Museum is proud to announce that it has renewed its Sensory Inclusive certification with KultureCity for another year! We look forward to welcoming all of our visitors safely and comfortably. For more information about KultureCity and the resources we can provide those with sensory challenges, please read below.
General Information for Accessibility
We offer visitors with disability and accessibility needs a discounted admission rate of $18 plus tax. We also offer a free Museum Campus Pass for one professional aide assisting a visitor with disability needs. To purchase timed admission tickets for visitors with disability needs, please call 504-528-1944 x 402 prior to the visit.
Only service animals are allowed around the Museum's campus and exhibits.
Small bags and backpacks are allowed into the Museum as well as Beyond All Boundaries and Final Mission: USS Tang Submarine Experience. All bags are subject to random search at the discretion of security. Coat and bag check are not available at this time. Small lockers (purse and backpack size) are available.
For further assistance on-site, please visit the Guest Services Desk.
For more information email: accessibility@nationalww2museum.org
Sensory Friendly Mornings at The National WWII Museum
This program is for individuals of all ages with special needs and their families to enjoy early access to the Museum with modifications to make the experience more sensory friendly.
Sensory Friendly Mornings are available on the last Saturday of each month. The Museum will modify exhibits by lowering sound volume in louder areas. A limited number of sensory bags from KultureCity will be available for guests on-site. These bags include noise-cancelling headphones, sunglasses, fidgets, Feeling Zone thermometer non-verbal cards, and a KultureCity lanyard. One weighted lap pad will also be available for use. 
Campus signage and the KultureCity App will alert visitors to areas where headphones are recommended, as well as designated Quiet Areas. A private Quiet Room is available by request. Guests will also receive a Social Story ahead of time to help plan their visit based on the content and advisories of each building. 
Pre-registered guests will start their visit by checking into the Louisiana Memorial Pavilion at 8:00 a.m., where they will begin their self-guided experience before the Museum opens to the public. At 9:00 a.m. Sensory Friendly Morning visitors will have access to the entire campus, including early admission to the remaining pavilions.  
Please note that the Campaigns of Courage: European and Pacific Theaters pavilion is not recommended for those with sensory needs. Exhibitions in this building incorporate abrupt noises including frequent gunfire, airplane noises, lighting effects, varying floor and wall textures, unexpected environment changes, graphic imagery, and overlapping sounds. Campaigns of Courage: European and Pacific Theaters opens at 9:00 a.m. Noise-cancelling headphones are recommended for those Sensory Friendly Morning visitors who wish to enter these exhibits.   
DETAILS AND RESERVATIONS 
We offer visitors with accessibility needs a discounted admission rate of $18 plus tax and one free Museum Campus Pass for an aide assisting a visitor with accessibility needs.
To purchase Sensory Friendly Morning admission tickets or for more information, please call our sales number 504-528-1944 x 402 prior to your visit. Guests with questions may also email accessibility@nationalww2museum.org 
Advanced reservations are required. 
Exhibits will be modified to be sensory friendly for individuals with sensory needs. 
Sensory Friendly Mornings are offered on the last Saturday of each month.
Visitors with Limited Mobility
Manual wheelchair rentals are available on a first-come, first-served basis. Motorized wheelchair or scooter rentals are not available, but they are allowed on campus. They can be rented through third-party companies in the Greater New Orleans area.
Handicapped parking spots are available in the Museum garage.
The main entrance (located on Higgins Boulevard) includes an accessible ramp.
All public restrooms have wheelchair-accessible stalls.
Elevators are offered throughout the Museum wherever stairs are available.
Limited bench seating is available throughout the galleries. The Museum's campus is spread throughout multiple buildings over two city blocks. Please plan accordingly. Complimentary wheelchairs are available if this will benefit your comfort during your visit.
Visitors Who are Blind or Partially Sighted
Complimentary guided tours of the Road to Tokyo exhibit for visually impaired or blind visitors are available by request with a two-week advance notice. Tours are based on docent availability.
Tactile tours, however, are suspended due to safety concerns surrounding COVID. Please contact accessibility@nationalww2museum.org for more information on accommodation.
Large-print visitor guides are now available on campus for those who need them.
Visitors Who are Deaf or Hard of Hearing
Staff members with American Sign Language (ASL) training are indicated by wearing ribbons saying "I'm learning ASL."
Exhibit videos have open captioning in English.
The main feature for Final Mission: USS Tang Submarine Experience does not have captioning.
Beyond All Boundaries is captioned via monitors in front of the main screen. Please alert your theatre technician to your captioning needs so they can indicate the best seats for your viewing of the film and captions.
Sound amplifying devices for Beyond All Boundaries are available by request in the Solomon Victory Theater.
Visitors on the Autism Spectrum/Visitors with Dementia/Visitors with Post-traumatic Stress Disorder (PTSD)
Partnership with KultureCity®

Our accessibility partners at Kulture City have offered the following social stories to help you stay safe during your visit.
Social Story & Location Information: https://venue.kulturecity.org/venues/the-national-wwii-museum
Sensory Bags and Weighted Lap Pads available through KultureCity® are subject to availability.

Due to the nature of the content, we advise discretion in Museum exhibits and especially for Beyond All Boundaries and Final Mission: USS Tang Submarine Experience.
Families and Breastfeeding/Pumping Mothers
Changing stations are available in most family restrooms.
Mothers can breastfeed anywhere on campus.
A private space is available in the Kushner Restoration Pavilion via employee escort.
Foreign Language Visitors
Campus Guides in French, Spanish, Chinese, and Japanese are available.
Staff members fluent in other languages are indicated by a nametag ribbon.
The National WWII Museum is committed to making its galleries, exhibits, pavilions, and programs accessible to all visitors. For more information about Museum access for visitors with disability or accessibility needs, please review the following options. If you have any further questions, please contact accessibility@nationalww2museum.org.