The transformation of The National D-Day Museum into The National WWII Museum has been driven by a $400 million capital expansion campaign that has funded new pavilions, new infrastructure, and groundbreaking new exhibits while multiplying the size, scope, and visitation numbers of this world-class institution. 
To beautify and unify the shared exterior spaces between all of these new elements, Founders Plaza creates an impressive entryway to the Museum campus, safe passage for Museum guests, and a pleasant setting for rest and reflection as part of the visitor experience. 
Large Nuttall oak trees line Andrew Higgins Drive, providing color in the fall and shade in the summer, while paving stones, scattered throughout Founders Plaza, recognize treasured Museum donors and honorees and create an elegant visual space for outdoor events. 
The Plaza, together with the existing Col. Battle Barksdale Parade Ground, also honors the WWII legacy of notable figures with one-of-a-kind tribute benches, each composed of a cut-stone slab and a life-size bronze statue. The tribute bench in honor of President Franklin Delano Roosevelt serves as reminder of his visionary leadership against fascist aggression in Europe—leading to ultimate victory. Future honorees will include a Red Ball Express soldier, Rosie the Riveter, and a war dog with his handler. 
Another notable tribute is the Founders Recognition panel, honoring the story of the Museum's establishment by founder Stephen E. Ambrose, PhD, and founding president and CEO Gordon H. "Nick" Mueller, PhD. Opposite the plaza from the Founders Recognition panel is the Honoring Service and Sacrifice Major Donor Wall, an elegant marble display that recognizes the most generous Museum supporters.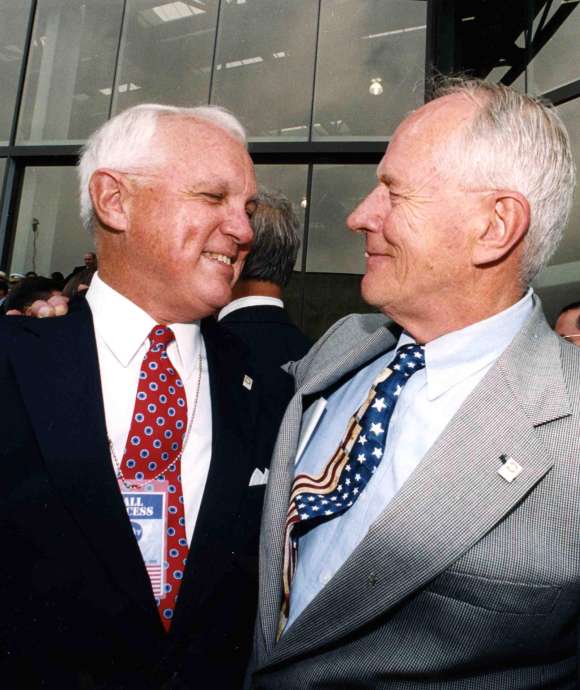 Museum Founders
Stephen Ambrose and Nick Mueller brought The National D-Day Museum to life on June 6, 2000, an institution ultimately designated "America's National World War II Museum" by a 2004 act of Congress.
Explore
Founders Plaza
Governor Pete Wilson Liberty Flagstaff
Rising 80 feet, the Governor Pete Wilson Liberty Flagstaff lifts a large, illuminated US flag to a position of prominence above Founders Plaza. A US Marine and lifelong public servant, Pete Wilson served in the California State Assembly, as mayor of San Diego, as a US Senator, and as governor of California. He was elected to the Museum's Board of Trustees in 2002, and served as the Board's Chairman from 2006 to 2009. Wilson spoke at the Liberty Flagstaff's dedication ceremony in June 2017. The spire that bears his name serves as an enduring symbol of the unique American spirit—unity, resolve, and devotion to the principles of freedom.
Explore
Founders Plaza
Horatio Alger Association American Spirit Bridge
A key architectural feature that unites the Louisiana Memorial Pavilion with the Solomon Victory Theater complex, the Horatio Alger Association American Spirit Bridge, dedicated in January 2017, symbolizes US troops' journey across the Atlantic and Pacific oceans to battle and staging zones.
Explore
The National WWII Museum
Museum Campus