After graduating from high school in Southbridge, Massachusetts, Joseph Julian joined the US Marine Corps in January 1942. After some time as a drill instructor, Julian was assigned to the 5th Marine Division, and was bound for the invasion of Iwo Jima in 1945. After 18 days of fighting, Julian had distinguished himself by going on several "rampages" against dug-in Japanese forces. On March 9, Julian's platoon was again pinned down by enemy machine gun fire coming from caves. He once again went on a rampage against the  heavily fortified Japanese strongpoints. This time, however, would be the last. Just as he thought his platoon was clear to move forward, Julian was hit with a burst from a machine gun. Platoon Sergeant Joseph Julian was 26 years old.
---
Medal of Honor Citation
"For conspicuous gallantry and intrepidity at the risk of his life above and beyond the call of duty as a P/Sgt. serving with the 1st Battalion, 27th Marines, 5th Marine Division, in action against enemy Japanese forces during the seizure of Iwo Jima in the Volcano Islands, 9 March 1945. Determined to force a breakthrough when Japanese troops occupying trenches and fortified positions on the left front laid down a terrific machinegun and mortar barrage in a desperate effort to halt his company's advance, P/Sgt. Julian quickly established his platoon's guns in strategic supporting positions, and then, acting on his own initiative, fearlessly moved forward to execute a 1-man assault on the nearest pillbox. Advancing alone, he hurled deadly demolition and white phosphorus grenades into the emplacement, killing 2 of the enemy and driving the remaining 5 out into the adjoining trench system. Seizing a discarded rifle, he jumped into the trench and dispatched the 5 before they could make an escape. Intent on wiping out all resistance, he obtained more explosives and, accompanied by another marine, again charged the hostile fortifications and knocked out 2 more cave positions. Immediately thereafter, he launched a bazooka attack unassisted, firing 4 rounds into the 1 remaining pillbox and completely destroying it before he fell, mortally wounded by a vicious burst of enemy fire. Stouthearted and indomitable, P/Sgt. Julian consistently disregarded all personal danger and, by his bold decision, daring tactics, and relentless fighting spirit during a critical phase of the battle, contributed materially to the continued advance of his company and to the success of his division's operations in the sustained drive toward the conquest of this fiercely defended outpost of the Japanese Empire. His outstanding valor and unfaltering spirit of self-sacrifice throughout the bitter conflict sustained and enhanced the highest traditions of the U.S. Naval Service. He gallantly gave his life for his country."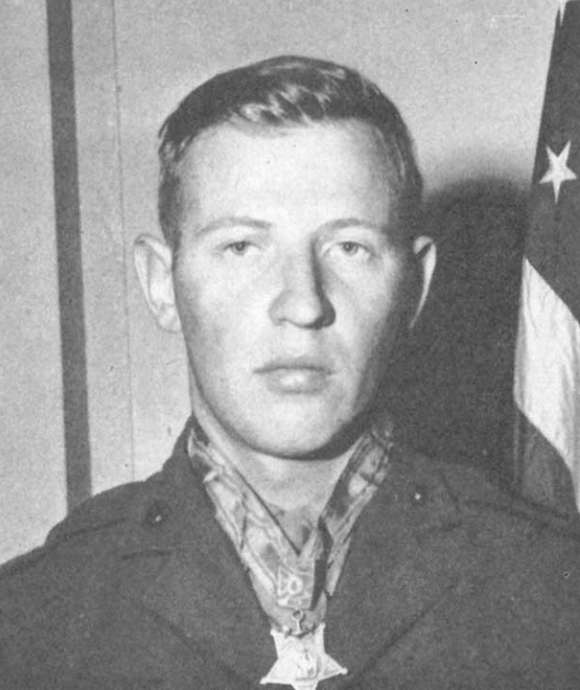 Medal of Honor Series
Read Private Franklin E. Sigler's story next. He received the Medal of Honor for actions on March 14, 1945.
Explore
More on Medals of Honor

Contributor
Kali Martin earned a bachelor's degree in International Studies and German at the University of Miami and a master's degree in Mili...
Learn More