In 1943, 17 year old George Wahlen was working as an aircraft mechanic in his home state of Utah when he enlisted in the US Navy in June. With his past experience, he hoped to work on aircraft. But the Navy and Marine Corps needed corpsmen, so Wahlen was sent to the Naval Hospital Training School in San Diego. After spending some time working in a naval hospital, Wahlen went through field training and was assigned to the newly formed 5th Marine Division.
Wahlen landed on Iwo Jima on February 19, 1945, with Fox Company, 2nd Battalion, 26th Marines. As a corpsman, he had to take extra precautions. The Japanese knew the importance of medical personnel and were known to make them priority targets. Seven days into the campaign, Wahlen was wounded by an enemy grenade. Wounded seriously enough to be evacuated, Wahlen refused and rejoined his company. On March 2, Wahlen was wounded again, and again refused to be evacuated. The next day, Wahlen was wounded a third time—multiple shots from small arms fire at close range. This time, Wahlen was seriously wounded and unable to walk. He collapsed and was presumed dead until someone checked on him a half hour later. Corpsman Wahlen was, inexplicably, still alive. This time he had no say in the matter. He was evacuated, and his war was over.
Medal of Honor Citation 
"For conspicuous gallantry and intrepidity at the risk of his life above and beyond the call of duty while serving with the 2d Battalion, 26th Marines, 5th Marine Division, during action against enemy Japanese forces on Iwo Jima in the Volcano group on 3 March 1945. Painfully wounded in the bitter action on 26 February, Wahlen remained on the battlefield, advancing well forward of the frontlines to aid a wounded marine and carrying him back to safety despite a terrific concentration of fire. Tireless in his ministrations, he consistently disregarded all danger to attend his fighting comrades as they fell under the devastating rain of shrapnel and bullets, and rendered prompt assistance to various elements of his combat group as required. When an adjacent platoon suffered heavy casualties, he defied the continuous pounding of heavy mortars and deadly fire of enemy rifles to care for the wounded, working rapidly in an area swept by constant fire and treating 14 casualties before returning to his own platoon. Wounded again on 2 March, he gallantly refused evacuation, moving out with his company the following day in a furious assault across 600 yards of open terrain and repeatedly rendering medical aid while exposed to the blasting fury of powerful Japanese guns. Stouthearted and indomitable, he persevered in his determined efforts as his unit waged fierce battle and, unable to walk after sustaining a third agonizing wound, resolutely crawled 50 yards to administer first aid to still another fallen fighter. By his dauntless fortitude and valor, Wahlen served as a constant inspiration and contributed vitally to the high morale of his company during critical phases of this strategically important engagement. His heroic spirit of self-sacrifice in the face of overwhelming enemy fire upheld the highest traditions of the US Naval Service."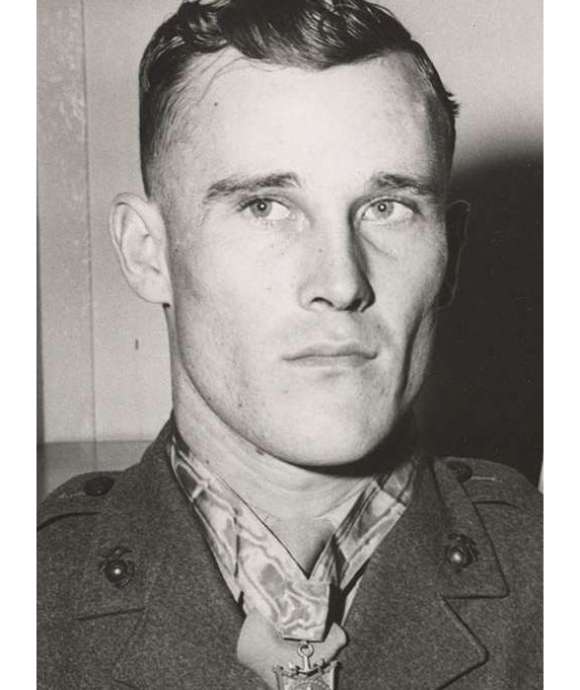 Medal of Honor Series
Read Private Wilson D. Watson's story next. He received a Medal of Honor for his actions on February 26, 1945. 
Learn More

Contributor
Kali Martin earned a bachelor's degree in International Studies and German at the University of Miami and a master's degree in Mili...
Learn More