Franklin Sigler enlisted in the US Marine Corps in his home state of New Jersey in March 1943. Assigned to F Company, 2nd Battalion, 26th Marine Regiment, 5th Marine Division, Iwo Jima was Sigler's first campaign. Green troops on Iwo Jima learned quickly, and after weeks of fighting on Iwo, Sigler demonstrated the tenacity of the Marine Corps. On March 14, Sigler's squad leaders were wounded, leaving the squad without command. Twenty-year-old Sigler took over, leading his squad in a charge and then boldly scaling rocks to reach an enemy position, taking out all the Japanese within  it. Severely wounded in the attack, Sigler was still able to rescue three wounded Marines in his squad. Sigler did not stop fighting until he was ordered to fall back and have his wounds treated.
---
Medal of Honor Citation 
"For conspicuous gallantry and intrepidity at the risk of his life above and beyond the call of duty while serving with the 2d Battalion, 26th Marines, 5th Marine Division, in action against enemy Japanese forces during the seizure of Iwo Jima in the Volcano Islands on 14 March 1945. Voluntarily taking command of his rifle squad when the leader became a casualty, Pvt. Sigler fearlessly led a bold charge against an enemy gun installation which had held up the advance of his company for several days and, reaching the position in advance of the others, assailed the emplacement with handgrenades and personally annihilated the entire crew. As additional Japanese troops opened fire from concealed tunnels and caves above, he quickly scaled the rocks leading to the attacking guns, surprised the enemy with a furious l-man assault and, although severely wounded in the encounter, deliberately crawled back to his squad position where he steadfastly refused evacuation, persistently directing heavy machinegun and rocket barrages on the Japanese cave entrances. Undaunted by the merciless rain of hostile fire during the intensified action, he gallantly disregarded his own painful wounds to aid casualties, carrying 3 wounded squad members to safety behind the lines and returning to continue the battle with renewed determination until ordered to retire for medical treatment. Stouthearted and indomitable in the face of extreme peril, Pvt. Sigler, by his alert initiative, unfaltering leadership, and daring tactics in a critical situation, effected the release of his besieged company from enemy fire and contributed essentially to its further advance against a savagely fighting enemy. His superb valor, resolute fortitude, and heroic spirit of self-sacrifice throughout reflect the highest credit upon Pvt. Sigler and the U.S. Naval Service."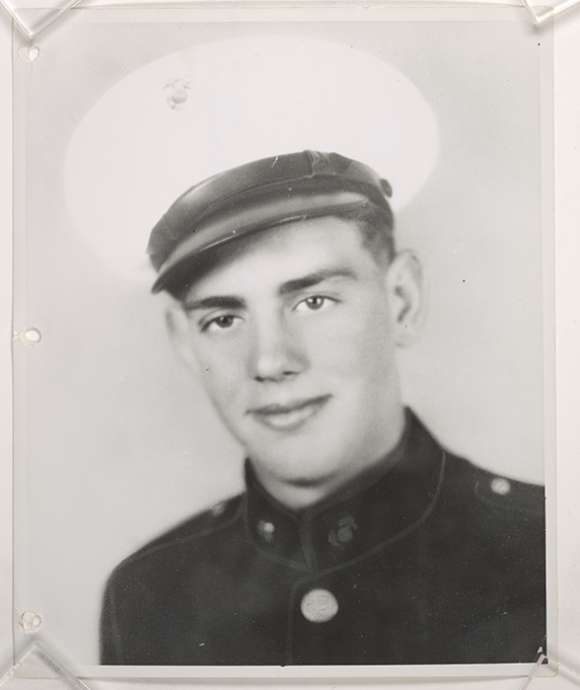 Medal of Honor Series
Read Private George Phillips' story next. He also received a Medal of Honor for his actions on the March 14, 1945.
Explore
More on Medals of Honor

Contributor
Kali Martin earned a bachelor's degree in International Studies and German at the University of Miami and a master's degree in Mili...
Learn More