Top image: A typewritten copy of Bo Perabo's letter made after his family's receipt of it on September 6, 1945. From the Collection of The National WWII Museum, 2014.245.008_3:
The end of the war spurred a flood of mail from newly liberated prisoners of war. During the war, Japan held more than 27,000 Americans captive. Roughly 60 percent of them would survive their ordeal to become former prisoners of war. Many of those held in Japanese prisoner of war camps had been unable to communicate with their families for years. Some families were not even sure if their loved ones had survived the war. Prisoners of war found themselves removed from mission-driven combat experiences, removed from the fight. New enemies emerged for prisoners of war: loneliness, uncertainty, starvation, fear, and time. The passing of the hours spent in isolation with one's thoughts, hopes, and memories was more than many could bear.
In reading letters from those who served overseas in general, but particularly from prisoners of war, one is struck by the focus on concern for the welfare of the family. While held captive, thousands of Americans longed for their families and worried about those back home—in addition to trying to find a way to survive captivity. For many, these sentiments were released and put to paper only after liberation. One such letter in our collection is from a young fighter pilot, Phil "Bo" Perabo, who flew missions in both the Battle of the Atlantic and in the Pacific before his capture by the Japanese on May 13, 1945.
Bo Perabo grew up in Tupelo, Mississippi. He joined Delta Kappa Epsilon fraternity at Ole Miss, where he graduated in 1942. After graduation, Bo and a group of fraternity brothers and friends decided to join the Navy. Bo and his good friend Dave "Son" Puckett would continue their lifelong friendship as naval aviators. Bo and Son had been born on the same street and attended every school together through Ole Miss. They both trained as fighter pilots and would remain together for much of the war with only a few periods of separation. 
Bo flew off of the USS Bogue, the USS Card, and the USS Bennington. On May 13, 1945, during a raid on Kyushu (Bo's 52nd combat mission), his plane was hit and caught fire. Perabo bailed out over the East China Sea with badly burned face and hands, a broken ankle, and shrapnel in his leg. After swimming eight hours to reach the shore, he was captured and taken to Ofuna POW camp. There he was reunited with his childhood friend Son, who had been captured months earlier. (Back home, Son's parents had received word that he was missing in action.) At first, Bo didn't recognize Son because he had lost so much weight, had a shaved head, a beard, and his front teeth had been knocked out. But later they were able to briefly communicate secretly, in the latrine at night, before Son was transferred to another camp.  
On August 31, 1945, as soon he was able, only an hour after the Army arrived at the Ofuna camp, Phil wrote his family the first letter he'd been able to send for months. He packs into his letter everything he had been unable to communicate during his captivity—all of the longing and prayers with a very scant mention of his laundry list of wounds. These injuries he describes as "a few small ailments."  
Bo and Son were reunited again after liberation at the Naval Hospital in Oakland and then Millington Hospital in Tennessee where they would both recuperate. Perabo stayed in the Navy after the war and after retirement in 1968 opened a real estate agency. He later wrote, "Operating in the civilian jungle has provided a challenge now and then but lacked the adventure and excitement of the military." He remained incredibly optimistic. In a statement resembling his liberation letter to his parents, he wrote, "It's all been a great life with good fortune far outweighing (a) few troubles."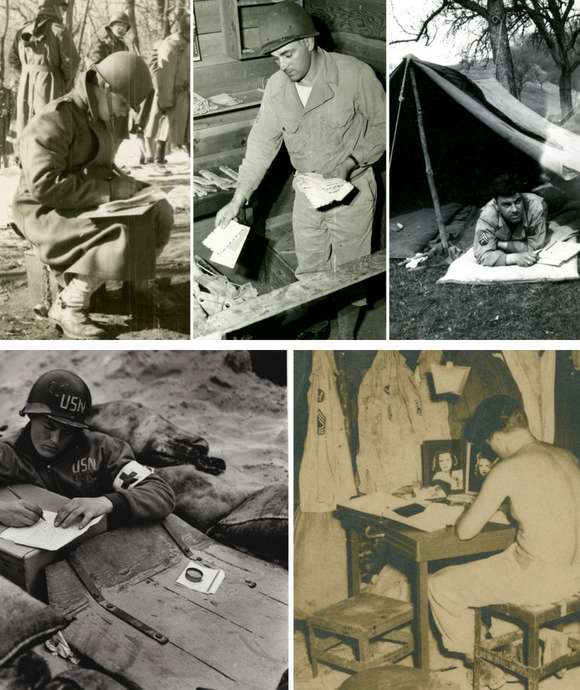 Mail Call
These valuable resources tell the story of the American experience in World War II in a deeply personal way. The letters home to mothers, girlfriends, newlywed wives, and children; the diaries of servicemen and servicewomen; and personal photographs from travels around the world are all examples of the way the Museum's archives directly describe the experiences of each man, woman, or child at that time.
read more

Contributor
Kimberly Guise holds a BA in German and Judaic Studies from the University of Massachusetts Amherst. She also studied at the Universität Freiburg in Germany and holds a masters in Library and Information Science (MLIS) from Louisiana State University. Kim is fluent in German, reads Yiddish, and specializes in the American prisoner-of-war experience in World War II.
Learn More