"The answer is you can't keep control. What you have to do is to train, practice, and train again, until your men automatically do the right thing."
Clarence Van Schaick Mitchell 
It isn't uncommon to process a donation that consists of letters between a parent and their child. Within the Museum's archives, there are a multitude of collections that consist of letters from a father to his children or a serviceman or woman to their parents.
Each one of these collections is unique, but the Clarence Peabody Mitchell Collection is exceptional due to the collection's subjects and the messages within the letters. The bulk of the collection consists of letters from Clarence Van Schaick Mitchell (1890-1966) to his son Clarence Peabody Mitchell (1921-1998), both members of the US Army during World War II.
Clarence Van Schaick Mitchell was born in New York and was attending Princeton University when he decided to volunteer to serve the French Army in 1914 to fight in a war "that was a crusade against a nation gone mad" (Mitchell 1920, 7). After one year of service, he returned to the United States and received his law degree from Harvard Law School in 1917. Once the United States entered World War I, C.V.S. Mitchell enlisted in the Army and went through officer training at Officers Training Camp in Plattsburgh, New York. In 1918, he returned to France and was a liaison officer for the French General Noel Edouard de Castelnau. He chronicled this experience in his letters home, which were published as a book titled Letters from a Liaison Officer by Princeton University Press in 1920. C.V.S Mitchell returned to the United States and was a lawyer at his father's law firm until he reenlisted in 1943.
This time, C.V.S. Mitchell was sent to the Mediterranean theater of operations and spent the majority of the war in Casablanca, Oran, and Corsica. In his letters to his son, C.V.S. Mitchell writes about his daily routine and often comments on how disorganized the Army is in this war compared to his previous service. Another major topic of his letters was his desire to be stationed in France, where he felt he would be of better service.
As much as the collection focuses on C.V.S. Mitchell, it also gives an insight on C.P. Mitchell's service. Like his father, C.P. Mitchell went through officer training after he graduated from Princeton. He was then assigned a platoon at Camp Gordon, Georgia, where he remained for the rest of the war. In his letters to his son, C.V.S. Mitchell applauds his son's military success and often gives him advice on how an officer should lead his men. He also assures his son that there is no shame in not being deployed overseas. The tone of these letters typically was that of a military mentor rather than a father to a son.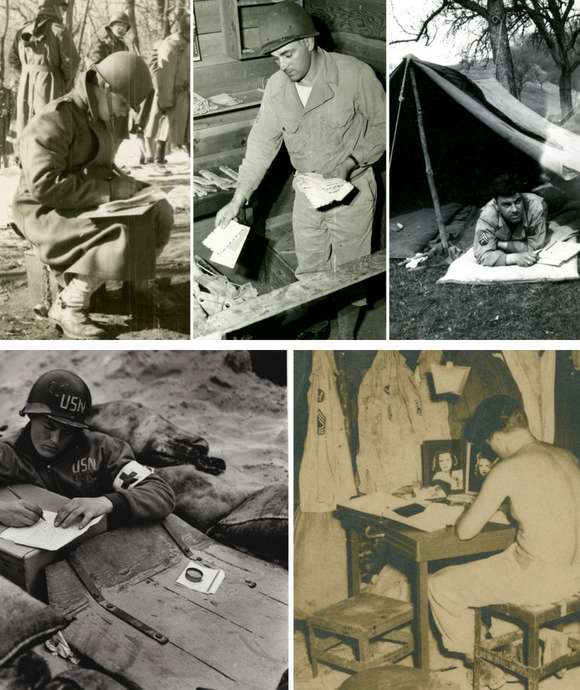 Mail Call!
These valuable resources tell the story of the American experience in World War II in a deeply personal way. The letters home to mothers, girlfriends, newlywed wives, and children; the diaries of servicemen and servicewomen; and personal photographs from travels around the world are all examples of the way the Museum's archives directly describe the experiences of each man, woman, or child at that time.
Read more

Contributor
Kylie Hewitt is a Digital Archives Technician at The National WWII Museum.  She received her BA in Anthropology from Kansas State U...
Learn More