. . . I can never thank you enough for having brought him those two hours of fun.
Almost no other figure embodies the importance of a message from home like the entertainer Bob Hope. His performances were letters from home come to life.
He was often recognized as the Home Front ambassador to troops fighting overseas during World War II. He led the way in the effort to entertain troops during World War II, dedicating himself to live performances that brought his show to troops in the field. There, he saw how comedy could lift the human spirit even in the most desperate of times.
Hope's dedication to troops lasted for the many decades of his long life after World War II. He toured extensively during both the Korean and Vietnam conflicts. Hope's last performance overseas for troops was during Operation Desert Storm, when he was in his 80s. In total, it is estimated that he entertained over 11 million troops.
Hope's connections to his fans did not end when he left the stage. "Dear Bob Hope" was the opening line of millions of letters sent to Hope by fans during his career. In 1944, he received an estimated 38,000 letters a week.  With the help of assistants, he aimed to give each a personal response. He felt a duty to reply, often several months later, maintaining the bonds with his audience through the mail.
The many thousands of letters Hope received put names to the faces of his audience. They felt compelled to write him to thank him for being there, for recognizing them, for not forgetting them.
One letter, by Mrs. A.A. Stumpf, dated November 27, 1944, began: "Dear Bob Hope: I know you get plenty of fan mail, but this may be a little different." Mrs. Stumpf's letter (read it in the above photo gallery) is a letter within a letter. She excerpts her son Andy's review of Hope's show, which he saw on the island of Pavuvu in August 1944. It was one of the last letters her son wrote. Andy, who served with the First Marine Division, was killed in action on Peleliu soon after seeing Hope's troupe perform.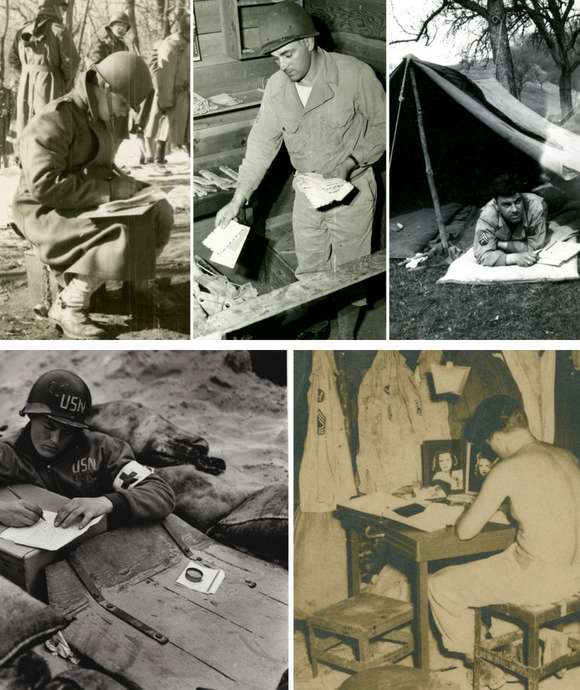 Mail Call!
These valuable resources tell the story of the American experience in World War II in a deeply personal way. The letters home to mothers, girlfriends, newlywed wives, and children; the diaries of servicemen and servicewomen; and personal photographs from travels around the world are all examples of the way the Museum's archives directly describe the experiences of each man, woman, or child at that time.
Read more

Contributor
Kimberly Guise holds a BA in German and Judaic Studies from the University of Massachusetts Amherst. She also studied at the Universität Freiburg in Germany and holds a masters in Library and Information Science (MLIS) from Louisiana State University. Kim is fluent in German, reads Yiddish, and specializes in the American prisoner-of-war experience in World War II.
Learn More