About the Tour
Journey to the end of the Pacific war and examine how World War II has been documented across Japan. Start in Tokyo and investigate the Japanese perspective at the Yushukan War Memorial Museum and National Showa Memorial Museum. Next, board a bullet train south to Hiroshima, the site of the first atomic bombing in 1945. After more touring along the way, end in Okinawa, the scene of the largest land battle the Americans experienced in the Pacific theater.
Dates
Only One Departure Available!
Program Pricing
Price per person based on Double Occupancy
$8,995 $8,495*
---
Price per person based on Single Occupancy
$11,495 $10,995*
---
*$239 per person taxes and fees are additional.
Full Tour Itinerary
Day 1
Arrive Tokyo
Transfer from Tokyo Narita Airport (NRT) to the Westin Tokyo / Welcome Reception and Dinner
Accommodations: Westin Tokyo (R, D)
---
Day 2
Yushukan Memorial
Yushukan War Memorial Museum / Yasakuni Shrine / Evening at leisure
Accommodations: Westin Tokyo (B, L)
---
Day 3
The Japanese Civilian Experience
Gardens of the Imperial Palace / National Showa Museum / Memorial Museum for Soldiers, Detainees in Siberia, and Postwar Repatriates
Accommodations: Westin Tokyo (B, D)
---
Day 4
Journey to Hiroshima / Kure
Bullet Train to Hiroshima / Yamato Museum / Japanese Maritime Self Defense Force Museum
Accommodations: Sheraton Hiroshima (B)
---
Day 5
Ground Zero
Miyajima Island / Atomic Bomb Dome / Hiroshima PeaceMemorial Park
Accommodations: Sheraton Hiroshima (B, D)
---
Day 6
Kagoshima
Transfer to Kagoshima / Sengan-en Gardens
Accommodations: Shiroyama Hotel Kagoshima (B, D)
---
Day 7
Chiran
Chiran Peace Museum / Kyushu Defensive areas July 1945
Accommodations: Shiroyama Hotel Kagoshima (B, L, D)
---
Day 8
Journey to Okinawa
Flight to Okinawa / Shuri Castle
Accommodations: Hyatt Regency Naha (B, L, R)
---
Day 9
Battle of Okinawa
Landing beaches / Shimuku Gama Cave / Kakazu Ridge / Hacksaw Ridge
Accommodations: Hyatt Regency Naha (B, L)
---
Day 10
The Final Battles
Japanese Naval Underground HQ / General Buckner Memorial / Himeyuri Museum / Okinawa Peace Memorial
Accommodations: Hyatt Regency Naha (B, L, D)
---
Day 11
Flights to the US Transfer to the Naha International Airport (OKA) for N/A From Okinawa independently scheduled flights home (B)
(B)
Program Inclusions
Travel with Jonathan Parshall, one of the foremost experts on the War in the Pacific
Full-time logistical Tour Manager
Expert local battlefield guides
Roundtrip airport transfers (when arriving and departing on scheduled group tour dates)
3 nights in Tokyo at The Westin Tokyo
2 nights in Hiroshima at the Sheraton Grand Hiroshima Hotel
2 nights in Kagoshima at the Shiroyama Hotel Kagoshima
3 nights in Okinawa at the Hyatt Regency Naha
Transportation between Tokyo and Hiroshima on the high-speed "Bullet Train" (shinkansen)
Flight between Kagoshima and Okinawa
Private, first-class, air-conditioned motor coach transportation
VIP access to sites not offered on other tours
Video oral history presentations from the Museum collection
Gratuities to guides, drivers, porters, and servers
Personal listening devices on all included touring
9 breakfasts, 6 lunches, 5 dinners, and 2 Receptions
Beer, wine, and soft drinks with included lunches and dinner
Informative map book including useful battlefield maps and archival images to be used throughout your journey
Personalized luggage tags and customized name badge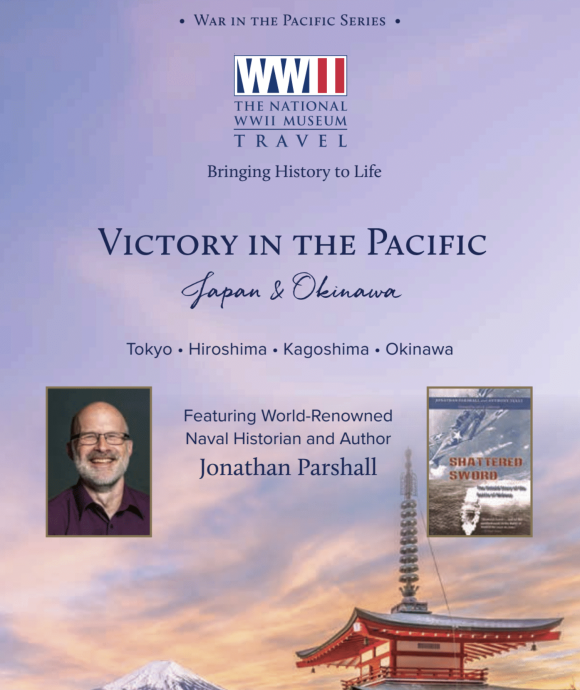 Download the Brochure
Download the official Victory in the Pacific: Japan & Okinawa brochure for a full listing of inclusions, accommodations, and other useful information.
Download Brochure