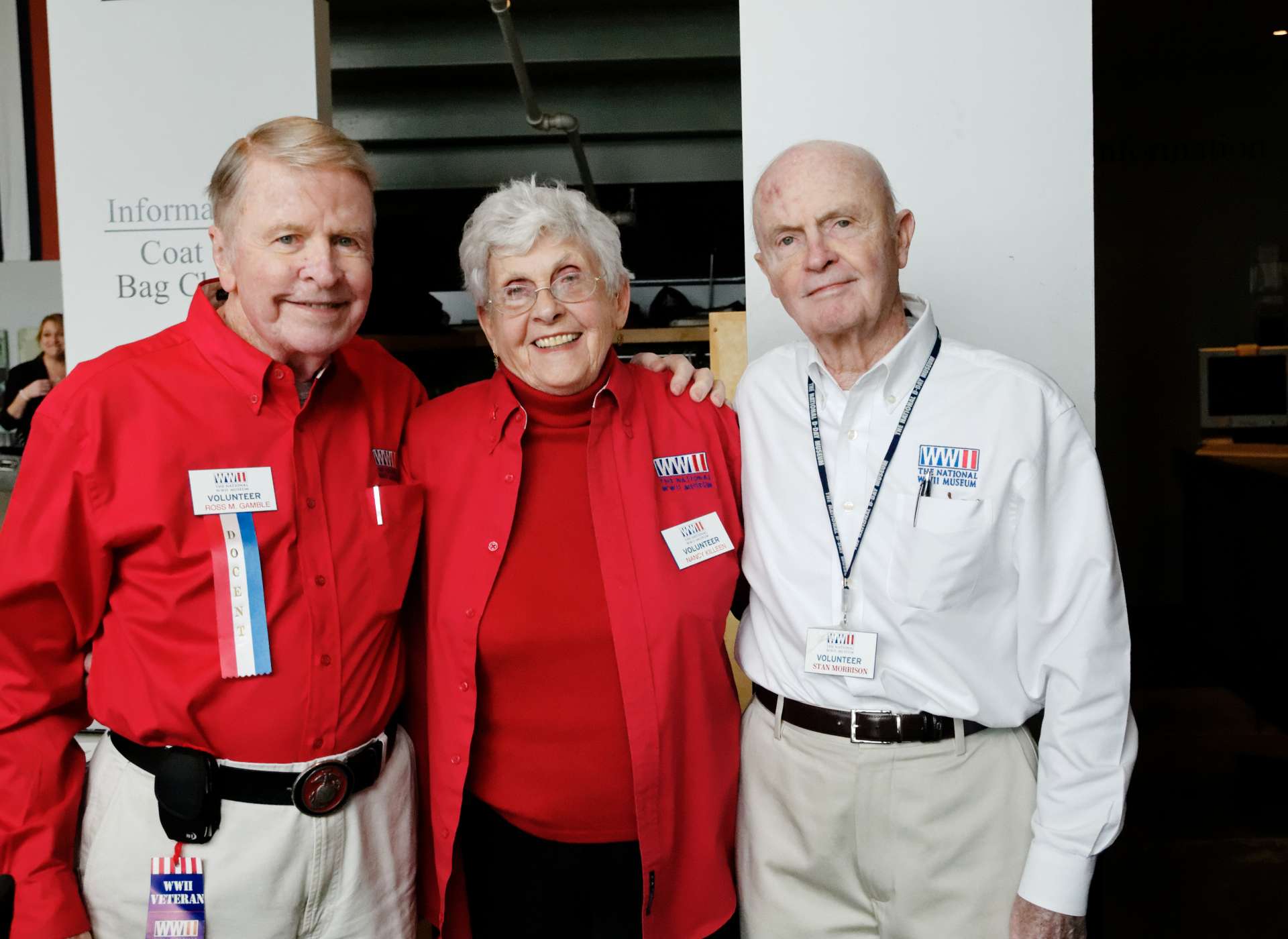 Volunteers Can Do It! Thank you for your interest in volunteering at The National WWII Museum. Our Volunteers are the Museum's ambassadors, representatives, and hosts to our many visitors from all over the country and around the world. They are greeters, aides, docents, office helpers, boat and vehicle restorers; students, workers, professionals, retirees; they are active in their communities, schools, cities, and families. Volunteers help keep the day-to-day operations of the Museum running smoothly.
The benefits of volunteering at the Museum are many: early and unlimited access to world-class exhibits and galleries; association with the top-ranked tourist destination in New Orleans; and opportunities to interact with remaining WWII veterans and Home Front workers, with Museum staff and executives, and with an international mix of guests of all ages and varied backgrounds. Continuing education opportunities abound. Basic Interpretive Training is provided for all, as is docent and specialty training for those who are qualified and seek it. There are monthly awards one can earn, including complimentary tickets and gift certificates to Museum stores. There is a generous retail discount, and parking in our adjacent parking garage is free. The Museum sponsors Volunteer appreciation parties and events and special WWII documentary and feature film showings, and within shifts, both planned and impromptu social outings are not unusual. Most importantly, lifelong relationships are often formed as you meet people with similar interests who have come together to serve this world-renowned educational institution.
Applicants must be at least 16 years of age to volunteer at the Museum. General responsibilities include the following:
A minimum commitment to nine months of service, one consistent day per week, Sunday through Saturday, to either a morning shift (8:30 a.m. – 1:00 p.m.) or afternoon shift (12:30 p.m. – 5:00 p.m.).
Staffing the Museum floor and galleries, answering questions and directing visitors.
Ability to maintain a working email address and to open attachments.
Commitment to providing exceptional customer service to our Museum guests.
We want our Volunteer Krewe to be representative of the city we live in, with our mission their common goal: to tell the story of the American experience in the war that changed the world—why it was fought, how it was won, and what it means today—so that all generations will understand the price of freedom and be inspired by what they learn.
If you believe you might be one of these valued individuals, please fill out the application below. We will contact you by email within one to two weeks to schedule a brief phone interview.
Fill out and submit our online application