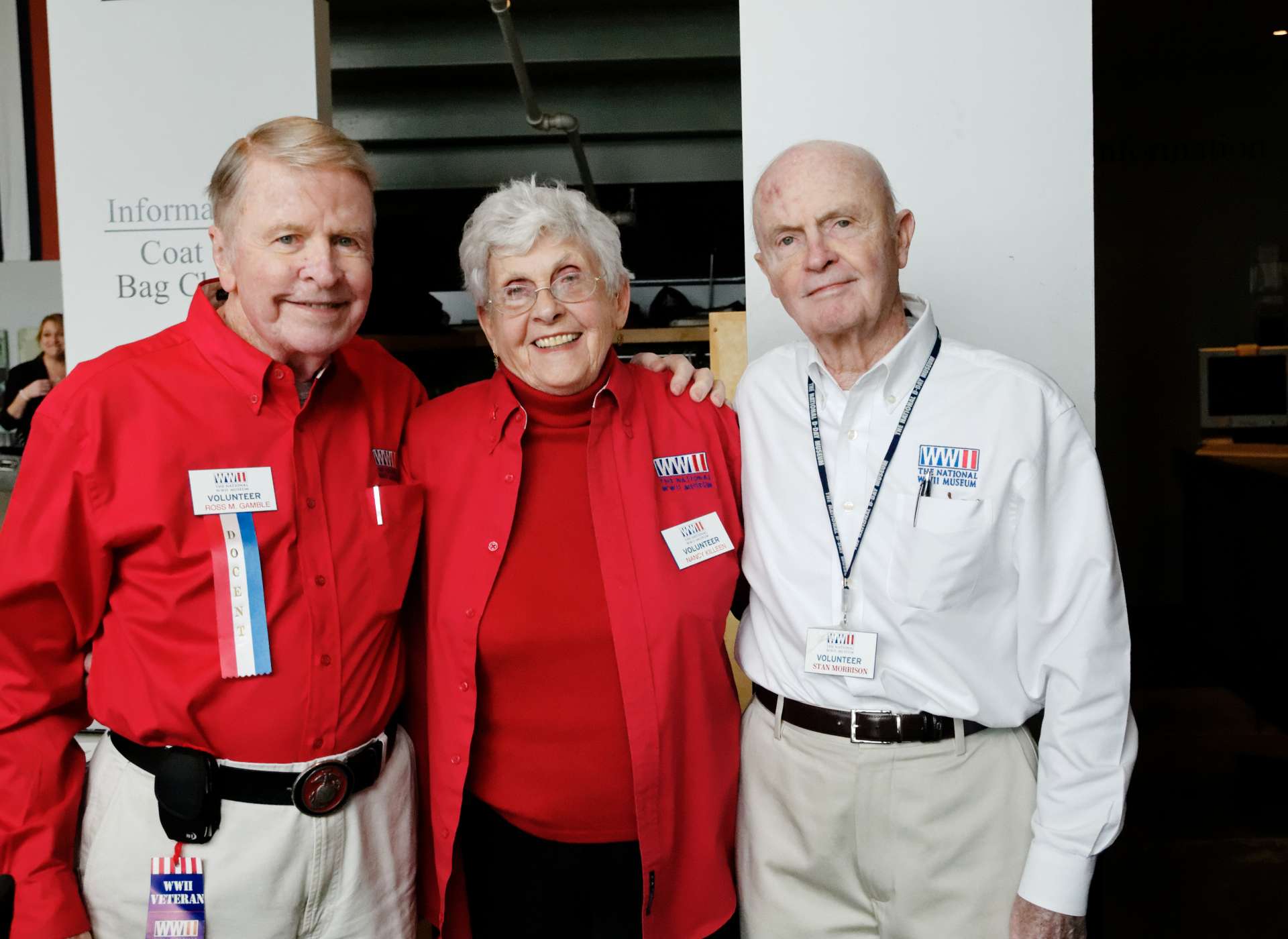 Volunteers Can Do It! Thank you for your interest in volunteering at The National WWII Museum. Volunteers are an essential part of our Museum. They represent the Museum to our visitors and keep things running smoothly. Volunteering at our Museum gives you the opportunity to learn more about WWII and D-Day history, to meet and befriend people with similar interests and to serve a premier educational institution. Below is a list of Volunteer opportunities. If you live within driving distance of the Museum and are interested, please fill out and submit our online application. Once you have successfully submitted your online application, your screen will state: "Your form was successfully submitted." Prospective volunteers will be notified of each upcoming New Volunteer Orientation. New Volunteer Orientations will be held Fall, Spring and Summer.
Volunteer Position Descriptions
General Volunteer duties include:
Staffing the Museum floor and galleries; answering questions and directing visitors.
Assist guests with entry into Beyond All Boundaries showings.
WWII Veteran Volunteers
Special opportunities are available for WWII veterans who wish to volunteer with the Museum; please contact us for more information.
Some volunteer positions require additional training and a proven commitment to the volunteer program. These include:
Ambassadors at the Guest Services Desk
Ambassadors provide a concierge-level of service to our guests.
Duties include selling memberships, administering the Road to Victory Memorial Brick program, answering phones, checking bags, and orienting guests to entertainment options within the Museum and in New Orleans.
This requires an additional training session and on-shift training.
Docents and Tour Guides
Docents and Tour Guides are Volunteers trained to give guided tours through the Museum to visiting school groups and daily public tours.
A total of 12 – 14 hours of training will be provided over several weeks, plus required continuing education sessions.
Departmental Volunteers
Occasionally other Museum departments also have opportunities for volunteers, including:
Living History Corps Reenactors
Vehicle Volunteers and Higgins Boat Builders
Administrative volunteers
For more information on these opportunities, please fill out an application and attend a volunteer information session.
PLEASE NOTE: Student applicants must be 16 years of age, and currently enrolled in 10th grade, due to the large number of applicants requesting the opportunity to fulfill community-service hour requirements.
---
Requirements and Benefits
Requirements
Membership: All Volunteers are encouraged, not required, to become annual Museum members at a special Volunteer discount rate ($35).
Dress: The National WWII Museum sells shirts with logos that all Volunteers wear. They may be purchased through the Museum Store. Volunteers are distinguished from visitors by their name badges and shirts.
Shifts: Volunteers must be available for at least one consistent weekly shift; the shifts are four hours long, in either the AM or PM.
Skills and Abilities:
Ability to stand and walk for the duration of a four hour shift
Basic computer skills and a working email address
Commitment to providing exceptional customer service to our Museum guests
Benefits
The Museum provides free parking for volunteers. Volunteers will be recognized based on their number of Volunteer hours. Special badges and gift certificates to the Museum shop are awarded for continued service. The Museum sponsors Volunteer appreciation parties and events, WWII documentary and feature film showings, and continuing education sessions. As members of the Museum, you are entitled to free entry to the Museum for one year, as well as a discount in the Museum shop.
---
For additional question or comments please call Director of Volunteer Services Shannon Murphy at 504-528-1944 x 243, or e-mail shannon.murphy@nationalww2museum.org.