Douglas Jacobson of Rochester, New York, enlisted in the Marine Corps in 1943 at the age of 17. Like many of his fellow Medal of Honor recipients from Iwo Jima, Jacobson was a combat veteran. As part of the 4th Marine Division, Jacobson had fought in the campaigns for Tinian, the Mariana Islands, and Marshall Islands before landing on Iwo Jima.
A week into the fighting on Iwo Jima on February 26, 1945 the 3rd Battalion, 23rd Marines, 4th Marine Division was held up by intense Japanese resistance at Hill 382. C Company suffered 17 killed in action and another 26 wounded in just 30 minutes. They needed help, and it came in the form of Private First Class Jacobson. Grabbing a bazooka and a satchel of explosives, Jacobson charged ahead to the first pillbox. Alone, he used a bazooka, usually a two-man weapon, and in just 30 minutes he took out 16 Japanese strongpoints and 75 Japanese defenders, only stopping when he ran out of ammunition.
---
Medal of Honor Citation for Private First Class Douglas T Jacobson
For conspicuous gallantry and intrepidity at the risk of his life above and beyond the call of duty while serving with the Third Battalion, Twenty-Third Marines, Fourth Marine Division, in combat against enemy Japanese forces during the seizure of Iwo Jima in the Volcano Islands, February 26, 1945. Promptly destroying a stubborn 20-mm. antiaircraft gun and its crew after assuming the duties of a bazooka man who had been killed, Private First Class Jacobson waged a relentless battle as his unit fought desperately toward the summit of Hill 382 in an effort to penetrate the heart of Japanese cross-island defenses. Employing his weapon with ready accuracy when his platoon was halted by overwhelming enemy fire on February 26, he first destroyed two hostile machine-gun positions, then attacked a large blockhouse, completely neutralizing the fortification before dispatching the five-man crew of a pillbox and exploding the installation with a terrific demolitions blast. Moving steadily forward, he wiped out an earth-covered rifle emplacement and, confronted by a cluster of similar emplacements which constituted the perimeter of enemy defenses in his assigned sector, fearlessly advanced, quickly reduced all six positions to a shambles, killed ten of the enemy and enabled our forces to occupy the strong point. Determined to widen the breach thus forced, he volunteered his services to an adjacent assault company, neutralized a pillbox holding up its advance, opened fire on a Japanese tank pouring a steady stream of bullets on one of our supporting tanks and smashed the enemy tank's gun turret in a brief but furious action culminating in a single-handed assault against still another blockhouse and the subsequent neutralization of its firepower. By his dauntless skill and valor, Private First Class Jacobson destroyed a total of sixteen enemy positions and annihilated approximately seventy-five Japanese, thereby contributing essentially to the success of his division's operations against the fanatically defended outpost of the Japanese Empire. His gallant conduct in the face of tremendous odds enhanced and sustained the highest traditions of the United States Naval Service.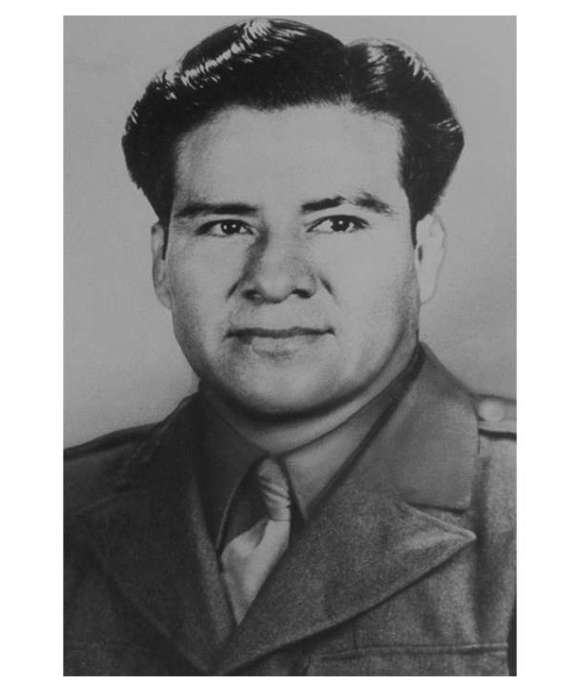 Sergeant Jose Mendoza Lopez, US Army: Medal of Honor Series
Mexican-born Jose Lopez earned America's highest military honor for his heroic one-man stand during the Battle of the Bulge.
LEARN MORE

Contributor
Kali Martin earned a bachelor's degree in International Studies and German at the University of Miami and a master's degree in Mili...
Learn More