For generations the symbol of loyalty and faithfulness has been a dog. They stand with us when no one else will, keep us safe, and most importantly keep us company. Here we will feature some loyal dogs who served officially as war dogs and unofficially as needed companions.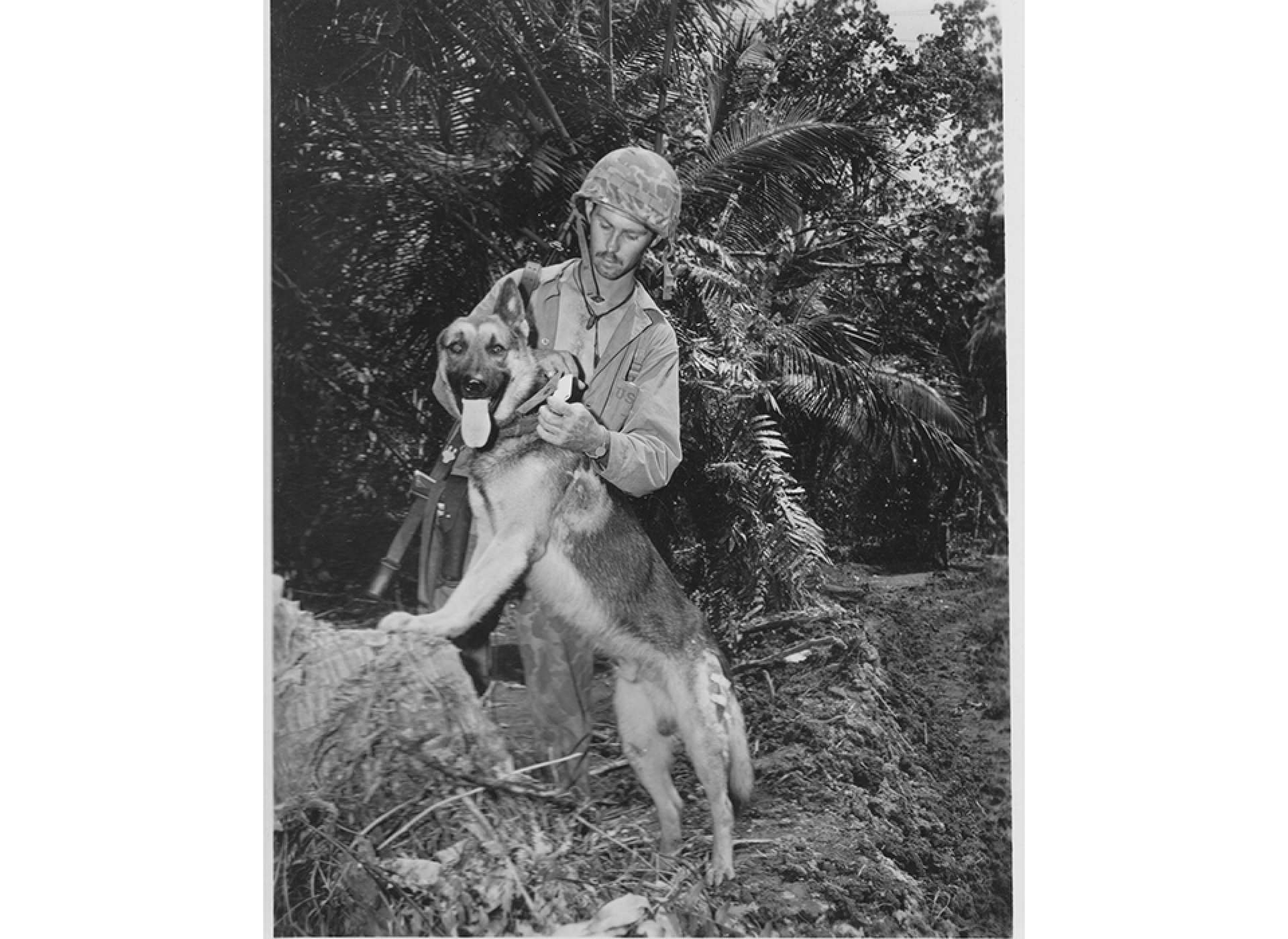 One of the most famous war dogs was the messenger dog Caesar, a German shepherd who served during the Bougainville campaign. Caesar was with M Company of the 3rd Marine Raider Battalion, whose job was to hold a road block on the Piva Trail. Because of dense foliage, radios were unable to send or receive signals. Caesar provided a vital communications link, completing eleven messenger missions.
Caesar was not only an accomplished messenger dog, but also a valuable sentry dog. Three days into the Bougainville campaign, Caesar rushed out of the foxhole he shared with one of his handlers, Pfc. John Mayo. Mayo called the dog back, and as he was returning, a Japanese sniper shot Caesar. A firefight ensued, but Caesar had disappeared. He was later found with his other handler, Pfc. John Kleeman. The bullet hit too close to his heart to operate, but despite his wound Caesar survived and returned to duty three weeks later. Although injured and scared his loyalty to his handlers saved him, and warned others how close the Japanese soldiers were.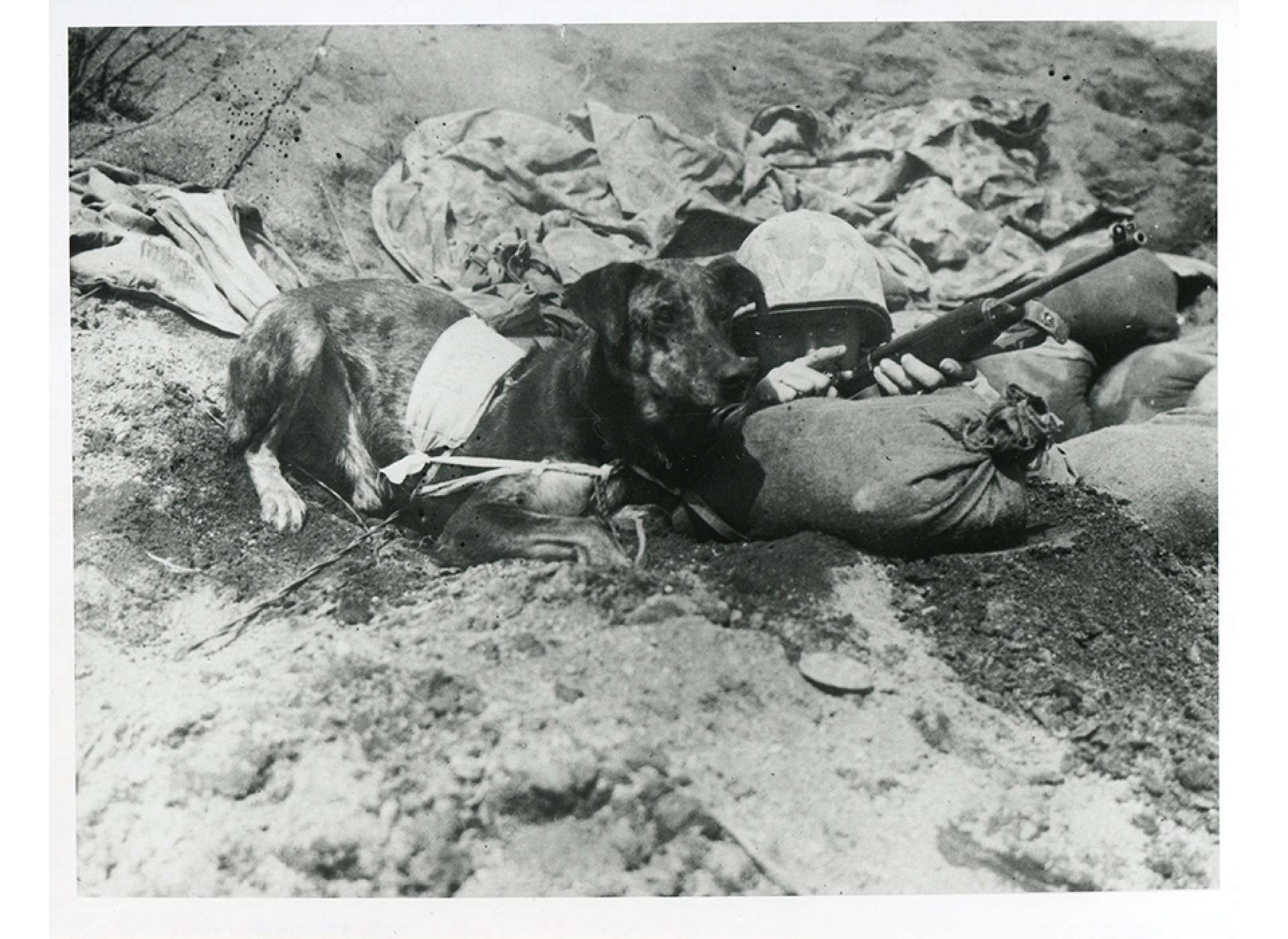 Messenger dogs were a key part of communications operations in the Pacific where dense jungles and rough terrain made for spotty and sometimes unreliable radio communication. Messenger dogs were trained with two handlers. One stayed back to receive messages and one went out with troops to be able to relay information back to headquarters.

One messenger dog who fought in the Gloucester campaign was Sandy, handled by Sgts. Guy C. Sheldon and Menzo J. Brown. One of Sandy's most outstanding missions took place near Turzi Point as troops were advancing toward an airstrip. The units were held up by Japanese pillboxes. Communication via radio and walkie-talkies was down, so the troops could not call for artillery to help them fight the Japanese. Sergeant Brown sent Sandy with a message back to the battalion command post. Sandy had not seen Sergeant Sheldon since the night before, and the headquarters had moved to a new location since the dog left. Despite these obstacles, Sandy found his way to the command post and to Sheldon's foxhole. Sandy traveled through tall jungle grass, swam across a river, and ran through mortar and artillery fire to find Sheldon. Because of Sandy's successful delivery of the message, artillery fire was directed at the Japanese pillboxes and U.S. troops were permitted to move forward.
There are many more stories of the bravery and hard work of war dogs throughout World War II. Their loyalty to their handlers was immense. War dogs were known to protect the bodies of their handlers when injured, and stay with them if they succumbed to those injuries. In other instances they waited patiently for their return from missions, standing guard until they did so.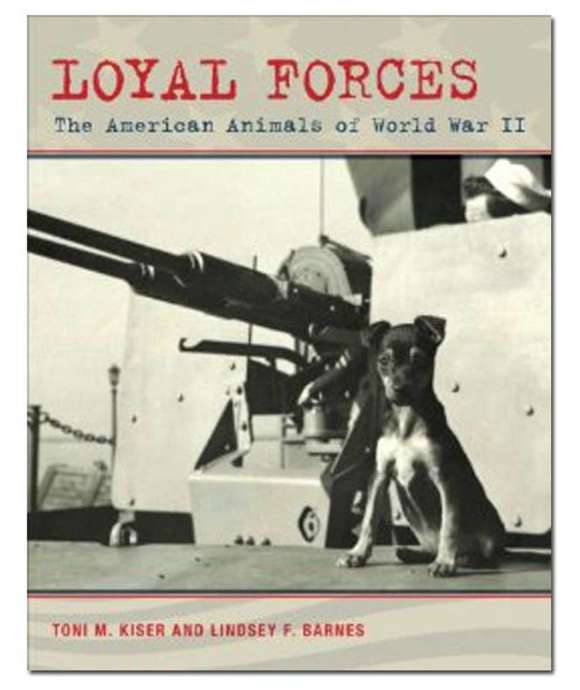 Loyal Forces: The American Animals of World War II
Support the continuing educational mission of The National WWII Museum by shopping our Museum Store book selection where you can find Toni Kiser's book, Loyal Forces. 
Museum Store
Books

Contributor
Toni is a graduate of the George Washington University's Masters in Museum Studies Program and the author of Loyal Forces: American Animals in WWII and the co-editor of Museum Registration Methods, 6th Edition.
Learn More