Jack Lummus wasn't like most of his fellow Marines. He was older, served a brief stint in the Army Air Corps before washing out of flight school, and he was a professional athlete. Born in Ennis, Texas, Lummus was an exceptional high school athlete and received scholarship offers from Baylor and Tulane Universities. The young Texan chose Baylor, and was a standout end on the football team and an All-Southwest Conference center fielder on the baseball team for three years. Lummus was on the path to athletic stardom when he dropped out of Baylor despite being close to graduating.
Lummus' reason for dropping out was likely that he had enlisted in the Army Air Corps in May 1941. While waiting to be called up for flight school, he played on a minor league baseball team until July of that year. Flight school did not go well for Lummus. On his first solo flight, Lummus performed excellently. He flew the prescribed flight plan and landed flawlessly. Unfortunately for Lummus, a fence got in his way while taxiing the plane—he clipped the fence with a wingtip. It was enough to get him washed out of flight school.
Weighing his options, Lummus attended the New York Giants' training camp and made the 1941 roster. Wearing number 29, Lummus played nine games with the Giants, who made the championship game that year. The big game was played just two weeks after the attack on Pearl Harbor, and only a few weeks after that Lummus once again walked away from a promising athletic career. He joined the Marine Corps in January 1942.
Since he had completed more than two years of a university education, Lummus was sent to Officers Training School at Quantico, Virginia, in October 1942, and was commissioned as a Second Lieutenant in December. Although he had enlisted early in 1942, Lummus' first action was Iwo Jima. As the executive officer, F Company, 2nd Battalion, 27th Marines, 5th Marine Division, Lummus landed in the first wave on Iwo Jima on February 19, 1945.
On March 6, Lummus was put in command of E Company's third rifle platoon. Two days later, the platoon was at the spearhead of an assault on an objective near Kitano Point. Lummus' athleticism and "win at all costs" attitude instilled courage, and then anger in his men. As Lummus charged forward, assaulting pillboxes on his own, his men watched as he survived several shrapnel hits, only to step on a land mine. Despite horrific damage to his legs, Lummus continued to push his men forward, demanding that they not stop for him.
In his book, Iwo Jima: Legacy of Valor, combat correspondent and author Bill Ross explained the effect that Lummus' severe wounds had on his men:
"Tears turned to raging fury as Easy Company swept ahead an incredible three hundred yards, overwhelming foxholes and pillboxes and bunkers, bolting across ravines and scrambling up ridges, blasting cave entrances and sniper pits. The spark that ignited the steamroller charge was the horrifying sight of their mortally wounded, indomitable commander and his fathomless courage. Seeing him, the men knew what they had to do."
Lummus was triaged and evacuated to the Fifth Division hospital, where doctors did all they could to save his life. Despite 18 pints of blood transfusions and their best efforts, the damage to Lummus' body was too much, even for his athletic frame. Before he died, Lummus said to one of the surgeons, "I guess the New York Giants have lost the services of a damn good end." A few hours later, Lummus asked for a sip of coffee, after which he laid back, closed his eyes, and smiled as he took his last breath. First Lieutenant Jack Lummus was 29 years old.
---
Medal of Honor Citation for First Lieutenant Jack Lummus
"For conspicuous gallantry and intrepidity at the risk of his life above and beyond the call of duty as leader of a Rifle Platoon attached to the 2d Battalion, 27th Marines, 5th Marine Division, in action against enemy Japanese forces on Iwo Jima in the Volcano Islands, 8 March 1945. Resuming his assault tactics with bold decision after fighting without respite for 2 days and nights, 1st Lt. Lummus slowly advanced his platoon against an enemy deeply entrenched in a network of mutually supporting positions. Suddenly halted by a terrific concentration of hostile fire, he unhesitatingly moved forward of his front lines in an effort to neutralize the Japanese position. Although knocked to the ground when an enemy grenade exploded close by, he immediately recovered himself and, again moving forward despite the intensified barrage, quickly located, attacked, and destroyed the occupied emplacement. Instantly taken under fire by the garrison of a supporting pillbox and further assailed by the slashing fury of hostile rifle fire, he fell under the impact of a second enemy grenade but, courageously disregarding painful shoulder wounds, staunchly continued his heroic 1-man assault and charged the second pillbox, annihilating all the occupants. Subsequently returning to his platoon position, he fearlessly traversed his lines under fire, encouraging his men to advance and directing the fire of supporting tanks against other stubbornly holding Japanese emplacements. Held up again by a devastating barrage, he again moved into the open, rushed a third heavily fortified installation and killed the defending troops. Determined to crush all resistance, he led his men indomitably, personally attacking foxholes and spider traps with his carbine and systematically reducing the fanatic opposition until, stepping on a land mine, he sustained fatal wounds. By his outstanding valor, skilled tactics, and tenacious perseverance in the face of overwhelming odds, 1st Lt. Lummus had inspired his stouthearted marines to continue the relentless drive northward, thereby contributing materially to the success of his regimental mission. His dauntless leadership and unwavering devotion to duty throughout sustain and enhance the highest traditions of the U.S. Naval Service. He gallantly gave his life in the service of his country."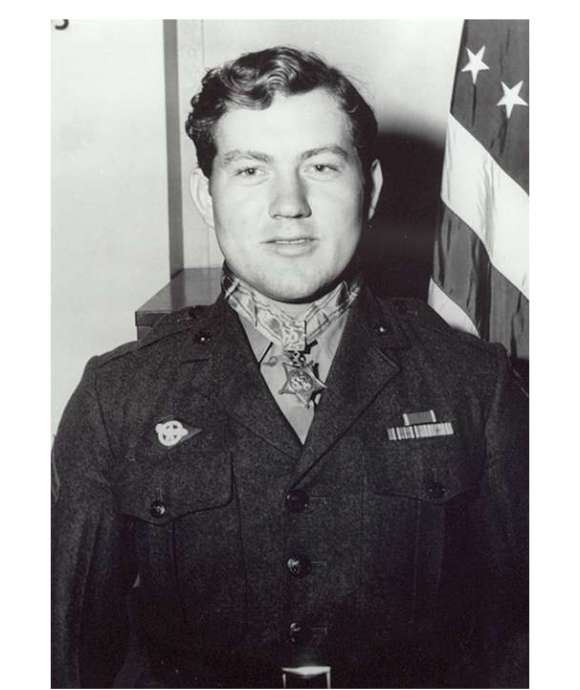 Medal of Honor Series
Read Private First Class Jacklyn H. Lucas' story next, the youngest man during World War II to receive a Medal of Honor on February 20, 1945.
LEARN MORE

Contributor
Kali Martin earned a bachelor's degree in International Studies and German at the University of Miami and a master's degree in Mili...
Learn More