While military maneuvers train and test a force's capabilities, they can also seem like an "alternate history" at times. Consider these fascinating front pages from September 1941, reprinted here courtesy of The Shreveport Times, describing the US Army's big Louisiana Maneuvers. 
"Armies 'Battle' in Louisiana," blares the headline for Monday, September 15. A half million men were on the march, with the front stretching between the Red and Sabine Rivers. By the second day (September 16), the good citizens of Shreveport awoke to the ominous news that the "Reds" had seized all the bridges in Shreveport. Red tank forces, "Satan's chauffeurs," the paper dubbed them, had occupied Shreveport in the dead of night against minimal opposition. A "war" in Louisiana had begun.  
But who were these Reds? Were they the vanguard of some subversive communist invasion? Hardly. US military maneuvers almost always pitted a "Red Force" against a "Blue Force." Two vivid primary colors that were easy to tell apart under the worst conditions, blue and red were ideal colors for a military map.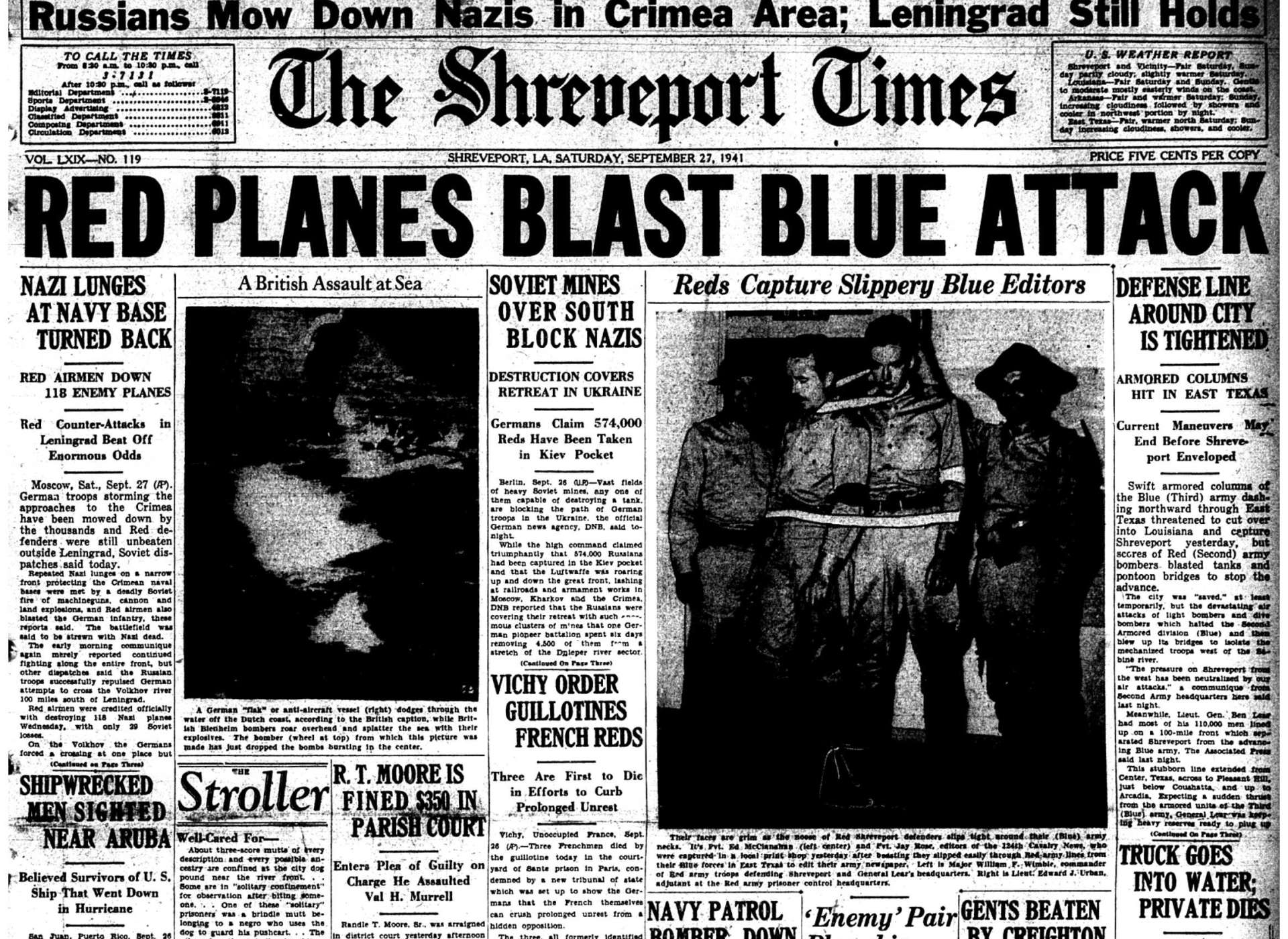 But Blue would strike back. By September 27, General George S. Patton's 2nd Armored Division, part of the Blue Army, was "dashing northward in East Texas," threatening to "cut over into Louisiana and capture Shreveport." The pace was furious, with Red responding to the Blue threat by launching scores of bombers from Natchitoches that smashed Patton's tanks and destroyed bridges along the route, slowing him down just enough to save the city. "The pressure on Shreveport from the west has been neutralized by our air attacks," declared the commander of the Red Army, General Ben Lear, with obvious relief.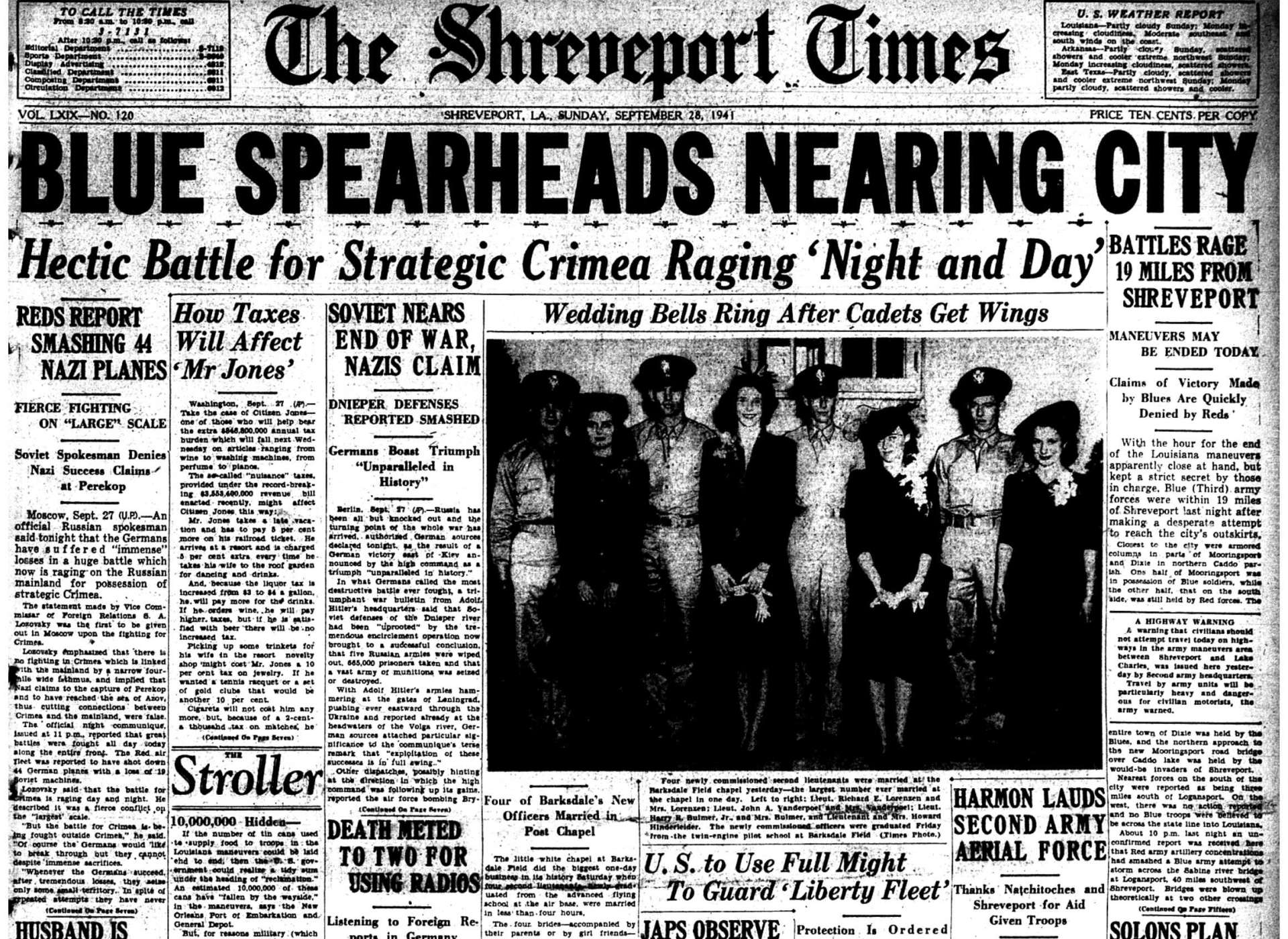 The next day, September 28, was one of uncertainty. Blue actually claimed to have fought its way into Shreveport, but Lear assured the worried citizenry that Red's defenses were still holding firm, and that Blue forces had gotten no closer than Mooringsport and Dixie in northern Caddo Parish. Still, Shreveporters were warned that they should "not attempt travel today on highways in the army's maneuvers area between Shreveport and Lake Charles." Army units were going to be using those roads, and travel would be "dangerous for civilian motorists." The maneuvers tested the US Army, but they were also giving US citizens a taste of modern war, an experience all too common to the inhabitants of Warsaw, Rotterdam, or Belgrade: enemy forces rampaging across the countryside, tanks breaking into cities in the dead of night, air forces launching desperate last ditch defensive sorties against the enemy.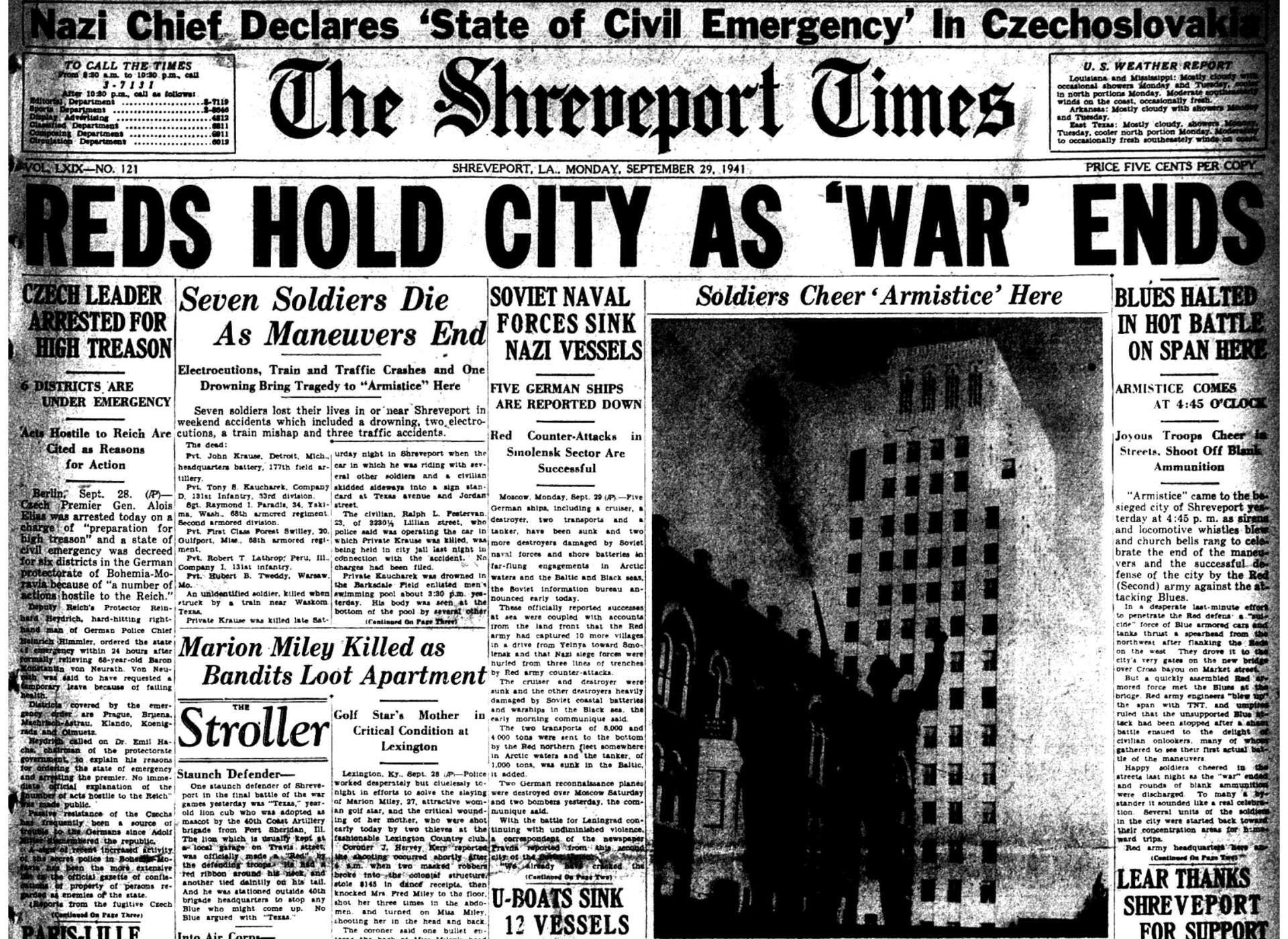 The "war" ended the next day, September 29. "Reds Hold City as 'War' Ends," exulted the paper. Lear's defenses had held—Shreveport was saved! "Sirens and locomotive whistles blew and church bells rang," the paper reported, with happy soldiers cheering in the streets and shooting off blank ammunition in triumph. General Lear personally thanked the citizens of Shreveport for remaining steadfast under the threat and for extending hospitality to the defending troops. 
Shreveport's victory was sweet, but not to be forgotten were the seven US soldiers who had given their lives in these highly realistic maneuvers, as close to real war as the US Army had come since 1918. A drowning, two electrocutions, a train mishap, and three traffic accidents had claimed their victims: Private John Krauss, Private Tony S. Kaucharek, Sergeant Raymond I. Paradis, Private First Class Forest Swilley, Private Robert T. Lathrop, Private Hubert B. Tweddy, and a last unidentified soldier. They are worth remembering. Indeed, we might label these seven servicemen the first US casualties of World War II, even though their deaths took place more than two months before Pearl Harbor.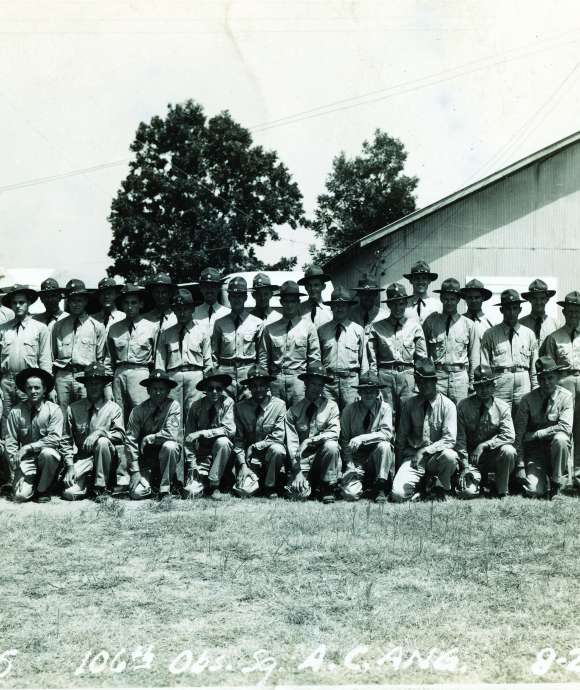 The Pelican State Goes To War
Learn more about the Louisiana Maneuvers in The Pelican State Goes To War: Louisiana In World War II. 
EXPLORE

Contributor
Robert Citino, PhD, Samuel Zemurray Stone Senior Historian. Dr. Citino is an award-winning military historian and scholar who has publish...
Learn More