April 17 was more than just a page on the calendar for Captain Harold Romm. On that day in 1943, the Philadelphia-native entered the POW world when Hellsapoppin', the B-17 on which he served as bombardier, was shot down on a mission to Bremen, Germany. On that same date, two years later, April 17, 1945, he became a free man again, when he was liberated at Stalag XIIIC by the 45th Infantry Division.
Harold Romm was born October 1, 1914 in Philadelphia, Pennsylvania, to Frances and Emmanuel Romm; his father was a Philadelphia attorney. Romm graduated from West Philadelphia High School where he excelled in swimming, boxing, and football. He continued his sports career at the University of Pittsburgh and then at the University of Pennsylvania from which he graduated in 1937. He was working in sales before enlisting in the Army Air Corps in June 1941.
Trained as a bombardier, Romm went overseas in March 1942 with the 401st Bombardment Squadron, 91st Bombardment Group, one of the earliest heavy bomb groups to be sent to England. The 91st flew a total of 340 missions out of their base at Bassingbourn, roughly 50 miles north of London. The group suffered the greatest number of losses of any heavy bomb group in World War II, losing 197 B-17s. Overall 4,754 B-17s were lost in the air war in Europe. The 91st BG was heavily documented because of the filming of the story of the B-17 "Memphis Belle" by American director Major William Wyler, First Motion Picture Unit. Wyler had been following the crew of Invasion 2nd from the 401st Bombardment Squadron, until that B-17 and five others of the 401st were shot down on April 17, 1943, at that time the most costly mission yet for the 8th Air Force.
It was on that very mission that Harold Romm, at that time 1st Lt., was forced to hit the silk. Like "Invasion 2nd," pilot John Wilson's Hellsapoppin' suffered heavy damage on the mission to bomb the German aircraft Focke-Wulf factory in the northern German city of Bremen, the birthplace of Focke-Wolf. The force sent out on the morning of April 17th was the largest offensive yet, and although the bombing mission was a success (a record 107 of 115 aircraft sent out made it to the target, including Hellsapoppin') the losses thereafter were great.
On the Bremen mission, Romm's second, he was brought together with three other Pennsylvanians, Gunners S/Sgt. Robert Ade and S/Sgt. Walter Bohaczyk, and 1st Lt. Arthur Bushnell, who was flying his first mission as copilot. Bremen was heavily defended and on the way to the target the crew suffered some wounds courtesy of Luftwaffe fighters. Romm was hit in the left leg by machine gun fire. But the approach was nothing compared to the journey home. Only a few minutes after releasing their bombs, the crew of Hellsapoppin' felt a heavy jolt under the left side of the plane, as an anti-aircraft shell had exploded just under the ship. Flak ripped into the left front side of the aircraft, sending shrapnel flying throughout the plane. Another flak burst ripped part of the right wing off and the nose began to break apart as fire began to spread throughout the nose and then fuselage. Romm was hit again, in his left leg, by flak. He and three other injured crewmen managed to escape Hellsapoppin' before she broke apart and then crashed 20 miles south of Bremen. Five crew members including pilot Lt. John Wilson were killed in the crash. Romm's report of his bailout is similar to others. The crack of the parachute  was followed by a complete stillness. The fresh air, untainted by gunpowder, was jarring. Romm had managed to use his air hose as a tourniquet for his profusely bleeding leg and somehow came into a soft landing. He was captured and spent the next few months recuperating in various German facilities, along with two other members of his crew, including copilot Art Bushell, who lost an eye to the flak that tore through Romm's leg. After a period spent at a hospital in Hannover, where they experienced an Allied bombing raid on the ground, they were transferred to the Hohemark Hospital near the Dulag Luft transit and interrogation camp. On May 4th, German doctors operated on Romm's leg in a nearby Luftwaffe Lazarett. Finally, on July 3, 1943, Romm made it into his assigned camp, Stalag Luft III, Sagan, present-day Poland.

The next two years would be dark and frustrating ones. Romm, like other American officers in German captivity, spent their time hoping for freedom while despairing over the present. Still there were brighter moments—receiving mail, writing and reflecting, watching movies (in October 1943, the Fred Astaire/Ginger Rogers film Shall We Dance was screened at Stalag Luft III), reading, and teaching. At 28, Romm was older than the average "Kriegie," short for Kriegsgefangener (German for prisoners of war). Because of his age, experience, and education, he was appointed to be block clothing officer and also the Dean of the Economics Department for the camp school in charge of teaching business administration.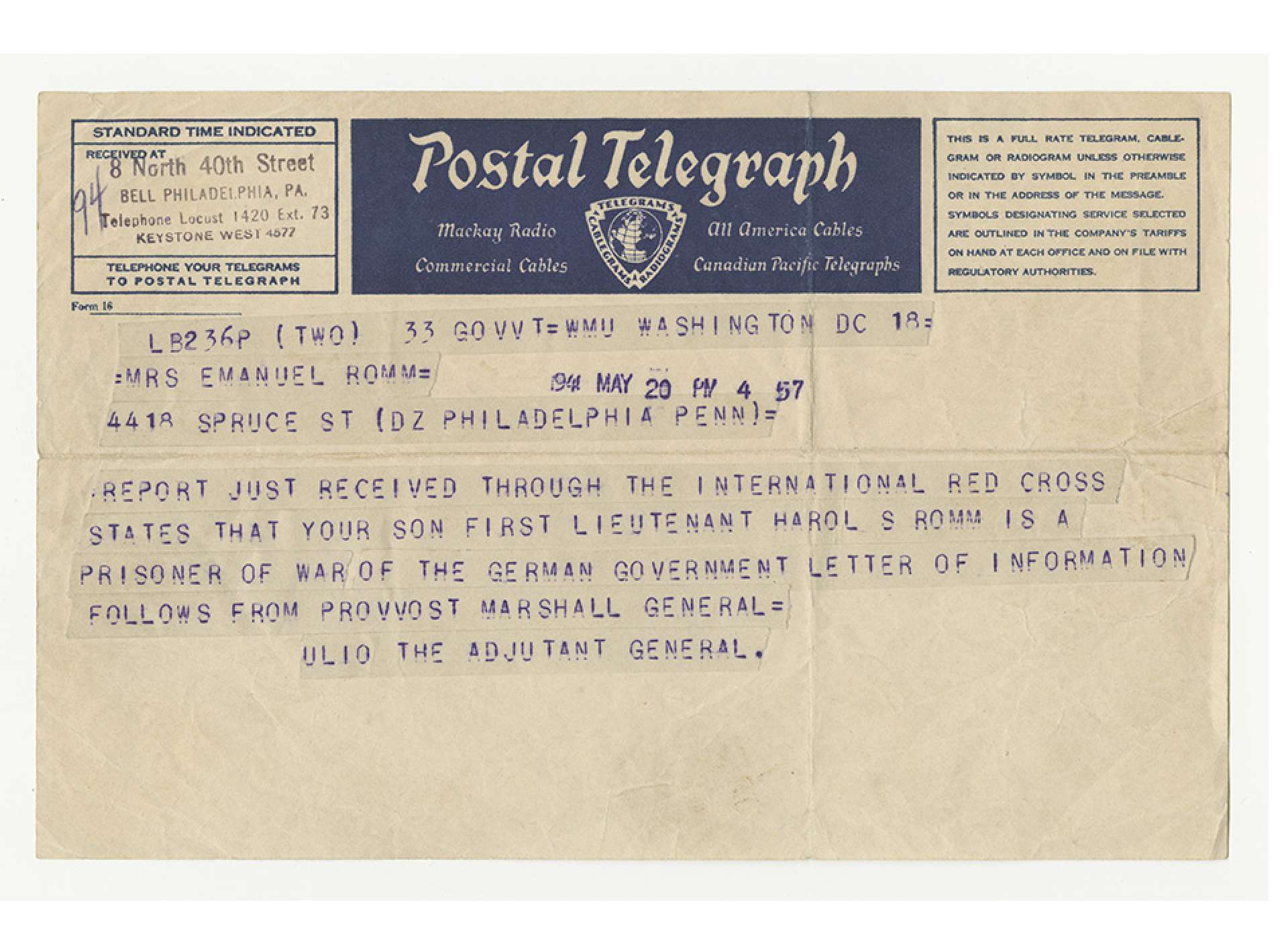 Romm continued to suffer pain from his injured leg and was later diagnosed with an ulcerated stomach, with numerous stays to the camp hospital. In a journal he kept in the camp Romm wrote extensive reflections on human nature, how he coped with captivity and about daily life in the camp, including the well-known escape attempt in March 1944, "the whole camp mourned for three days." Romm spent his 29th and 30th birthdays behind barbed wire, but remained firm in his own moral compass and faith in a higher power (confirmed the day he found himself falling out of an airplane.)
Pages from Romm's journal kept in Stalag Luft III
Christmas 1944 was one of the coldest on record with temperatures at Stalag Luft III hovering just below 0°F. Pessimism ruled throughout the camp. But the situation worsened when on January 27, Stalag Luft III was briskly evacuated ahead of the Russian advance on the camp. The prisoners were marched from Sagan, an hour and a half southeast of Berlin, with the ultimate destination of Stalag VIIA at Moosburg, 100 miles away. Romm and others who could not walk were initially left behind. They were then transported by rail and truck to Stalag XIII-D at Nurnberg.
It was there, on April 17, Romm once again became a free man, exactly two years after he was shot down. The moment he had waited for, prayed for, and imagined for so long had finally come. After the war, Romm resumed practice in what he taught at Stalag Luft III, business administration. He and wife Selma raised two daughters outside of Philadelphia, where he passed away February 22, 1981. Romm's collection, presented to the Museum in 2019 by daughter Shelley Romm, is an important source of information about survival in Stalag Luft III. It has been digitized by the Museum's Digitization Team and will be presented online in the near future.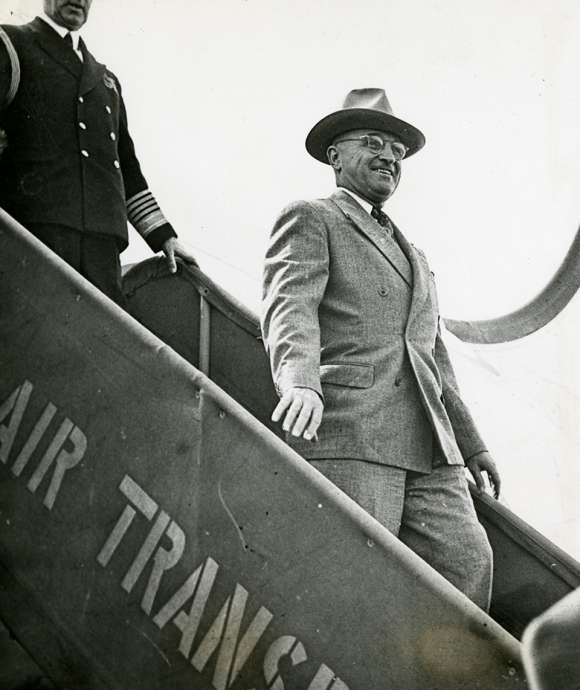 Digital Collections
The National WWII Museum is home to thousands of oral histories and hundreds of thousands of photographs. Our Digital Collections website offers a way to browse collections and license images.
Explore
This article is part of an ongoing series commemorating the 75th anniversary of the end of World War II made possible by Bank of America. 

Contributor
Kimberly Guise holds a BA in German and Judaic Studies from the University of Massachusetts Amherst. She also studied at the Universität Freiburg in Germany and holds a masters in Library and Information Science (MLIS) from Louisiana State University. Kim is fluent in German, reads Yiddish, and specializes in the American prisoner-of-war experience in World War II.
Learn More