Docent Name: Bobby Delle
Date of Memorable Museum Moment: 2017
Story: In the Okinawa exhibit of The Road to Tokyo galleries, there is a Naval uniform.
I was giving a tour to the wife of the owner of that uniform, WWII Navy Lieutenant Charles Frank.
What really caught my attention was when she told me that she always knew where her husband's ship was. Servicemen, of course, were not allowed to communicate their whereabouts. But she knew that Ernie Pyle was on his ship. So, wherever Ernie Pyle was reporting from, she knew that her husband was in that area, also.
Adjunct notes from Assistant Director of Collections Toni Kiser
The uniform is from The Charles W. Frank Jr. collection. Lt. Frank served on the USS New Jersey (BB-62) in the Pacific theater of operations. Charles William Frank Jr. was born on June 8, 1922 in New Orleans, Louisiana. He enlisted in the United States Navy around 1943 and was quickly assigned to the USS New Jersey. In the later part of 1943, the ship was sent to Port of Spain, Trinidad, before being assigned to the Pacific theater of operations. Frank was eventually stationed in Japan in late 1945. He remained in the Navy after the war and retired at the rank of Captain in August 1965. Frank then became the president of L. Frank and Company in New Orleans, and remained in the city until his death on December 27, 2011.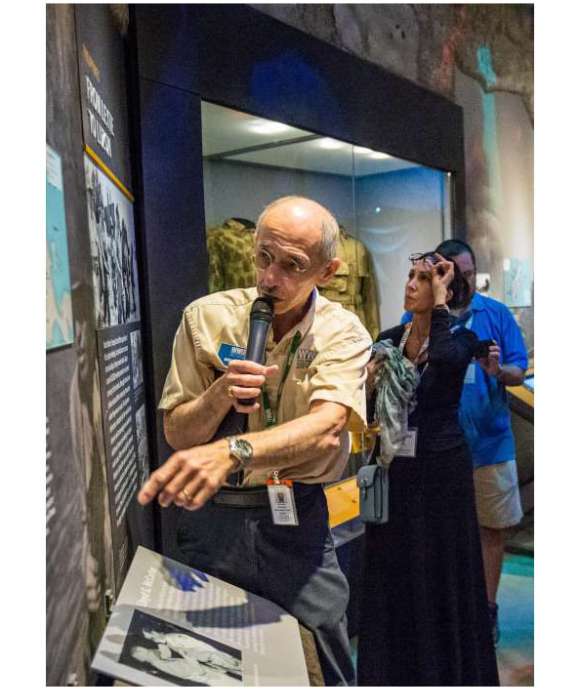 Museum Tours
Each guided tour takes you on a different adventure, from the immersive exhibits to the private Center for Collections & Archives where a curator will display and explain WWII artifacts not currently on view in the Museum. The Museum is taking measures to prevent the spread of COVID-19 and this may effect guided tours. For more information, call 504-528-1944 and read the Know Before You Go page.
EXPLORE TOURS

Contributor
Walt Burgoyne is the former Assistant Director of Education for Interpretation at The National WWII Museum. 
Learn More