Plot 1, row 6, grave 181. World War II veteran Joseph Coughlon couldn't tell you how he remembered those details, just that they remained fixed in his mind long after the war claimed its final battle casualty.
At one point, nearly eight decades ago, the numbers imprinted in Coughlon's memory corresponded to a temporary US military burial site on the small island of Ie Shima (now Iejima) located just a few miles off the coast of Okinawa, Japan; that particular grave belonged to Pulitzer Prize-winning war correspondent Ernie Pyle.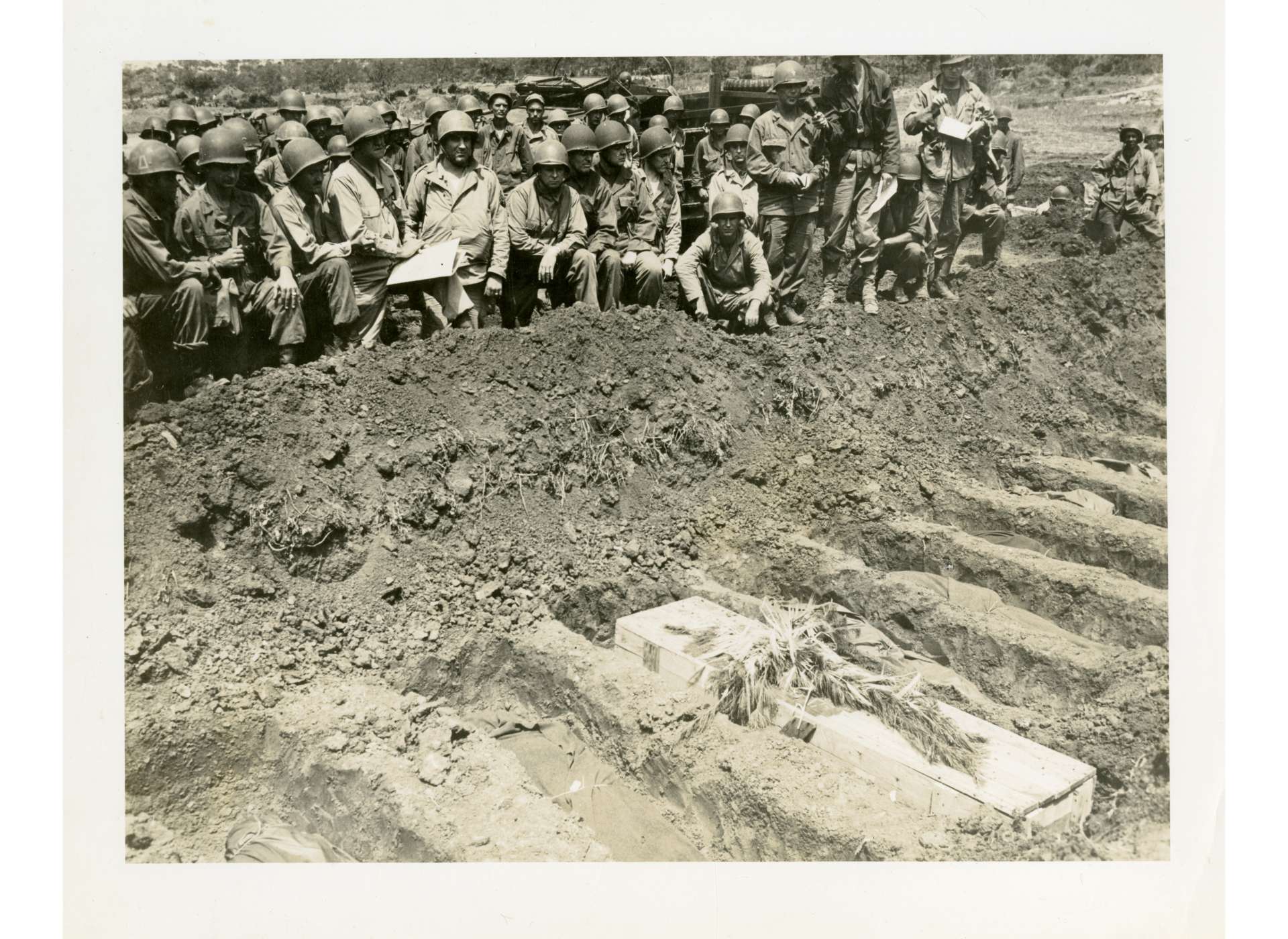 On April 18, 1945, just six days after President Franklin Roosevelt succumbed to a fatal stroke, a bullet from a Japanese machine gun prematurely ended the 44-year-old journalist's life. In less than a week, Americans everywhere found themselves collectively mourning—and publicly commemorating—the loss of two national heroes.
Renowned for his adept reporting from foxholes and frontlines, Pyle bridged the gap between soldier and civilian, in a way few columnists could. His artfully prosaic observations captured profound truths about human complexity and the horrors of war, and his simple, narrative-driven style attracted more than 14 million readers across 300 different publications.
Pyle's writing undoubtedly appealed to a broad audience, but it especially resonated with the servicemen whose stories he told. American GIs saw Pyle as the soldier's spokesman as he repeatedly braved the dangers of combat to better convey its grisly reality and recount their harrowing experiences on the battlefield. Enlisted men from every service branch and theater respected his fearless determination and admired his exceptional efforts to tell their stories.
There is something more to be said about the unique emotional bond that men in the armed forces forged with Pyle and the impact his death had on them. In a letter home, an Army Sergeant succinctly expressed a sentiment shared by many of his fellow soldiers:
"The death of Ernie Pyle this week was a real loss to every soldier everywhere. He understood the soldier and presented his case to the public as nobody else had done during the war."
The sergeant also wondered about the veracity and sincerity of things that commanding officers said on behalf of their subordinates, but "after reading Pyle," he wrote, "you never had that feeling."
Given Pyle's immense popularity with both citizens and troops, it is unsurprising that news of his sudden death sparked a global outpouring of love and spurred numerous plans to memorialize his life. Incredulous callers flooded newsroom switchboards and correspondence deluged mail rooms. One wounded vet suggested changing the name of Ie Shima to Ernie Pyle Island, and a Captain in the Army proposed renaming Okinawa itself in Pyle's honor. Though these grandiose plans never materialized, memorials soon sprang up from Japan to Germany.
The first known memorial erected in Pyle's honor was a notably nondescript marker built by Corporal Landon Seidler on the day of Pyle's death. A single wooden post with a plain, unadorned sign stood as a fitting tribute to a man who appreciated unpretentious simplicity. Hand-painted black lettering stood out in stark contrast on pale wood.  It read: "At this spot, the 77th Infantry Division lost a buddy, Ernie Pyle, 18 April, 1945."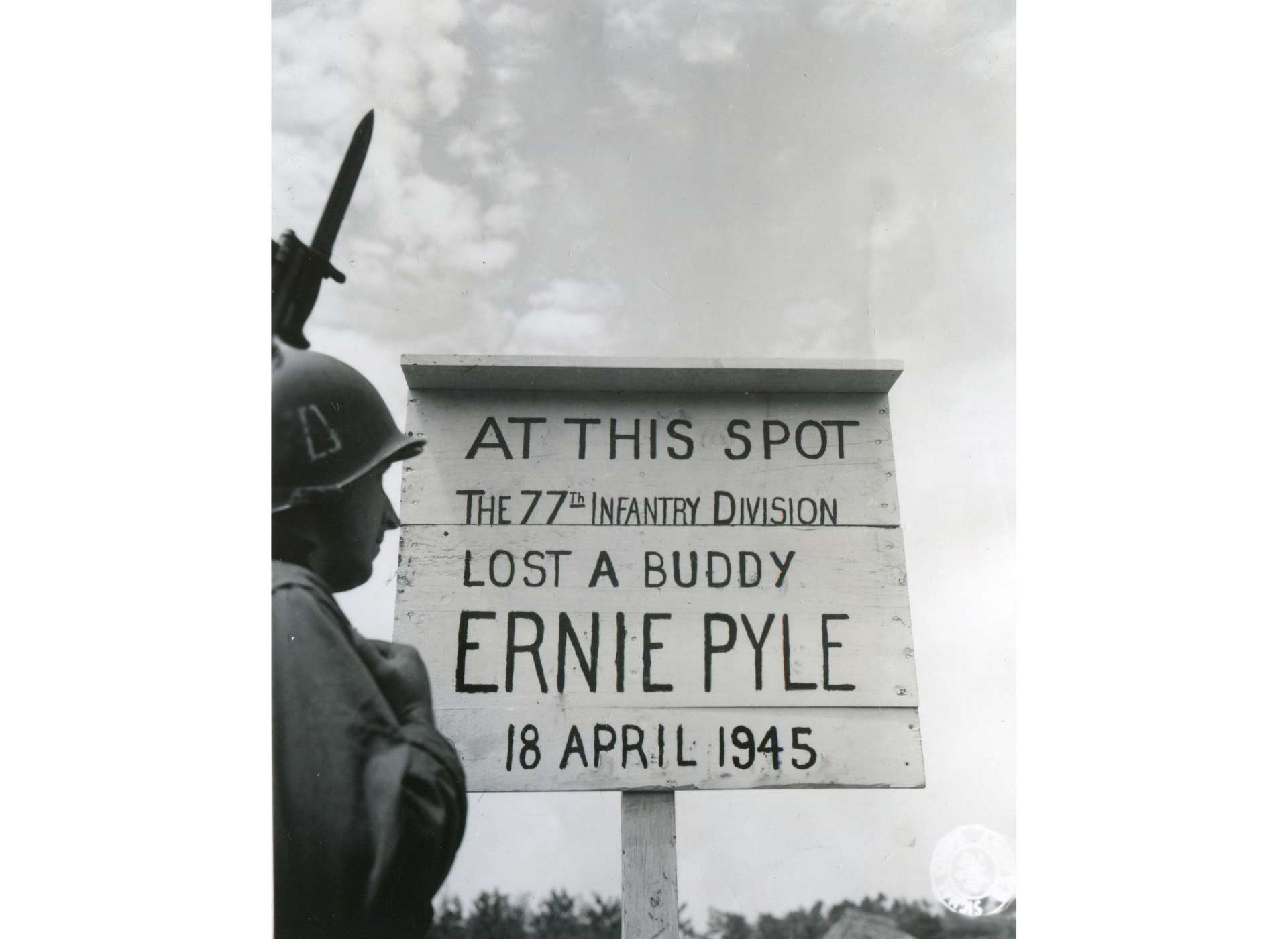 Two days later, under the command of Lieutenant Colonel John McGuire, the 3063rd Quartermaster Graves Registration Service laid Ernie Pyle to rest a few hundred yards from the roadside memorial between a combat engineer and an infantryman. That McGuire's unit assumed the sobering responsibility of burying an American icon is one of the few memories that he would discuss when asked about his service later in life.
Then, on May 10, 1945, with Ie Shima soundly secured, a new and improved marker replaced the original. Constructed of dark wood, the second sign hung suspended from a crossbar supported by two posts and had bold white lettering. On either side of the text appeared emblazoned symbols: The left featured a simple isosceles-trapezoid to represent the 77th Infantry Division's shoulder sleeve insignia, and the right depicted a crude version of the 305th Infantry Regiment's distinctive unit insignia. Members attached to the latter worked most closely with Pyle on Ie Shima and affectionately referred to him as the "Doughboy's best friend."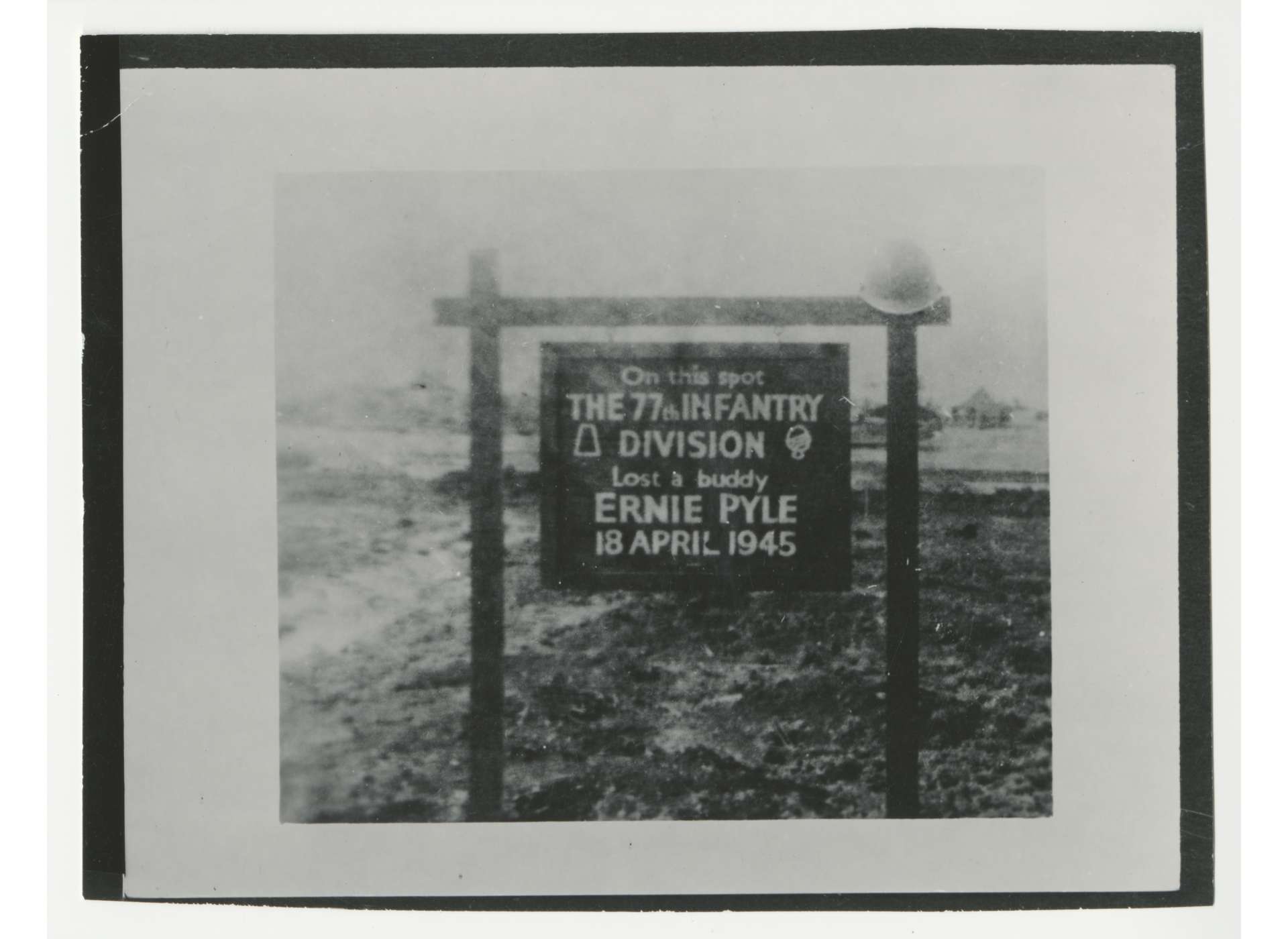 Though exhibiting exceptional craftsmanship, the new sign only served as a placeholder for a more sophisticated and permanent design. Men from the division's 1118th Combat Engineer Group manipulated the land near the spot of Pyle's death into a neat, terraced platform and built a monument to sit atop.
On July 2, 1945, after the close of the Ryukyus campaign, military personnel and reporters flocked to the ceremonial site for a formal dedication event. Brigadier General Edwin Randle presided as fatigued and unkempt GIs, corralled behind a barbed-wire fence, watched from a distance. Cameramen and correspondents swarmed the scene while a broadcaster set to work, transcribing the entire ceremony.
After briefly addressing the crowd, General Randle approached a 4-foot-tall monument shrouded in parachute silk. He tugged at a release cord to unveil a cement cenotaph that took the three-dimensional form of the division's insignia. Embedded in its face were a blue enameled plate depicting the statue of liberty and a relief plaque made of brass shell casings and inscribed with the same words from the previous memorials. The stout obelisk remains there today and is one of only three American monuments that the Japanese government agreed to maintain once Okinawa returned within its purview.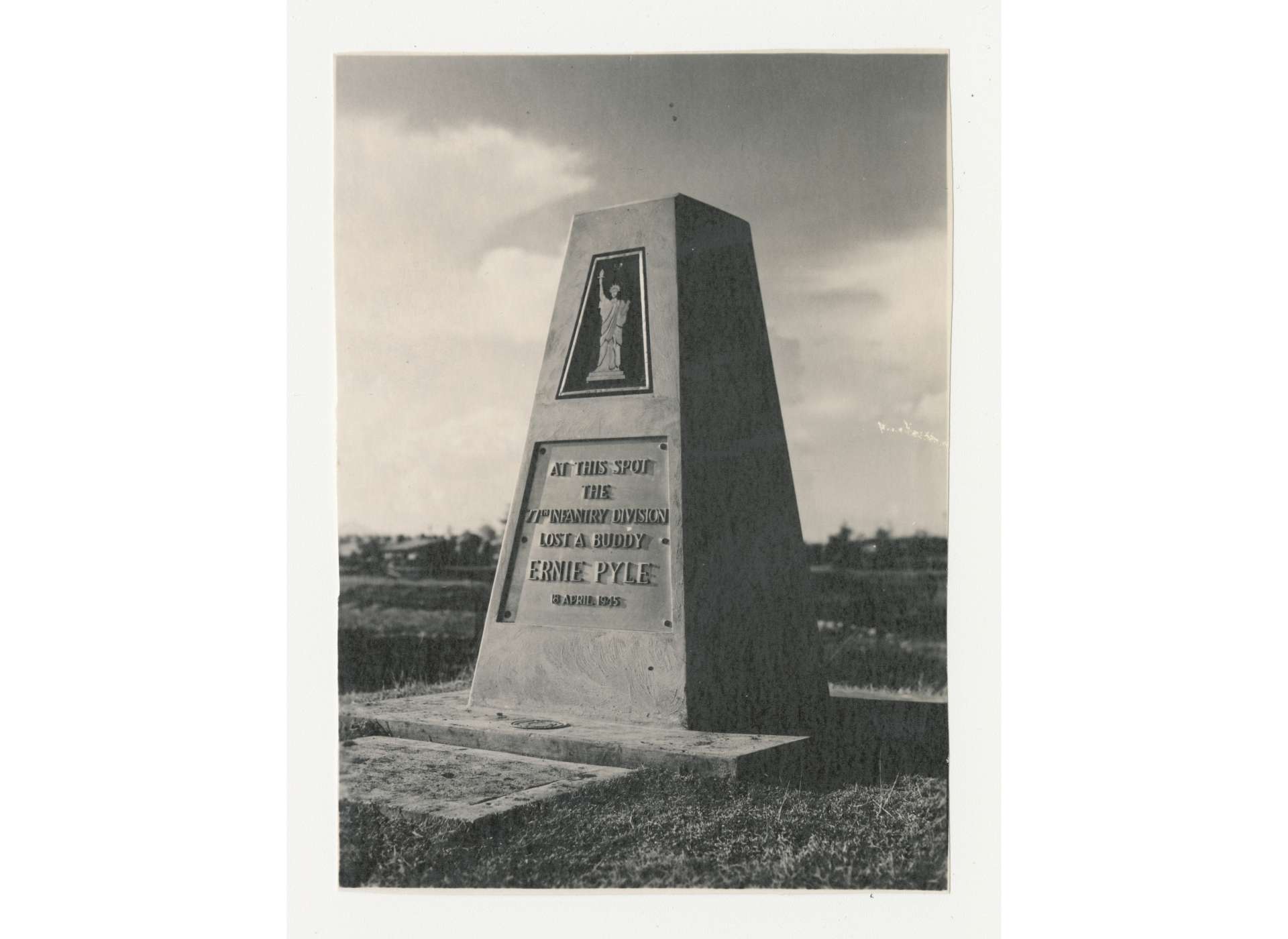 The US Army continued to demonstrate its reverence for the Indiana-born reporter by naming military infrastructure and edifices in his honor. A pontoon bridge crossing the Ruhr River near Dusseldorf in Germany was refashioned the Ernie Pyle Memorial Bridge shortly after his death. Workers in war-related industries followed suit, like on May 1, 1945 when employees at Boeing-Wichita used revenue generated from the 7th War Loan Drive to fund and construct a B-29 Superfortress called "the Ernie Pyle." It sported nose art of Pyle's face flashing his signature wry grin.
Perhaps the largest tribute to Pyle, literally, was the Ernie Pyle Theater. Shortly after Japan's surrender, the US Army requisitioned the Takarazuka Revue, a theater in Tokyo, Japan once dubbed the "Radio City Music Hall of the East," to establish a headquarters and an entertainment venue for occupying forces and their family members. The building boasted a handful of performance theaters, a fully-stocked library, film screening rooms, several restaurants, office space, a billiards hall, and a substantial portrait of Ernie Pyle overlooking the main entrance from a second-story balcony.
A popular destination on the island nation, the Ernie Pyle Theater became the focal point of a commemorative medallion made and distributed in Occupied Japan. The obverse of this 37mm bronze or silver medal (though it was sometimes produced as a hexagon or with scalloped edges) prominently displayed the theater crowned by an arching "victory" in cursive lettering. The reverse, incorporating elements from official military medals and unofficial souvenir medallions, depicted Mt. Fuji protruding through clouds with the words "to memories of landing in Japan" and the year at its base.
Efforts to honor Pyle's legacy on the Home Front also abounded. The Hoosier journalist's last residence in Albuquerque, New Mexico was repurposed and transformed into the Ernie Pyle Library with its own Pyle memorabilia and archival holdings. The original picket fence and the grave marker of Pyle's beloved dog, Cheetah, were both preserved, and the site was later designated a national historic landmark.
College campus halls, collegiate scholarships, elementary and middle schools in Indiana, California, and New Mexico, roads in Maryland and Kansas, a stretch of US Highway 36, and a small island in Cagles Mill Lake all bear Pyle's name. They are everlasting tributes to a life well lived and constant reminders of his courage and heroism.
Almost immediately after the war, the Army exhumed Pyle's remains and reinterred them at a US military cemetery on Okinawa before permanently relocating them in 1949 to Punchbowl Cemetery in Honolulu, Hawaii. There, under pleasant tree-cast shade, Ernie Pyle was laid to rest on plot D 109 beneath an unembellished gray marker between two unidentified soldiers. For a man who paid the ultimate price in order to immortalize the ordinary foot soldiers who selflessly risked their lives, perhaps that is the greatest tribute of all.

Contributor
Chase Tomlin is an Assistant Curator at The National WWII Museum.
Learn More