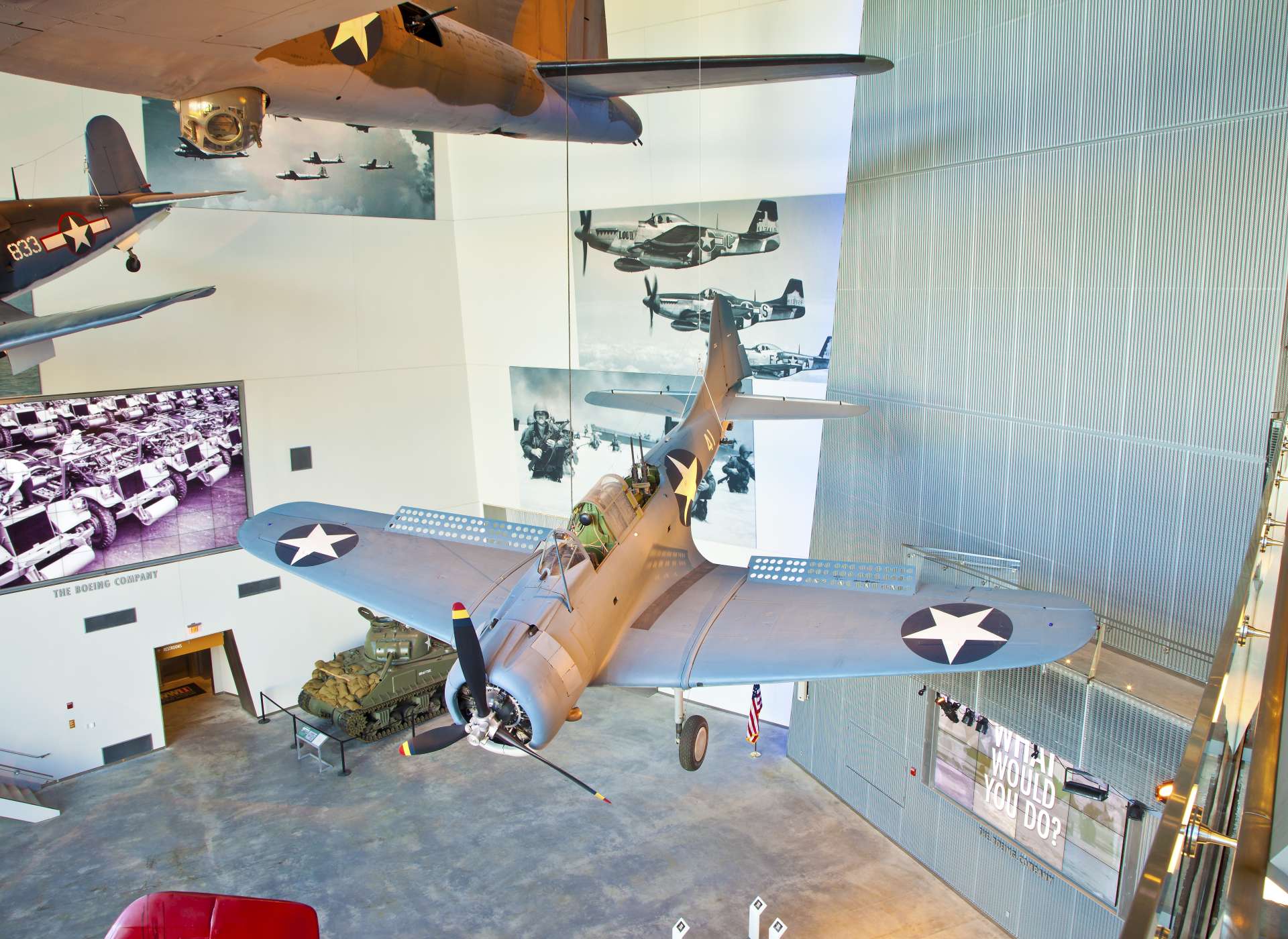 Dive bombing requires precise maneuverability and accuracy to fly at steep trajectory and hit a moving target. The Douglas SBD Dauntless was sturdy enough for pilots to dive at a near-vertical 80 degrees. The US Navy's primary dive-bomber at the war's start, the bomber earned its reputation—and helped earn victory—at the 1942 Battle of Midway, sinking four Japanese carriers. By some accounts, the Dauntless sank more Japanese ships than any other plane.
SBD-3 Dauntless Dive Bomber
SBD-3, Bureau Number (BuNo) 06508 was built by Douglas Aircraft Company at El Segundo, California, and is a combat veteran of the Guadalcanal Campaign operating from Henderson Field by Marine Scout Bombing Squadrons (VMSB) 141 and 132. In the spring of 1943, BuNo 06508 was assigned to Navy Bombing Squadron 10 aboard the aircraft carrier Enterprise for a short time before being returned to the States to serve as a trainer at Naval Air Station Glenview, Illinois. In November 1944, this aircraft was lost on a training flight in Lake Michigan where it remained until 1990 when it was recovered by the US Navy and restored to its present condition.
Statistics
Type: Scout Bomber
Production
Date Introduced: 1941 
Manufacturer: Douglas Aircraft Company
Number Produced: 580+
Specifications (SBD-3/A-24)
Crew: 2 (Pilot, Radioman/Gunner)
Wingspan: 42 feet
Length: 33 feet
Maximum Speed: 250 miles per hour
Cruising Speed: 173 miles per hour
Maximum Range: 950 miles
Engine: Wright R-1820-52 (1,000 hp)
Maximum Bomb Load: 1,000 pounds
Armament: Two .50 caliber and two .30 caliber machine guns