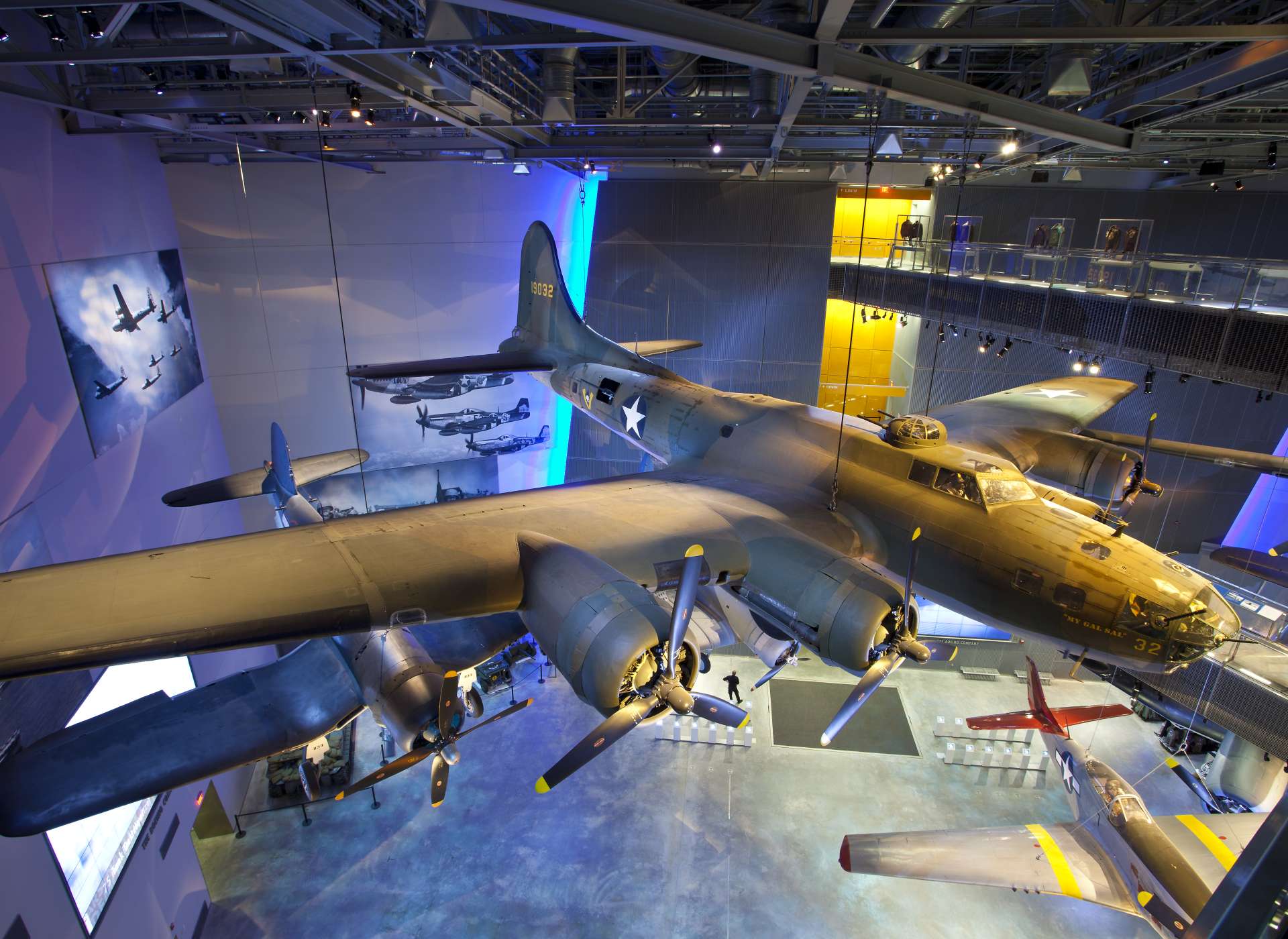 The rugged B-17 heavy bomber was developed as a strategic bomber in the 1930s. It proved efficient, enough to where it was used in every theater of the war. Legendary for its ability to sustain heavy damage in battle and bolstered by its nearly self-sufficient firepower, B-17s were most often used for daytime raids over Germany, as well as to wreak havoc on enemy shipping in the Pacific, though to a lesser degree.
B-17E Flying Fortress My Gal Sal
My Gal Sal was one of the first of thousands of B-17s to fly the treacherous northern air route from the United States to England. On June 27, 1942, horrendous weather conditions forced this early "E" model B-17 to make an emergency landing on a Greenland ice cap. The entire crew survived the 10-day ordeal by getting the aircraft's radio into operation again and transmitting an SOS, which resulted in their rescue. The plane remained on the ice for more than 50 years before being recovered and restored.
Statistics
Type: Heavy Bomber
Production
Date Introduced: 1941 
Manufacturer: Boeing, Lockheed-Vega and Douglas Aircraft Company
Number Produced: 512
Specifications (B-17E)
Crew: 10 (Pilot, Co-Pilot, Bombardier, Navigator, Radio Operator, Flight Engineer, Ball Turret Gunner, Tail Gunner and two Waist Gunners)
Wingspan: 104 feet
Length: 74 feet
Maximum Speed: 318 miles per hour
Cruising Speed: 226 miles per hour
Maximum Range: 3,200 miles
Engines: Four Wright R-1820-65s (1,000 hp each)
Maximum Bomb Load: 4,200 pounds
Armament: Ten .50 caliber machine guns, one .30 caliber machine gun