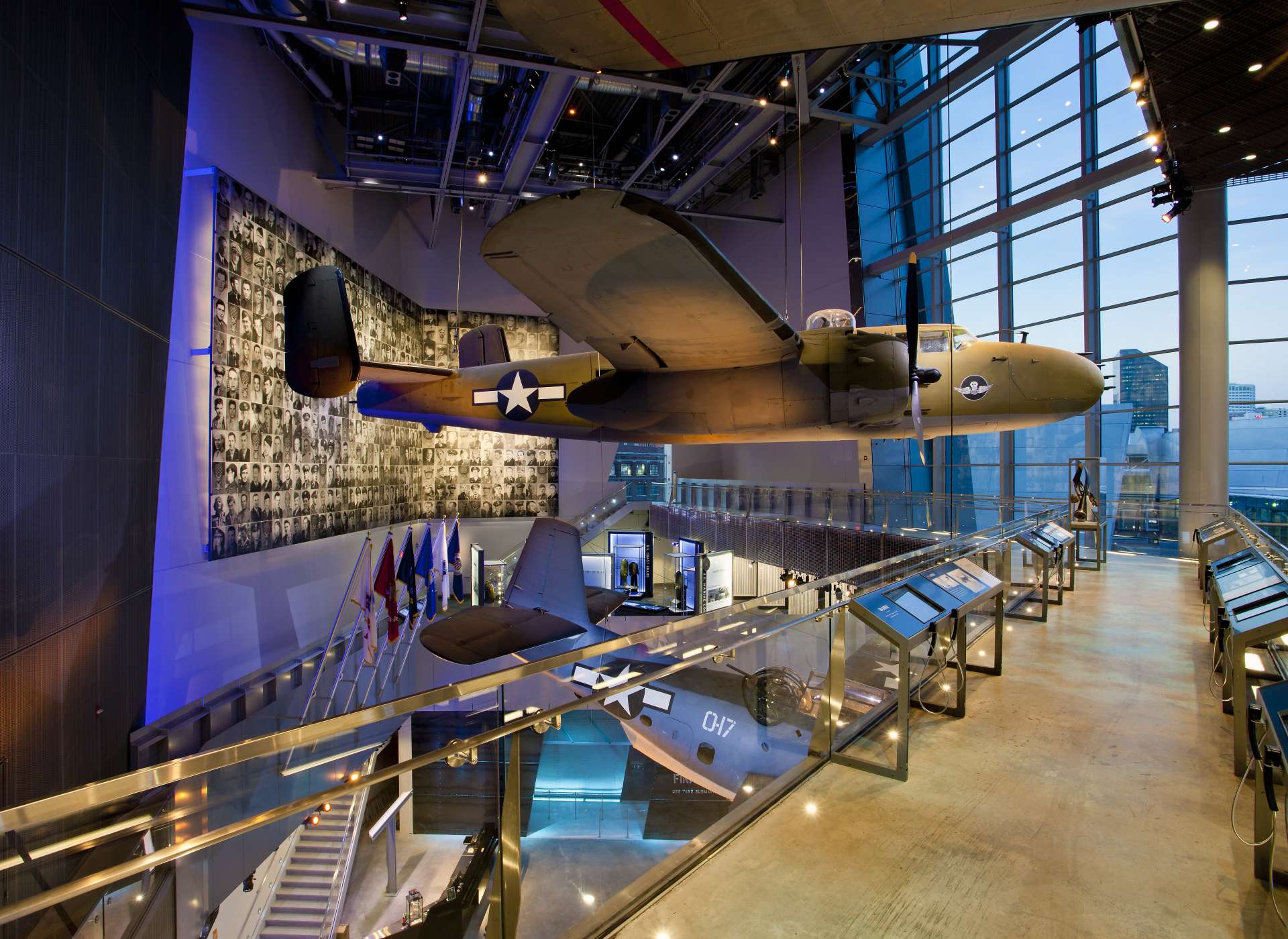 The B-25 bomber gained fame in the daring April 1942 Doolittle Raid. Lt. Col. James Doolittle humiliated the Japanese military by penetrating some of the world's most formidable air defenses and dropping bombs a stone's throw away from the Emperor's Palace. The Doolittle Raid's B-25s were the only aircraft to bomb Tokyo until 1944, when B-29 Superfortresses began operating from the Mariana Islands. The B-25 bomber soldiered in every theater of war, excelling in multiple roles, chiefly as a ground-attack aircraft later in the war.
B-25J of the Burma Bridge Busters, 490th Bombardment Squadron 
The 490th Bombardment Squadron was known as the "Burma Bridge Busters," specializing in the bombing of bridges that would deny Japanese supplies and reinforcements in Burma. This B-25J "gunship" is painted in the markings of one of the aircraft known to have been flown by the squadron. The aircraft could bring 14 forward-firing .50 caliber machine guns to bear on the Japanese anti-aircraft defenses that were so prevalent around the bridges of Burma before dropping 3,000 pounds of bombs on the bridge itself.
Statistics
Type: Medium Bomber
Production
Date Introduced: 1943
Manufacturer: North American Aviation
Number Produced: 4,300+
Specifications (B-25J)
Crew: 6 (Pilot, Co-Pilot, Bombardier/Navigator, Flight Engineer, Radio Operator and Tail Gunner)
Wingspan: 68 feet
Length: 53 feet
Maximum Speed: 272 miles per hour
Cruising Speed: 230 miles per hour
Maximum Range: 1,350 miles
Engines: Two Wright R-2600-92s (1,700 hp each)
Maximum Bomb Load: 3,200 pounds
Armament: Twelve to eighteen .50 caliber machine guns