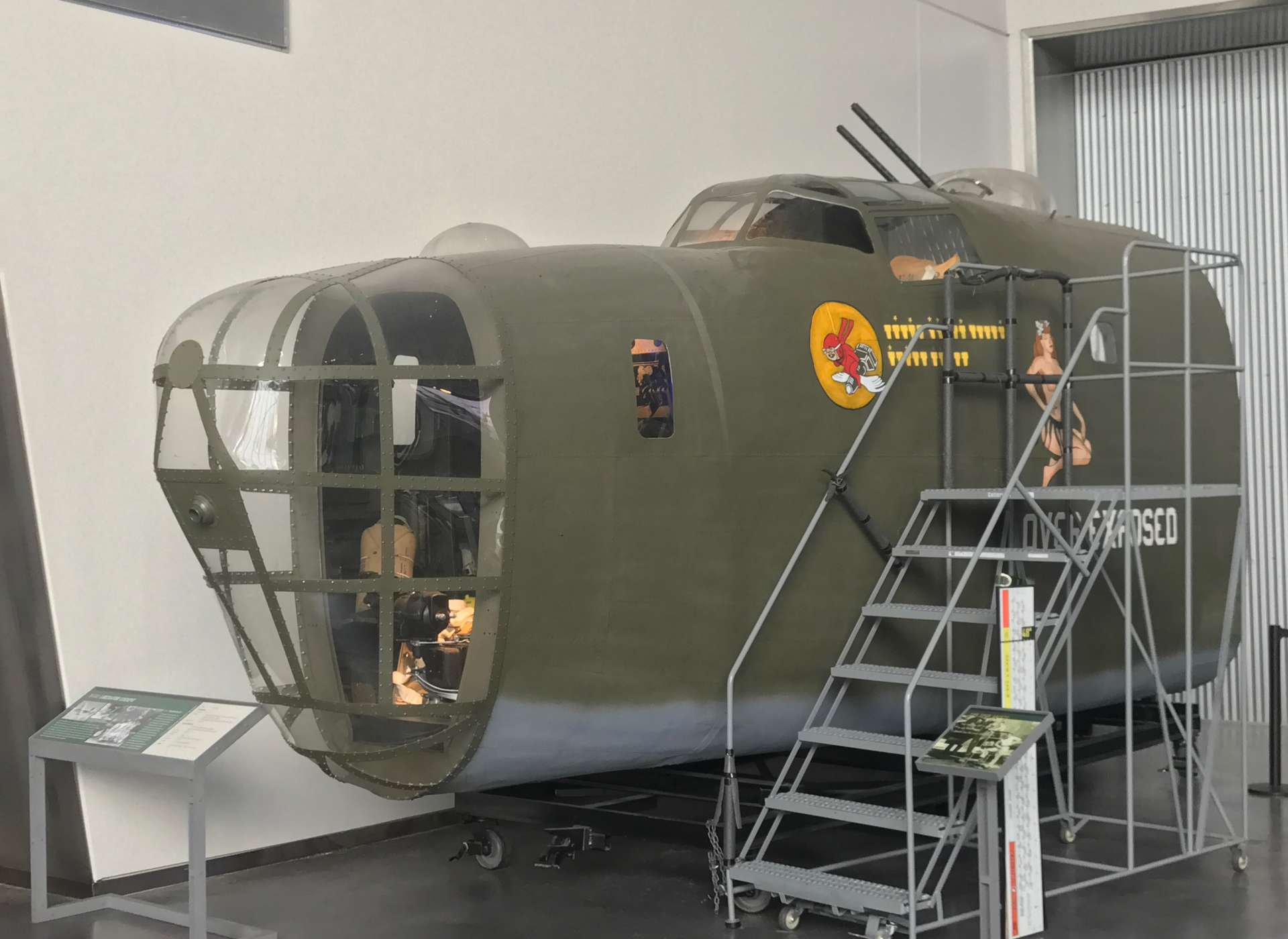 The B-24 Liberator was a powerful symbol of US industrial might, with more than 18,000 produced by the war's end. Flown in all theaters and entering the fray before America did through Lend-Lease with Great Britain, Liberators flew faster, higher and farther than the older B-17, thanks to greater fuel capacity and an innovative low-drag wing design.
B-24D Liberator Fuselage Over Exposed
This forward fuselage is made possible through a gift of Jim Sowell, whose father, Billy Z. Sowell, flew a B-24 with a photo reconnaissance squadron. The B-24 is painted with the markings and nose art of Mr. Sowell's plane, Over Exposed.
Statistics
Type: Heavy Bomber
Production
Date Introduced: 1942 
Manufacturer: Consolidated-Vultee Aircraft Corporation; Ford Motor Company; North American Aviation; Douglas Aircraft Company
Number Produced: 2,698
Specifications (B-24D)
Crew: 10 (Pilot, Co-Pilot, Bombardier, Navigator, Radio Operator, Flight Engineer, Ball Turret Gunner, Tail Gunner and two Waist Gunners)
Wingspan: 110 feet
Length: 66 feet
Maximum Speed: 303 miles per hour
Cruising Speed: 175 miles per hour
Maximum Range: 2,850 miles
Engines: Four Pratt & Whitney R-1830-43s (1,200 hp each)
Maximum Bomb Load: 8,000 pounds
Armament: Eleven .50 caliber machine guns