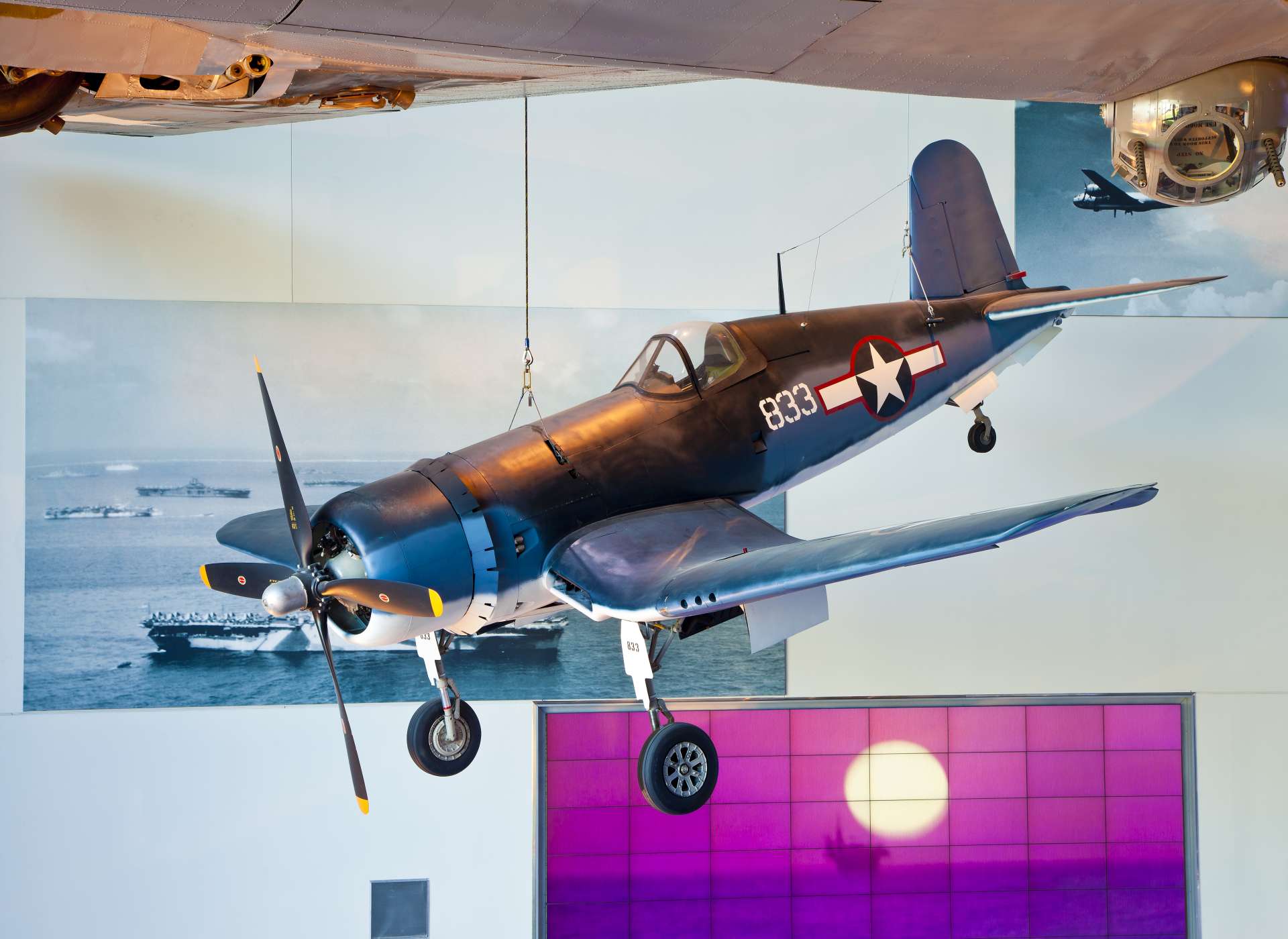 Development of the F4U Corsair began in early 1938, headed-up by Vought Aircraft's Chief Engineer, Rex Biesel. By May 1940, Vought had produced a prototype; the new fighter's inverted gull wings gave the aircraft an unmistakably recognizable face when viewed head-on, and were designed to provide ground clearance for the massive 13-foot propeller. On the Corsair's maiden flight, she broke the speed record for a single-seat fighter aircraft by exceeding 400 miles per hour in level flight. The Navy was sold on the speedy fighter and ordered Vought to begin production. Nearly 13,000 examples would be produced by the end of the F4U's production run in 1952.
The F4U Corsair entered combat in 1943, and gave Allied naval aviators a winning edge against their opponents. Renowned for its speed, ruggedness, and firepower, the Corsair excelled as both a fighter and an attack aircraft in support of ground forces. The F4U-4, with its more powerful engine, was the last Corsair variant to see service during World War II.
F4U-4 Corsair
Due to the urgent need for fighter squadrons in the Solomon Islands area in the summer of 1943, Marine Fighting Squadron 214 (VMF-214) was unorthodoxly cobbled together in theater, utilizing replacement pilots intended for other squadrons. Under the command of Maj. Gregory "Pappy" Boyington, the self-proclaimed "Black Sheep" of VMF-214 shot down 97 Japanese aircraft and damaged another 103 during the squadron's two six-week tours of duty, making the Black Sheep one of the highest scoring flying outfits in the South Pacific at that time.
The Corsairs flown by VMF-214 were seldom flown by the same pilot every day. In fact, Pappy would always fly the plane in the poorest condition on every mission, just so a pilot under his command wouldn't have to do so. This aircraft is painted in the markings of one of the aircraft known to have been flown by the squadron.
Statistics
Type: Fighter/Bomber
Production
Date Introduced: 1944 
Manufacturer: Chance Vought
Number Produced: 2,300+
Specifications (F4U-4)
Crew: 1 (Pilot)
Wingspan: 41 feet
Length: 34 feet
Maximum Speed: 453 miles per hour
Cruising Speed: 215 miles per hour
Maximum Range: 900 miles
Engine: Pratt & Whitney R-2800-18W (up to 2,450 hp)
Maximum Load: 4,000 pounds of bombs or eight 5-inch rockets
Armament: Six .50 caliber machine guns or four 20mm cannons