Since its launch in 2006, Knit Your Bit has reached more than 10,000 knitters and crocheters in all 50 states. Through their efforts, the Museum has distributed more than 50,000 scarves to veterans' centers, hospitals, and service organizations across the country. Hear from long-term KYB volunteer Patricia Giangrosso:
"Before I became the KYB volunteer in October 2016, I had for several years attended the various Knit-Ins at the Museum. In fact, it was at the Knit-In in September 2016 that I was recruited by Elizabeth Done, who was the first KYB volunteer. I started training with Elizabeth the following month and became the sole volunteer when she moved from New Orleans a few months later. Among other things, I unpack the dozens of scarves which arrive each week, label, and repack them to be sent to VA Centers and hospitals around the United States. I get to see firsthand the gratitude that knitters and crocheters from across the great country feel towards our military veterans. Whether it is an individual who sends a single scarf, or one like 90-year-old Shirley from Michigan who faithfully sends five to eight hand-knit scarves every month, you can appreciate the work that has gone into their tangible expressions of support.
Groups from all over send scarves—senior living centers like the Hebrew Home of Riverdale, NY, many woman's clubs throughout California, DAR chapters from Georgia to Washington state, church crafting circles, knitters and crocheters meeting in public libraries. Members like these and more spend their time, effort, and material to show their appreciation to our veterans. Many attach handmade cards to their scarves to let the recipients know that they are not forgotten, and that their service is recognized. Others let us know they have made their scarves in honor of loved ones who have served. I feel very fortunate, as the KYB volunteer, to be part of the effort to place these tokens of esteem in the hands of our veterans."
Knit Your Bit was conceived and organized by Lauren Handley, the former Education Programs Coordinator. When Handley began the project, her goal was to receive only 30 scarves. However, the project gathered steam as knitters passed the information along through club meetings, newsletters, blogs, emails, and other channels of communication. The program was originally scheduled to end in winter 2007, but when scarves were still coming in at rapid rates, the Museum committed to continuing the distribution.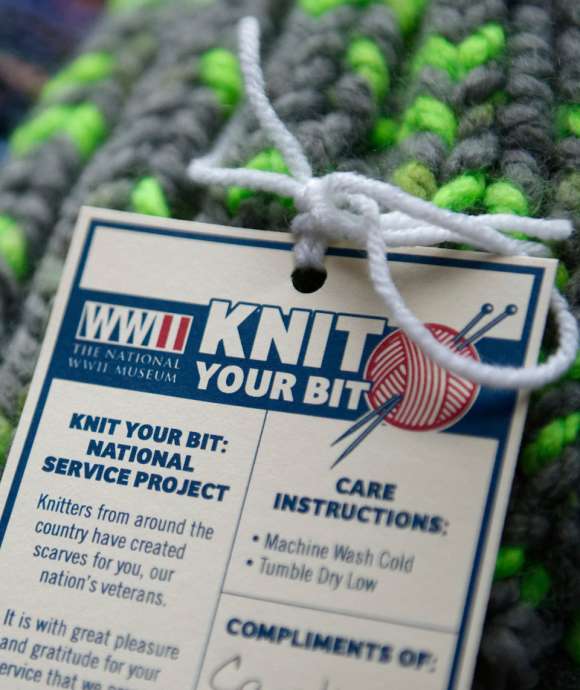 Knit Your Bit
Explore the Knit Your Bit page with information on the Community Partner Program, knitting patterns, and upcoming Knit-Ins.
Learn More
Events Calendar