When Germany surrendered to the Allies on May 8, 1945, the US Army suddenly faced an enormous new task. The biggest field army in US history had to transition into an occupation force, and hundreds of thousands of American soldiers in Europe had to redeploy halfway around the world for the expected invasion of Japan. Since the US Army had a surplus of troops for those two missions, it also had to equitably identify and discharge millions of men who had fought in Europe.
US Army Chief of Staff General George C. Marshall had anticipated this herculean task and charged the Special Planning Division in July 1943 with devising a system to determine which soldiers would occupy Germany, which soldiers would transfer to the Pacific, and which lucky soldiers would be sent home to their families. Marshall, who had served as General John J. Pershing's Chief of Staff during World War I, witnessed first hand the Army's demobilization failures after that earlier war. Following the Armistice of 1918, the US Army's rapid and disorderly demobilization left it woefully undermanned. After World War I, moreover, American divisions had been sent home as entire units. During World War II, however, this was not a viable option since older divisions included many soldiers who had arrived overseas as replacements in the final months of the war.
It was imperative that the Army find a way to send soldiers home in a prompt manner based on objective criteria. Otherwise it risked provoking widespread protests from restless soldiers overseas who had no enemy to fight. Soldiers' resulting frustration with the Army could have lasting significance for the American public's support for military spending after the war.
After soliciting feedback from commanders around the world, the Army ultimately devised and implemented a system called the Adjusted Service Rating Score. GIs more commonly referred to it as the point system. Under this scheme, every US soldier was awarded a number of points based on how long they had been overseas, how many decorations they had received, how many campaigns they had taken part in, and how many children they had.
Points were awarded according to the following formula:
- One point for each month in service in the Army
- One additional point for each month in service overseas
- Five points for each campaign
- Five points for a medal for merit or valor (Silver Star for example)
- Five points for a purple heart (awarded to all soldiers who were wounded in action)
- Twelve points for each dependent child up to three dependent children
The system was announced in September 1944, and as soon as the war in Europe ended, soldiers in that theater began calculating their point totals. They added and re-added, desperate to find a way to reach the total of 85 points needed to return home. Famed American soldier and war correspondent Bill Mauldin drew a cartoon referencing the point system in which an American soldier newly returned from overseas greets his child for the first time by calling him a "wonderful little twelve-point rascal!"
Soldiers overseas closely followed official announcements about which units would get credit for which campaigns and eagerly awaited news of any citations for themselves and their units. Medals had meant comparatively little to frontline soldiers during the war because deserving acts of heroism often went unrecognized and an award did not grant a soldier a reprieve from combat service. That all changed after the end of hostilities, when a citation could be the difference between going home and staying in Germany for several additional months.
Once soldiers calculated their points, they had them certified by an officer and then waited hopefully for news of their reassignment. Existing divisions in Europe that had a large percentage of high-point men, such as the 82nd Airborne Division, were sent home after the lower point men in the division had been transferred elsewhere and long-serving men from other units had been transferred into the divisions. As the Army's estimates of how many soldiers were required in Europe and the Pacific were gradually revised downward, the required point total was also progressively lowered.
Although the point system was straightforward and its creators aspired to fairness, it was much maligned by soldiers overseas. Historians Waldo Heinrichs and Marc Gallicchio wrote that in theory the system was "an eminently fair means of discharging veteran troops and identifying those who should be called on to render further service in the Pacific." These same scholars added, however, that in practice the system was "an administrative nightmare" plagued by misinformation and varying interpretations.
In addition to conflicting information about campaigns and required point totals, soldiers found other faults with the system. Those soldiers who had been overseas for more than two years resented the fact that newly arrived fathers got so many points for newborn children. The childless soldiers complained that if they had been stateside in the past two or three years they may have become fathers too. Private Walter Anderson wrote to his wife that "I only have 28 points so there isn't much chance of me getting home. We should of [sic] had about three kids." He jokingly added, "We will know better next time." Combat soldiers also resented the fact that rear-echelon staff, who had not endured the hardships and danger of combat, received as many points for their time overseas as combat soldiers.
The ongoing war against Japan further complicated the Army's efforts to repatriate soldiers from Europe. The Pacific War's priority over resources meant that even when soldiers possessed the requisite number of points, they often had to wait for a ship to become available to take them home. As the months wore on, soldiers grew increasingly dispirited. Sergeant Gerald Raftery, who was stationed in Germany, lamented in July 1945 "how monotonous and pointless this whole existence over here has become."
"While the war was going on we had at least the feeling that we were doing a fairly important job and getting some actual result, but now our mission is probably almost useless."
Lacking a sense of purpose, bored soldiers directed their frustration at Army leaders. In December 1945, thousands of soldiers began staging protests in London, Paris, Germany, and the Philippines, demanding to go home. The war was over and they had no desire to remain in uniform. Back in the United States, families pressured their representatives in Congress through write-in campaigns. Truman responded to citizens' calls at a press conference on August 23, 1945, by saying the "armed services are doing everything in their power to expedite demobilization." He added candidly that "It wouldn't make any difference what sort of plan [the Army] had, somebody wouldn't like it."
Despite soldiers' displeasure, the Army actually demobilized its forces at a blistering pace. By the end of 1945, the War Department had returned more than four million soldiers to the United States. Between September and December 1945, the Army discharged an average of 1.2 million soldiers per month. The point threshold for a soldier to return to the United States was also lowered from 85 to 50 points by the end of the year. On September 6, 1945, just four days after Japan surrendered, Fleet Admiral Ernest J. King even authorized combat ships to begin carrying American troops home. Dubbed Operation Magic Carpet, battleships, carriers, and smaller vessels ultimately carried hundreds of thousands of soldiers to the United States through September 1946.
The US Army finally ended the point system in June 1946 in favor of discharging all soldiers after they had completed two years of service. By the time the US Army's demobilization officially ended on June 30, 1947, the Army had decreased from eight million soldiers in 1945 to 684,000 on July 1, 1947. The total number of active divisions also dropped from 89 to 12. Army leaders considered demobilization an overall success. They had completed the orderly drawdown of more than seven million men in just two years while also defeating Japan and occupying former Axis nations.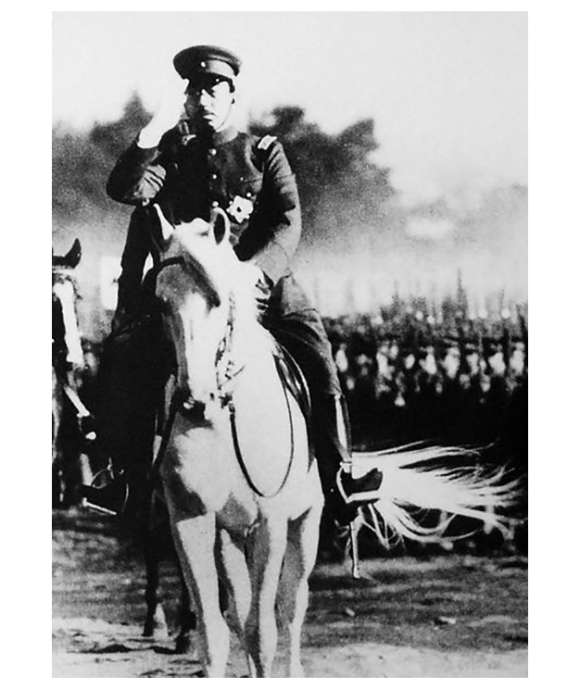 The Fate of Emperor Hirohito
Would Japanese Emperor Hirohito remain in power after his nation's surrender? His fate rested in part on the attitude of General Douglas MacArthur.
LEARN MORE
This article is part of an ongoing series commemorating the 75th anniversary of the end of World War II made possible by Bank of America. 

Contributor
Tyler Bamford was the Sherry and Alan Leventhal Research Fellow at the Institute for the Study of War and Democracy at The National WWII Museum from 2019-2021. He obtained his PhD in history from Temple University and his BA in history from Lafayette College.
Learn More