One of my favorite episodes of the masterful HBO miniseries Band of Brothers is Episode 9, "Why We Fight." It features members of Easy Company happening upon one of the Dachau satellite camps in Bavaria. Beginning with the discovery and liberation of the Ohrdruf Concentration Camp on April 4, 1945, through VE-Day, American soldiers by the tens of thousands were confronted with the true horrors of the Nazi regime and its vision of "a thousand year Reich." Episode 9 portrays this astonishment and disbelief in an emotionally horrific way.
I interviewed one of the actors, James Madio, who portrays one of the original Toccoa members of "Easy Company," Sgt. Frank Perconte. James, in addition to being a wonderful actor, has been an important part of our Educational Travel Program "Easy Company: From England to the Eagles Nest" since 2017. I had the pleasure of being on tour with him in 2017 which included a visit to one of these Kaufering subcamps of Dachau, near Landsberg am Lech. Not only is he remarkable in the series, but he is a great guy and has become a close friend. Our conversation is below.
What did you know about the Holocaust before your role as Frank Perconte?
I didn't know as much as I should have about the Holocaust. When I was younger, sadly I didn't put much effort into my education, and not knowing enough about the Holocaust is something that I genuinely regret. I'm extremely grateful for the amazing opportunities Band of Brothers has offered; and the hard introduction into better understanding the Holocaust is definitely one of them.

What did you do to prep for shooting Episode 9, "Why We Fight"?
When I first read Episode 9, "Why We Fight", my first reaction was: Wow, was Frank Perconte really the guy in Easy Company to discover the camps? So, I immediately called him and asked if this was true. After speaking with Frank, he told me that he was NOT the one to run back to HQ and notify Major Winters of the camp. For that specific cinematic moment, I believe the production took creative license. Most of my actual prep was trying to better understand Frank's ongoing emotions; fighting two years, away from home, stumbling upon the camps, his relationship with Private O'Keefe - a replacement tailing him throughout the episode. I had a lot to chew on for that episode, I was just incredibly honored that the producers and writer heavily featured Frank in that specific episode. It meant a lot to Frank's friends and family.
Did Frank have anything to say about it?
You know, there were a few questions that I never really asked Frank and one of them was about the Holocaust. I always treaded lightly with certain questions to Frank; I didn't want to trigger his emotions. His friendship was so important to me and I never wanted to tarnish that. So, unless he spoke about specific hard topics, I never asked. I wish I had a better answer for you with more information, but that's the truth.
Explain that shoot. Was there anything about filming that scene/episode that was different? 
Filming Episode 9 "Why We Fight" was much different from previous episodes. The gun fire, squibs, assault rehearsals were not in this episode. So, rehearsals and setups were completely different. By design, the production team already had the set "dressed" - meaning the concentration camp actors, the smoke, props, etc…were all in place when most of us actors arrived. So, you can only imagine our reactions, we'd never seen anything like it. The set itself was truly difficult to spend time on. The magnitude of those events and the importance of that specific episode really sunk in. I would frequently tell fans of the show that:
We had plenty of good, important, hard fun while shooting Band of Brothers, but respectively the fun stopped while filming episode 9.
Take us back to your first visit to an actual camp. What were any similarities or differences you saw between history and Hollywood? 
My first visit to any camp was years later, after Band of Brothers. I was a featured guest on The National WWII Museum's Educational Travel tour "Easy Company: England to the Eagles Nest." We visited one of the Dachau sub-camps towards the end of the tour.
On Band of Brothers, we had the best-of-the best during the production. An amazing production team. NO better in all of Hollywood. So, the external elements had many similarities, the look and idea of it all. Although for me, internally, there were no similarities to visiting the real place. As realistic as filming was at times, it was "a film set." The moment I stepped into the camp, or even got close to the place for that matter, it was an immediate feeling of confusion, anger, and disbelief. The entirety of it all, the conditions, the amount of suffering and death; the separation from Hollywood and reality couldn't be more distinct.
You've gone back a number of times now, how have you helped the guests better understand that camp, Liberation, and human experience? 
In the utmost humblest ways, at this point in the tour and having been "banding" together with guests on this epic journey for two weeks, it's my instincts to allow them to understand the camp for themselves. It's a lot of soul searching and new emotions that most folks have never felt. We all process grief and death in different ways. As far as the human experience, it's important to take a hand, answer a question or give someone a hug during the visit to the camp - that's how anyone of us could lend themselves on that day.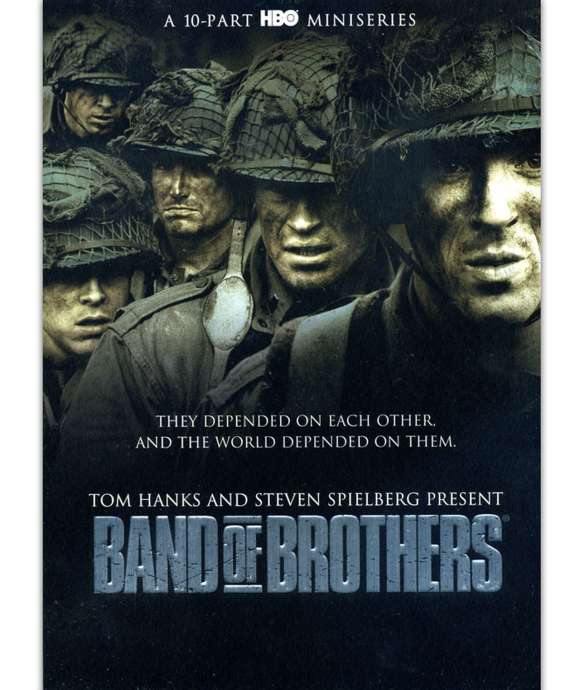 Band of Brothers
Tom Hanks and Steven Spielberg present a series based on the bestselling book by Stephen E. Ambrose. The epic 10-part miniseries Band of Brothers tells the story drawn from interviews with survivors of Easy Company, as well as soldiers' journals and letters. The series chronicles the experiences of these men who knew extraordinary bravery and extraordinary fear.
VIEW DVD
This article is part of an ongoing series commemorating the 75th anniversary of the end of World War II made possible by Bank of America. 

Contributor
Jeremy Collins joined The National WWII Museum in 2001 as an intern, and now oversees the institution's public programming initiatives.
Learn More