In America's first days of war, the defenders of the Philippine Islands were pushed into a precarious situation. With much of the US Navy's battleship fleet smoldering at Pearl Harbor, it was up to a handful of depleted Army air units to attempt to counter the scores of Japanese vessels massing off Luzon to support an invasion.
Captain Colin Purdie Kelly, Jr. and his crew had made it through the initial Japanese air attacks, but many of the 19th Bombardment Group's B-17 bombers were not so lucky. Kelly and other pilots and crews began flying combat missions with surviving aircraft almost immediately.
On December 10, 1941, Kelly and his men were aloft, searching for enemy warships to the north. Due to the continuous threat of Japanese aerial intruders, their B-17C Flying Fortress was partially fueled, and the harried ground crews at Clark had only managed to scrounge up three 600-pound bombs for Kelly's sortie against what they thought was the Japanese battleship Haruna.
Despite their limited bomb load, Kelly and his men dutifully attacked the vessel (which was actually the Japanese light cruiser Natori) from 20,000 feet, scoring a near-miss that damaged the ship.
While returning to Clark Field, Kelly's plane was spotted by patrolling Japanese aviators. They quickly pounced upon the lumbering American bomber and, in repeated firing runs, raked the aircraft with machine gun and cannon fire. Kelly's B-17 began to burn.
As aircraft commander, Kelly's actions that day were the same as many others would be in the years of combat flying to come—he put the lives of his crew ahead of his own safety. Giving the order to bail out, Kelly stayed on the flight deck, struggling to hold his dying aircraft level so his men had the chance to jump.
Nearly all of his crew parachuted from the stricken bomber before it exploded in mid-air. "Kelly's body…was found very near the wreckage with his parachute unopened," a 5th Bomber Command report later stated.
"The personal courage and zealous devotion to duty displayed by Captain Kelly on this occasion, at the cost of his life, have upheld the highest traditions of the military service and reflect great credit upon himself, the Far East Air Force, and the United States Army Air Forces," reads his Distinguished Service Cross commendation.
Kelly's death and military honors, however, are just part of the story. Kelly's legend on the home front also proved to be long-lasting at a time when war news was almost exclusively grisly and gloomy, Kelly's story of selfless sacrifice profoundly affected the American public.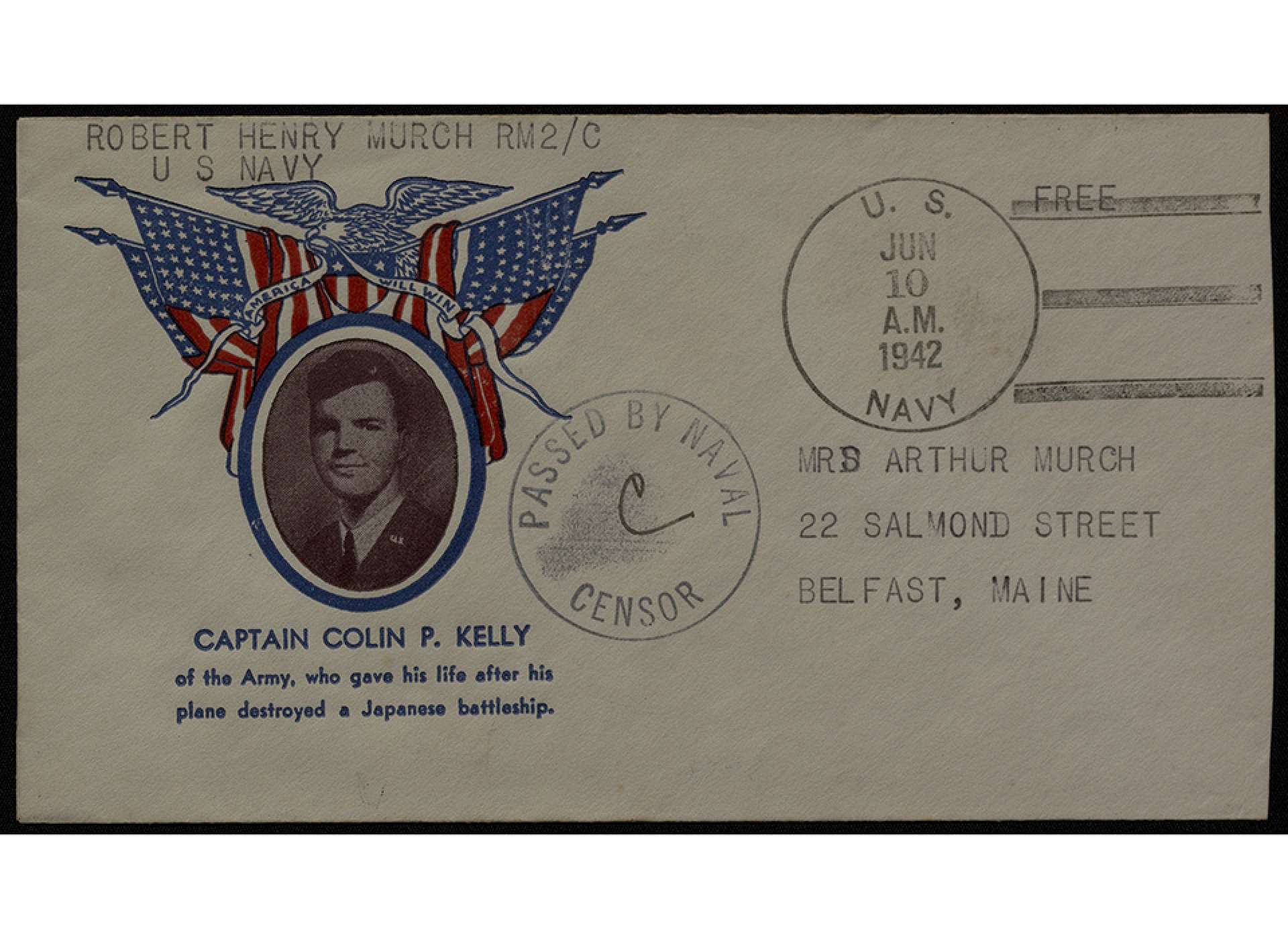 For years after Kelly's death, citizens all over the country continued to commemorate the late aviator so that the story of his bravery would never be forgotten. Streets, drives, and avenues named for Colin Kelly grace road maps in towns and cities nationwide. They endure in Texas, Florida, California, Maine, South Carolina, and New Jersey to name a few, along with a Colin Kelley [sic] Drive near Wright Patterson Air Force Base in Dayton, Ohio.
In Kelly's hometown of Madison, Florida, there is a Colin Kelly Highway, a Captain Colin P. Kelly, Jr. post office, and an imposing monument topped with a quartet of angels, wings outstretched, dedicated to the pilot at the city's Four Freedoms Park. There is also a Colin P. Kelly Fitness and Wellness Center, which is just a stone's throw from the pilot's final resting place at Oak Ridge Cemetery.
Other Americans immortalized Kelly in poems, paintings, and songs. In 1944, a book titled, The Legend of Colin Kelly, America's First Hero of WWII, hit the shelves. The term is often used for Kelly—the first. His gravestone uses the phrase too, even though men like Doris Miller, Kenneth Taylor, George Welch, and others had demonstrated great bravery, and many Americans had died, at Pearl Harbor, Wake Island, and elsewhere in the first days of war.
The city of Eugene, Oregon boasts Kelly Middle School. The student body's nickname is "The Pilots." And the school's colors? Kelly green and white, of course. An elementary school in Compton, California, built in 1933, was renamed Colin P. Kelly Elementary to honor the late aviator. The school's logo has a climbing Boeing B-17 bomber at its center, with the slogan, "Soaring to Academic Excellence."
Strangely, there is no Air Force base named after Colin Kelly. This is most likely because US Signal Corps flier George Edward Maurice Kelly, killed in the crash of a Curtiss Model D in 1908, beat him in solemn tribute. Camp Kelly in San Antonio, Texas was dedicated in 1917. It later became Kelly Field and then Kelly Air Force Base. The fact that the facility is named after George, not Colin, is a matter of timing.
Though there was no air base, there was a ship named after the departed B-17 pilot. The Liberty ship SS Colin P. Kelly Jr. was launched on December 13, 1942. The Kelly traveled the world. A type-written history of the ship in The National WWII Museum collection puts it, "… we anchored at least once at every continent in the world. We sailed the Pacific, Indian, and Atlantic oceans plus the Caribbean, Arabian, Red, and Mediterranean seas. That would just about be the seven high seas. Wouldn't it?"
It was off of Sicily that the Kelly saw the most action, fighting off attacking German aircraft. The history says, "Our ships [sic] gunners have been credited with six or seven planes, so Colin P. we have done our best to avenge you." The vessel survived the war but, while delivering food to Antwerp three weeks after the fighting in Europe ended, the Kelly hit a mine and was damaged beyond repair. The ship was subsequently scrapped.
Not every memorial for Kelly was made in the United States. For years, a bust of the flier stood near the runway at Clark Air Force Base, no more than five miles from where the aviator's body fell in 1941. When the base was transferred to the Philippine government in 1991, the bust was moved. Today it resides in a massive American Cemetery and Memorial in Manila.
The site is the final resting place for 16,859 Americans, and a memorial with the names of an additional 36,286 Americans who went missing in action. Unable to grieve for each life lost individually, American citizens found symbols of heroism, like young Captain Colin Kelly, Jr., to channel their nation's pride, and also their sorrow.