Throughout the war, Americans had the consistency of familiar voices coming to them over the radio, narrating the events of the war, but also bringing moments of laughter into their living rooms. Listening to the radio was a part of daily life and was an activity that brought families and communities together, starting with the birth of commercial radio broadcasting in the 1920s and lasting through World War II and into the 1950s. Corporate advertisers vied to sponsor popular radio programs. Pepsodent toothpaste was one of many companies that advertised its products by sponsoring a weekly radio program. 
In 1938, Bob Hope was selected as star and host for The Pepsodent Show broadcast on NBC after working for many years building a successful career from vaudeville to Broadway, radio, and film.
In order to produce fresh material for his regular listeners throughout the 38-week radio season, Hope hired a team of comedy writers, a practice which continued for the remainder of his career. Many of these writers would hammer out jokes and gags for Hope for years, some later becoming famous with their own projects, like Larry Gelbart, creator of M*A*S*H and Sherwood Schwartz, creator of Gilligan's Island and The Brady Bunch.
An episode of The Pepsodent Show followed a typical format throughout its lifespan on the air. Hope began each 30-minute episode with a "snappy" monolog, delivering rapid fire jokes based usually on geographic location or current events and referring to the show's sponsor in some way. The opening monolog of his May 6, 1941 show included the lines, 
"This is Bob (March Field) Hope telling all aviators…While we can't advise you on how to protect your chutes…there's nothing like Pepsodent to protect your toots." 
These speed-comedy monologs set Hope's show apart from others on the radio at the time. Hope packed in tightly-wound material with closely edited jokes on current topics which spoke to the audience at the time.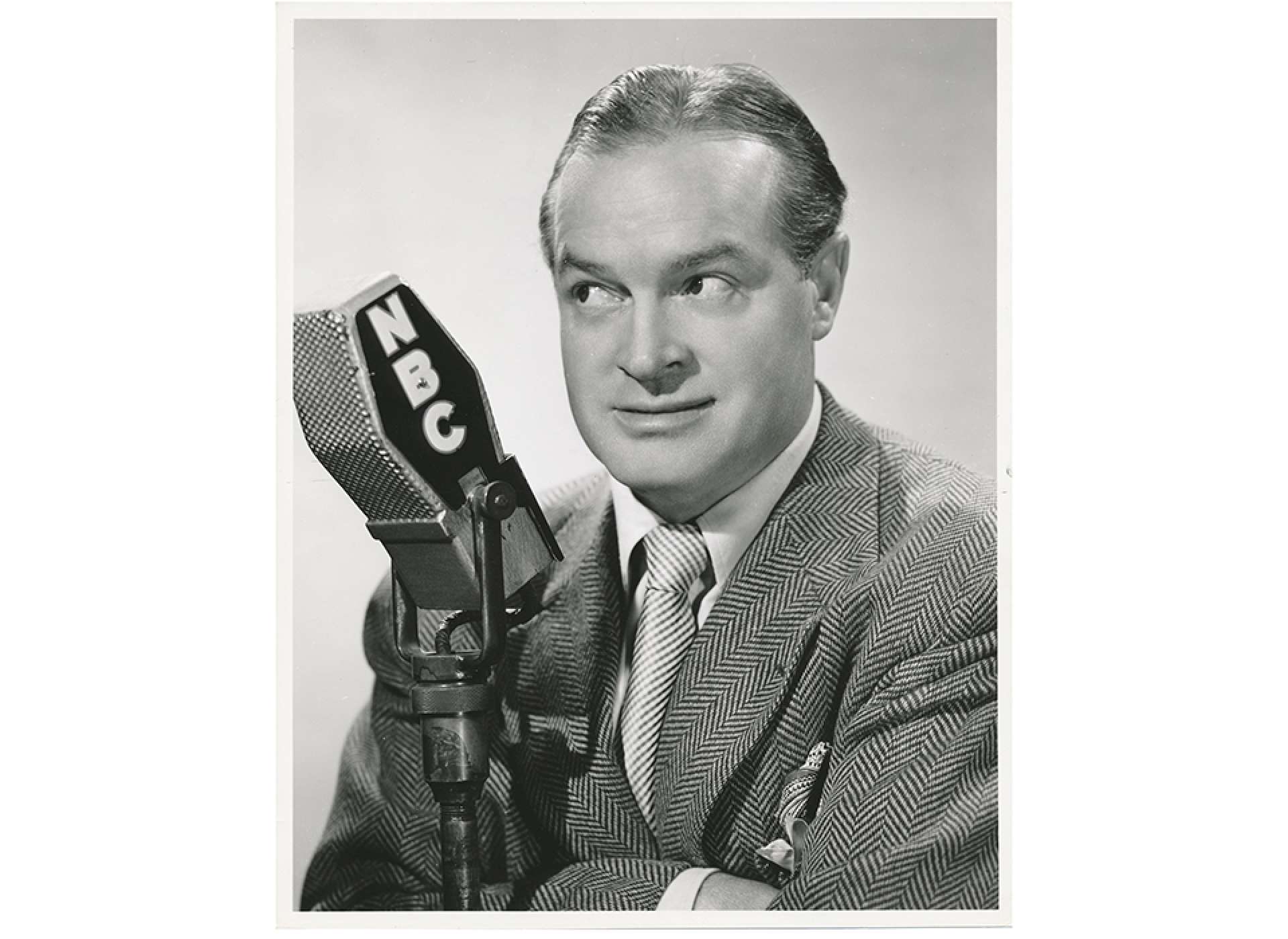 The monologs were followed up with skits and performances by special guests. These guests were Hope's friends and fellow performers; virtually all of the major celebrities of the time made appearances on The Pepsodent Show. Hope's contract with Paramount Pictures and his budding film career was instrumental in fostering a healthy list of guest stars. Judy Garland was a beloved regular guest. 
Hope would banter with the guests, introducing and interviewing them. The stage was also shared by Hope's regular cast, dominated by his sidekick Jerry Colonna and songstress Frances Langford. He wrote of his cast, 
"I knew I would have to have other people on the program so that we could at least laugh at each other– which we did on sight." 
Of course the program also included a wide variety of popular music. The show's regular orchestra would be joined often by guest musicians and performers such as the Andrews Sisters, and, of course, Hope's longtime co-star Bing Crosby.
Hope's open, self-deprecating demeanor, his keen sense of observation, and willingness to get to know his audience gave his jokes relevance and endeared him to the public. Dedicated editing, comedic timing, and an innate sense of what made something funny, placed him in an elite group and made him a mentor to so many comedians who came after him.
The Pepsodent Show was such a success that it also helped launch Hope's writing career. His book, They Got Me Covered, was published in 1941 with a first printing of two million copies. It was sold through Pepsodent and cross promoted by Paramount. Bob Hope fans were offered a special price of 10 cents with proof of purchase of a medium or large Pepsodent product. They Got Me Covered helped to shape his brand and continue to provide more opportunities for his audiences to get to know Bob Hope, the individual.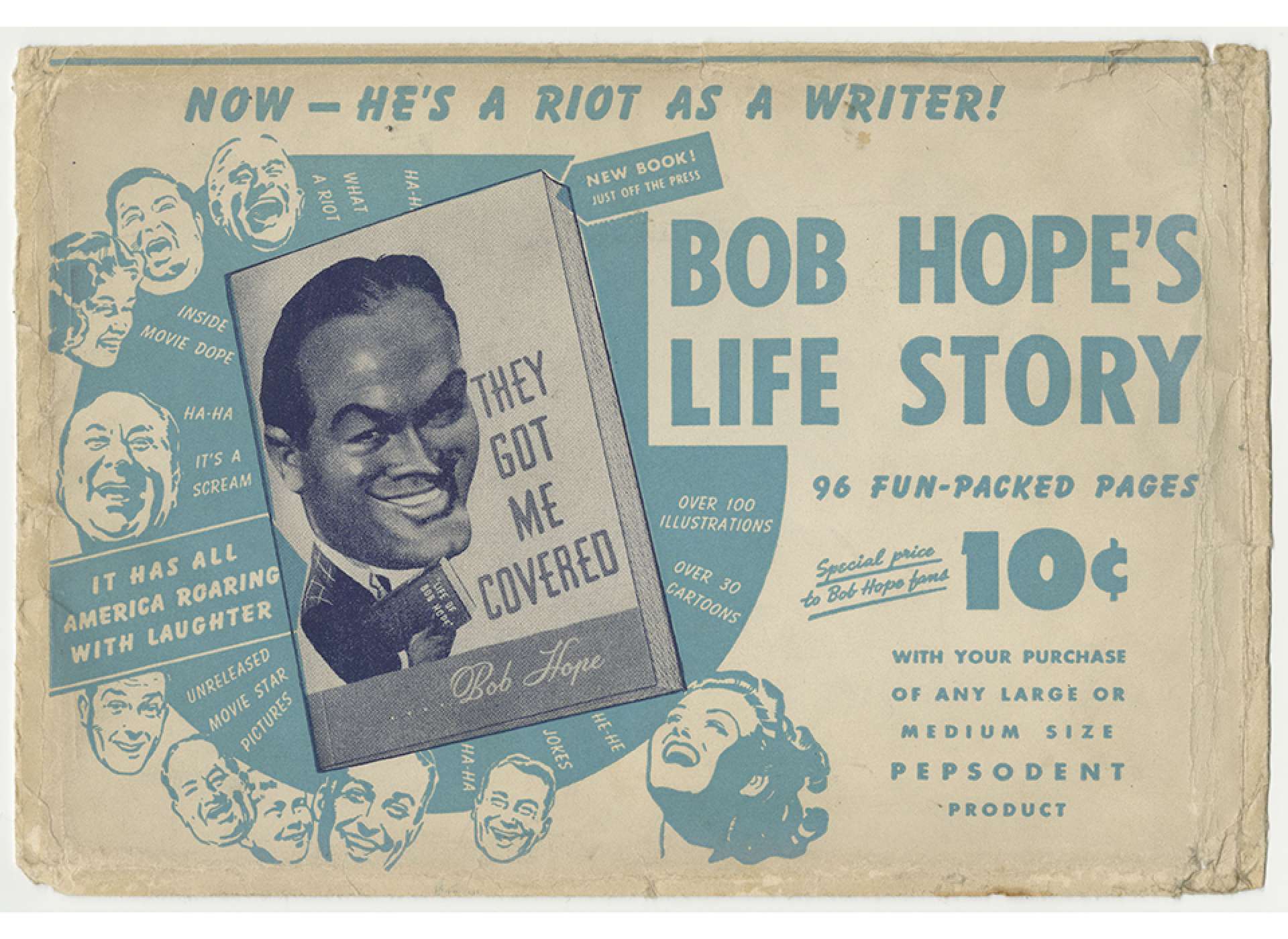 His most devoted audiences were, without a doubt, his American military audiences serving in this country and abroad. His popularity before his military audiences was unparalleled. He joked about one radio performance at Camp San Luis Obispo, "…I shook hands with three thousand soldiers. It was a wonderful experience. Some day I must go back there for my right arm."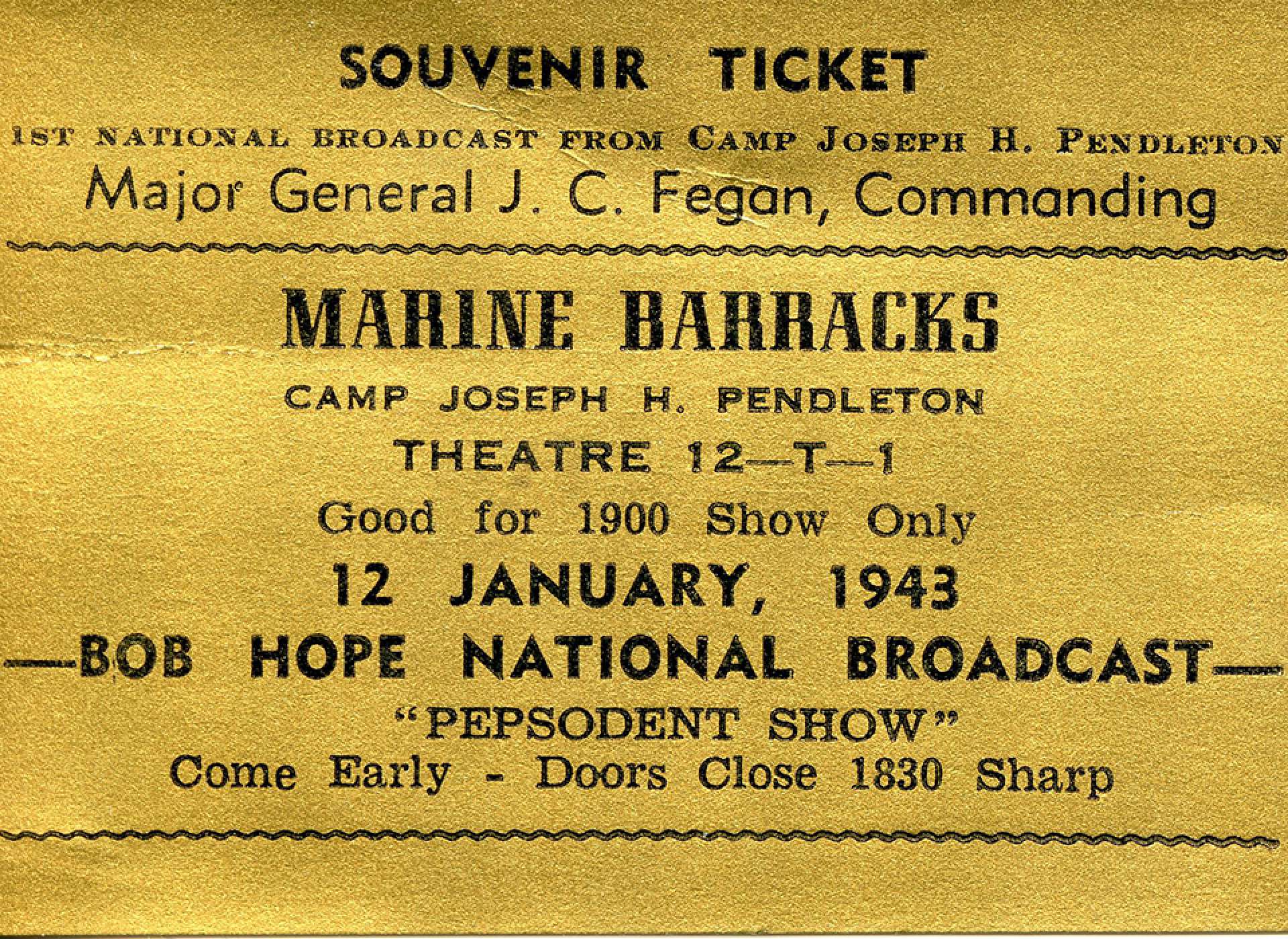 His May 6, 1941 performance at March Field, California, was the beginning of a new mission for Hope. His work took on added meaning when he was asked to perform his show outside of the studio, in front of a military audience. That day, he discovered his most cherished audience, the armed forces. 
After that performance, Hope drastically modified his show, normally recorded in a studio in front of a live audience, taking his wartime programs on the road to military camps and bases across the country. During the war, only nine of Hope's 144 broadcasts were recorded in the studio. The rest were performed in front of troops on their home turf, whether that was on the home front or the fighting front.
He provided a familiar voice (if not a familiar face) to the great number of American forces who made up his audiences. Bob later recalled in Don't Shoot It's Only Me, 
"They knew us by our voices. When they heard us speak, they were back in the living room, Tuesday night at ten, in front of the Atwater Kent radio, with Mom and Dad and their pesky little brother or sister, although at that moment they might really be in North Africa or Sicily or Guadalcanal." 
It is estimated that by the time of his death at age 100 in 2003, Bob Hope had entertained more than 11 million troops.

Contributor
Kimberly Guise holds a BA in German and Judaic Studies from the University of Massachusetts Amherst. She also studied at the Universität Freiburg in Germany and holds a masters in Library and Information Science (MLIS) from Louisiana State University. Kim is fluent in German, reads Yiddish, and specializes in the American prisoner-of-war experience in World War II.
Learn More