"When I finished singing, I noticed a nurse coming towards me leading a soldier carrying a bouquet of roses. He presented them to me and said they were just a token of appreciation, not only from the boys but from all the wounded boys I had ever sung for. I can explain the feeling that I had in my heart at that moment. The soldier was not more than 18 years old. He was blind in both eyes and his right arm was gone. It's things like that that make one feel no matter how much we are doing, it's still too little."
— Frances Langford, "Purple Heart Diary"
In World War II, Bob Hope became the unofficial ambassador to American troops, traveling around the globe to bring entertainment directly to those in service. Some of the most memorable moments of Hope's shows were due to the female performers in the troupe. To assemble his traveling cast, he leaned on regulars from his radio performances and also called on new talent.
Frances Langford was a core member of Hope's troupe. She joined him on his first performance for troops at March Field in California in May 1941, then toured with him on his initial long overseas tour in the summer of 1943, and then again in 1944.
By the time Langford joined up with Hope, she was already an established star and vocalist. Langford was born in Florida in 1913. Like Hope, she began her career in vaudeville and then followed it up with radio performances. Her rich tone was perfectly suited for love songs, including her signature, "I'm in the Mood for Love." She debuted the tune in the 1935 film comedy, Every Night at Eight, in which she plays a young singer working with a bandleader, Tops Cardona.
In 1942, Hope assembled a troupe to undertake a tour for those he called "God's Frozen People," in Alaska and the Aleutians. Langford was always at the top of the list. Flying in military transports was risky, accommodations spartan, and they weren't quite sure what to expect when they arrived at their destinations, but she was game.
On the first trip to Alaska and the Aleutian Islands, Frances was the only female member of the group. At some of the larger stops, like Fairbanks, Frances would bunk in the nurses' quarters. But at other places along the tour, there were no accommodations for women and these had to be improvised. Frances showed an adventurous streak on this Alaskan trip as well. The flights were often through ice and snow storms. During one flight from Cordova to Anchorage, the pilot ordered everyone to put on their parachutes and lifebelts. Frances wrote, "This thrilled me more than anything for I've always had a desire to make a parachute jump and it really looked like the time had come. Bob and Jerry [Colonna] were really surprised when they saw how excited I was. They thought I would be scared to death and probably pass out completely." Although the pilot successfully landed the plane, Langford described it as one of the most thrilling experiences of her life.
"Once she realized she had become a symbol to our soldiers of the girl back home, nothing could stop her from performing on the very edge of the battle zone. Even when those more faint of heart were ready to turn back, I could never persuade her not to follow me."
Langford was received in much the same way throughout all of her performances with Hope. It was often said that sailors, soldiers, airmen, or marines would put their arms around each other, or bow their heads and sometimes cry when they heard her sing a familiar melody. They were transported to a different place and time in different company, but only for a moment. "I'd sing a song, and I could just see the guys getting this faraway expression. I knew they were going home in their minds."
Her showstoppers with Hope were "Embraceable You," "You Made Me Love You," and "I'll Be Seeing You." There was always lots of jostling and lots of wolf-whistling when Langford appeared, but when she began singing everyone went completely still and silent. Hope said, "She knows just how much sex to pour and still be dignified."
Langford and Hope's troupe had some other close calls. In the summer of 1943, Hope brought his troupe to a very-recently liberated North Africa and Sicily through the USO Camp Shows Division, which was established to bring entertainment directly to those fighting overseas. The entertainers experienced what it was like to take cover in basements and in foxholes during bombing raids. After witnessing a harrowing Luftwaffe raid on Bizerte from a ditch outside of town, Hope joked that "When it was over, she helped me crawl out and get to the car. I don't think she carried me, but knowing Frances, she probably tried."
One columnist referred to Langford as a "one woman blitz" and said that she acted as a sort of "Fairy Godmother" to the GIs. Indeed she was called "Mother Langford" by Hope and by the other members of the troupe, even though she was ten years younger than Hope. In summer 1944, when the troupe toured the Pacific, they were joined by another female member, Patty Thomas. Langford took on the role of older sister and friend. They stayed very close for the remainder of their lives.
During the war, Langford, like Hope and Colonna, wrote about her travels. Purple Heart Diary was Langford's column for Hearst newspapers, in which she recounted episodes from her visits to wounded troops in hospitals across the country. In 1951, the column was turned into a film, starring Langford. Even though Langford performed hundreds of shows during the war all over the world in a variety of settings, the bedside and wardroom performances in military hospitals became her signature appearances. Although emotionally taxing, this work was extremely gratifying. She often recounted how she would sneak away after a song to cry, always wanting to remain calm and cheerful to her audiences.
From 1946-1951, Langford starred with Don Ameche as part of the verbal sparring married duo, The Bickersons, a popular radio comedy. She later left Hollywood, returning to her native Florida, where she opened a Polynesian club and marina in Jensen Beach. When Langford married her third husband in 1994, Patty Thomas served as her Matron of Honor. Langford died in Florida on July 11, 2005 at age 92. Her voice would live on in the memories and imaginations of a million GIs.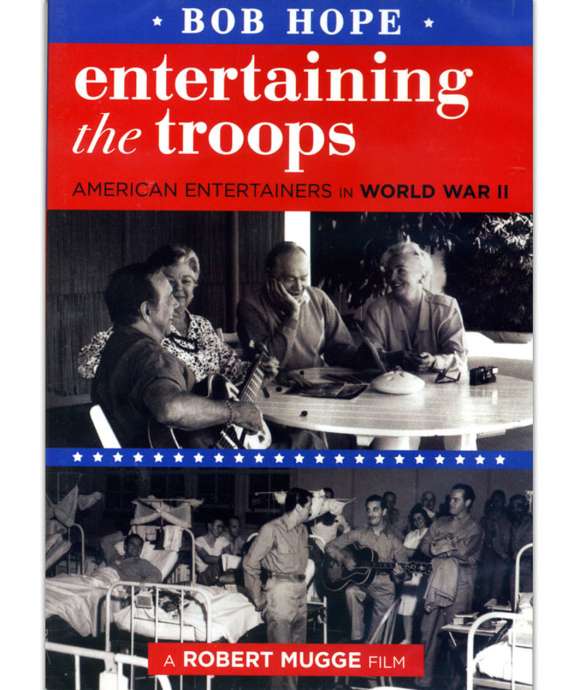 Bob Hope Entertaining the Troops DVD
This film uses clips and contemporary interviews from Bing Crosby, Dorothy Lamour, The Andrews Sisters, Jack Benny, Lena Horne, Dinah Shore, Lucille Ball, and more. Proceeds from purchases made through the Museum Store fund the continuing educational mission of our Museum.
BUY DVD
Museum Store

Contributor
Kimberly Guise holds a BA in German and Judaic Studies from the University of Massachusetts Amherst. She also studied at the Universität Freiburg in Germany and holds a masters in Library and Information Science (MLIS) from Louisiana State University. Kim is fluent in German, reads Yiddish, and specializes in the American prisoner-of-war experience in World War II.
Learn More