V-E Day found Bob Hope and his radio troupe at the US Naval Training Facility in Oceanside, California, not far from their homes or their home away from home, NBC Studios in Los Angeles. It had been four years almost to the day since Bob Hope's first performance for a military audience at March Field on May 6, 1941. V-E Day fell on a Tuesday (as had D-Day) and Tuesday happened to be the regular night for the Pepsodent Show, Hope's weekly NBC radio show, which he performed chiefly at bases and camps throughout the war.
Bob Hope was known for making folks laugh, but he also was a confidante and trusted resource to those who served and their families. Millions of individuals wrote to Bob Hope during World War II. Many of those who penned "Dear Bob Hope," did so out of loneliness and worry, separated sometimes for years from loved ones in service. Wives and mothers wrote the comedian inquiring as to the whereabouts of their son or husband. Servicemen wrote home describing a Hope performance "Somewhere in Italy" or "Somewhere in the South Pacific," and that would give a clue as to where they were serving at that moment. Those in the military couldn't tell where they were fighting or where they were stationed because of censorship, but maybe Bob Hope could let their families know. Families wrote Bob for information on their loved one, earning him the nickname of "Home Front Ambassador." A woman from Mobile, Alabama wrote to Bob in September 1943, "Somehow you can put into words the things we feel, but can't express."
Hope had been there. Hope had seen their boy. He became part of the family. So when the war ended in Europe, when Act I was over for Americans fighting overseas, it was personal for Hope too. As such, his show on V-E Day took a somber tone.
The next day Hope played a big role in the Armed Forces Radio Service broadcast marking Victory in Europe. This V-E Day broadcast was heard by troops serving around the world. It moved one soldier, Cpl. Robert Croop, serving in Ceylon, to write Bob his thanks. On May 9 Croop wrote, "Today, then, you formed, in a wonderful way, that touch of home which we needed…We are, after all, mostly civilians just waiting to change clothes for good and to have the worry, 'Oh what shall I wear to the dance tonight?'"
The broadcast featured prayers by a rabbi and a bishop, and in addition to Hope, performers included Bing Crosby and Judy Garland. Hope had the last words, though, and closed with this powerful statement: "All of us, all the free people of the world are giving thanks to God for Victory in Europe. We are thinking of those who will come back and the many who will never come back. Yes it's a lot different this time. We know it's not the end yet; not the finish. We're just taking a deep breath and shoving on. It's the runner heading into the last lap. It's turning into the stretch on top. It's the goal line drive. It's two-down-and-one-to-go."
For more on Hope's connection to troops during the war and to hear part of Hope's V-E Day broadcast, view the film produced for the Museum's exhibit So Ready for Laughter: the Legacy of Bob Hope sponsored by the Bob & Dolores Hope Foundation.
We know it's not the end yet; not the finish. We're just taking a deep breath and shoving on.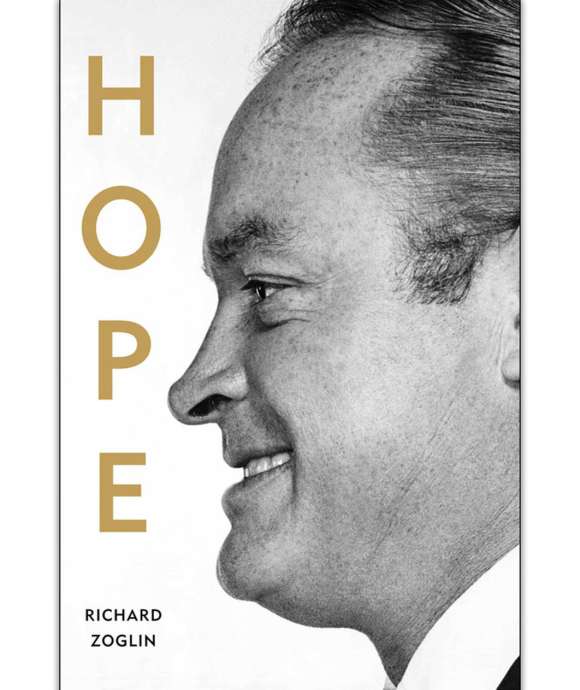 Hope: Entertainer of the Century
Read more about the man that helped redefine the very notion of what it means to be a star: a savvy businessman, an enterprising builder of his own brand, and a public-spirited entertainer whose charity set the standard for public service in Hollywood.
VIEW BOOK

Contributor
Kimberly Guise holds a BA in German and Judaic Studies from the University of Massachusetts Amherst. She also studied at the Universität Freiburg in Germany and holds a masters in Library and Information Science (MLIS) from Louisiana State University. Kim is fluent in German, reads Yiddish, and specializes in the American prisoner-of-war experience in World War II.
Learn More