On November 4, 1944, the J.A. Jones Shipyard in Brunswick, Georgia, launched Liberty ship SS Richard Randall. As was typical for the shipyard, there was a public celebration to watch the vessel slide into the Brunswick River for its first test of seaworthiness. Maritime tradition dictated that in addition to a large crowd of spectators in attendance, a small group of dignitaries would assemble on a raised platform to christen the ship by breaking a bottle of champagne on its bow. Among those participating in the Randall launch was Nanelle Surrency, a member of the shipyard's waterfront production crew.
For each ship, a woman worker was selected to participate in the launch in her workday attire, a symbolic representation of all of the shipyard's employees. In wartime America, as men were sent to battlefields overseas, women were recruited for positions requiring physical labor and skills, which had previously been filled by men. Due in part to the proficiency of these women workers, construction time for an individual ship at the Brunswick shipyard was reduced from over a year to under two months. Nanelle and her two sisters, Carobeth and Lauree, were just three of the 1,000 women who would work at the J.A. Jones Shipyard and play a small part in the big business of winning the war.
In 1936, there were only 10 shipyards in the entire United States capable of building oceanic vessels. Even without the threat of war, the country's merchant shipping fleet was dangerously out of date, and with the declaration of war in Europe in 1939, the situation became critical. Great Britain urgently needed ships and appealed to the United States to supply commercial vessels. By the time war was declared in late 1941, the United States was producing cargo ships as fast as existing facilities allowed; however, in 1942 alone, U-boat attacks destroyed twice as many merchant vessels as were built in the same period.
Adapting existing British plans, American naval architects developed a new design that became known as the Liberty ship. Quick to build, relatively cheap, and nicknamed "ugly duckling" for its ungainly appearance, this 441-foot emergency cargo vessel could carry over 10,000 tons. The Liberty ships constructed between 1941 and 1945 were assigned to private companies and Allied governments to operate for the duration of the war. They provided the lifeline of war materiel, food, and other supplies vital to supporting the Allies' global war effort.
The United States Maritime Commission (USMC), which oversaw all Liberty ship construction contracts, purchased land for the Brunswick yard in 1942. The local Brunswick Marine Construction Company, already delivering steel tugs and diesel tankers under an existing military contract, was awarded the contract to build a six-way Liberty shipyard and the first 30 vessels. Construction on the yard began on April 1, 1942, and initially went well; however, Brunswick Marine did not complete any of the desperately needed ships that year. USMC reassigned the contract to the J.A. Jones Construction Company of Charlotte, North Carolina, which was already successfully delivering Liberty ships at its shipyard in Panama City, Florida.
The Jones Company took over official management of the Brunswick yard on February 1, 1943. Even with the change in management, the first ship, SS James M. Wayne, whose keel had been laid in mid-1942, was not launched until March 13, 1943. It was apparent that the company would need more workers in order to reduce production time. Drawn by the high wages being paid in the defense industry, thousands of people flocked to Brunswick to join the shipyard workforce and meet the increasing demands of wartime production. While some workers came from other parts of the country, 80 percent were from towns in Georgia, especially farming communities.
All three of the Surrency sisters became welders at the Jones yard, relocating from Jesup, Georgia, nearly an hour's drive from Brunswick. Lauree, the youngest of the three, described how they all came to work there: "Daddy was already working, and he was riding a bus that hauled the workers back and forth from Jesup to Brunswick, and they did these housing projects for workers down there, and Daddy rented one. So Nanelle went and stayed with him, and when I got out of high school I went, and when Carobeth came back home – she had moved away – she joined us." Building housing for the shipyard workers was one of the many strategies that the Jones Company used to ensure there was a large and secure labor force for the yard. It is estimated that the population of Brunswick nearly tripled during the war years due almost entirely to the growth in the shipyard workforce.
The sisters' stories of their time in Brunswick both charm—and alarm—modern audiences. Though lacking experience, new employees were often put to work after only a few days of training. The oldest Surrency sister, Carobeth, explained how she became a welder: "First I went to school for a week. Soon as I learned to tack they put me out to tacking, and in a month I was doing flat welding, vertical welding, overhead welding. I weighed about 110 pounds. I was 20 years old, loved life, wasn't afraid of anything. I would go to the bottom of the ship and weld, or I'd go to the top of the mast pole and weld."
Even though these brave young women downplayed the hazards of the work they were doing, they acknowledged that welding was dangerous and physically demanding. Lauree remembered: "I guess you can make anything tough, but it was an experience. It was a challenge – to think about hanging on with one hand on a scaffold and your torch in the other hand and welding that way. I'm sure we took some risks, but I never did get injured, except once in a while I'd get an eye burn from the welding."
In the end, these women found immense and almost indescribable value in their work. As Nanelle said: "It was an awesome responsibility. You think about soldiers carried across and brought back in those ships…cargo, of course, supplies and all of that. It was like you were in a cake bake off… looking for the first prize."
The demand for labor provided new job opportunities not only for women, but also for African Americans in the segregated South. As a result of President Franklin Roosevelt's Executive Order 8802, defense industries were prohibited from racial discrimination in hiring practices. Although usually relegated to undesirable overnight shifts and physically demanding jobs, the black men and women of Georgia's coastal region were still attracted by the high wages and important work.
Ida Mae Lawson, a black woman in her thirties, was working as a housekeeper and nanny when she saw an advertisement for work at the Brunswick shipyard. While the job paid much more, she observed: "It was kind of good and bad. Some work was real heavy, and maybe you'd go on a shift and they're cutting light pieces, and it wouldn't be so heavy." She and her coworkers were tasked with carrying pieces of steel to be welded by women like the Surrency sisters. Ida Mae noted, "I felt like I was helping when I was hired to work," but she also recognized that "African-American women were always hired to do harder work than the white women."
All of the men and women, black and white, who worked there helped to make the J.A. Jones Shipyard one of the most efficient yards in the country relative to its size. Between March 1943 and March 1945, the Brunswick yard launched 85 Liberty ships. The first six ships took over 300 days to finish from laying the keel to delivering the ship. By November 1944, the yard was able to deliver a ship in just 34 days. The women of the shipyard approached their work with the knowledge that the number of lives lost or saved might depend on how fast a ship was built. Their dedication is best summarized by Nanelle: "Give it all you've got and then some, and then one day you'll say, 'Well I was a small part in that.'"
In total, 2,710 Liberty ships were produced in 18 different shipyards across the country. Without Liberty Ships and the cargo they carried, there would have been no D-Day and no liberation of Europe. And without women like the Surrency sisters and Ida Mae Lawson, there would not have been nearly as many Liberty ships.
---
Meet the Authors
Sandy White is the Education Director for the Coastal Georgia Historical Society and its museums. In her role at the Historical Society, she oversees the development of unique educational programming, scheduling and training volunteers, managing the museum visitor experience, and history outreach. She was also part of the team that developed the exhibits for the Society's new World War II Home Front Museum, detailing the incredible role of Glynn County in helping America win the war. White has a bachelor's degree in history from Vanderbilt University and a Master's degree in Museum Studies from The George Washington University.
 
Kim Campbell has served as the Museum Site Manager at the World War II Home Front Museum with the Coastal Georgia Historical Society since September 2018. In this capacity, she supervises daily operations on-site and assists with educational programming. Campbell was previously the Director of Preservation Field Services at Historic Macon Foundation and has also worked for the Historic Columbia Foundation. She holds a master's degree in public history with a concentration in historic preservation and a certificate of museum management from the University of South Carolina, as well as a bachelor's degree in history from Mercer University in Macon.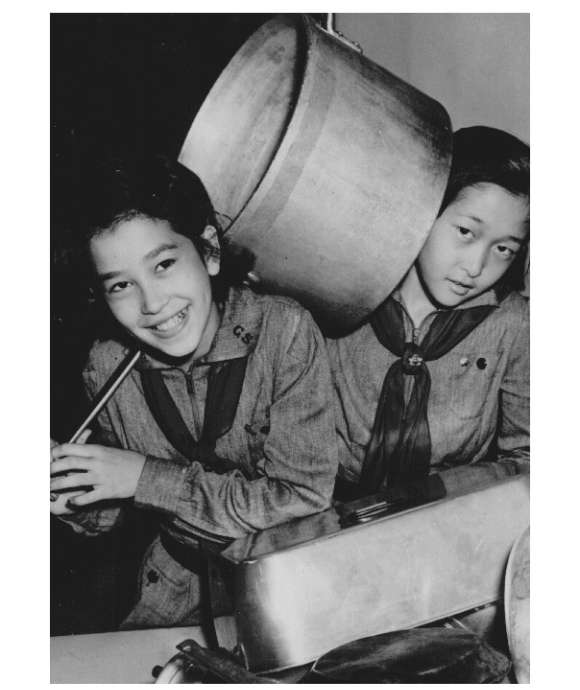 Girl Scouts Provide Much-Needed Aid During World War II
Girl Scouts' history of volunteering during times of crisis has been prevalent since the very beginning. 
LEAR MORE