Girl Scouts' history of volunteering during times of crisis has been prevalent since the very beginning. The Girl Scout Movement began in 1912, and by the time the United States joined World War I in 1917, girls were at the ready to lend a helping hand. The following year, they helped in their local communities during the Spanish flu pandemic even while the war still continued. Given this, when the 1941 attack on Pearl Harbor caused the country to join World War II, Girl Scouts already had a blueprint for their volunteer efforts.
Their training prepared them to assist during emergencies. A Women's Army Corps member serving overseas explained, "Scout training is an excellent preparation, especially from the point of view of discipline, self-reliance, and esprit de corps . . . Much of our basic training is just more intense work on the same things Girl Scouts do every day—first aid, map reading, marching, gymnastics, KP [kitchen patrol] (cooking, dishwashing, etc.) and any number of things. And like Scouts, we have to be prepared—for anything—because the most amazing things do happen in the most unexpected places!"
By early 1940, Girl Scouts began to organize for extended community service projects. They set up service bureaus, which acted as clearinghouses for volunteer work and other community services. In the first year, Girl Scouts gave "thousands and thousands" of hours of volunteer service to the Red Cross, relief agencies, hospitals, clinics, and other welfare groups.
After the bombing on Pearl Harbor, Girl Scouts living in Honolulu went right to work. Before darkness fell, they had already set up an emergency kitchen at Central Union Church. For the first week, Girl Scout leaders cooked and served meals to service members, including midnight snacks for those on night duty. A local hospital opened a blood bank, so Girl Scouts immediately collected and washed bottles to store the donations. The girls also helped in their school cafeterias and acted as guides, messengers, clerks, and babysitters for the registration and fingerprinting districts, which were part of the Immigration and Naturalization Service at the time.
Within months, the girls took over routine jobs so that adults could focus on critical tasks. They mended, cleaned, and cooked at home; cared for young children; and worked on farms. They also assisted the Red Cross with fund drives as well as rolled bandages, knitted afghans and washcloths, and made surgical dressings. Their service even extended to the War Chest office and the ration board. The War Chest office combined all local charity fundraising drives with the needs of the Red Cross and the Citizens Committee for the Army and Navy; people's donations were split between each member organization. Meanwhile, the ration board was responsible for ensuring that those most in need received the few resources available with as much equity as possible.
The Girl Scouts had their own personal victory fund campaign called Minute Maids, which they created with the US Treasury. Through it, girls bought war stamps that were converted by GSUSA's national committee into war bonds and held safely until after the war, when the proceeds would be used to help children abroad who had suffered during the war. This fund built on a program that had existed since 1939, when Girl Scouts began donating money to improve conditions in countries throughout the world, including Poland and Britain, which were both especially affected by World War II.
Girl Scouts also sold war bonds to the public. Girls once again found themselves tending "victory gardens," through which they grew and canned their own food to conserve commercially grown food for troops; studying nutrition; and using food thriftily. Brownies even had a Clean the Plate campaign to promote food conservation.
In 1941, Girl Scouts of the USA (GSUSA) launched the Senior Service Scout program as civilian defense training for girls ages 1518. It covered many topics, as well as specific War Service Projects that Seniors could participate in as farm aides, victory garden aides, ranger aides, childcare aides, hospital aides, nutrition aides, emergency outdoor aides, and recreation aides. This training not only provided useful Girl Scouting know-how but also prepared them for possible jobs after the war ended.
Through the Victory Book campaign, they gathered books, magazines, and newspapers for the armed forces to read in service camps and hospitals. Old metal, from sources as unlikely as toothpaste tubes and license plates (eight sets of license plates made one gun), was essential, as was silk hosiery, which was used to make parachutes and mosquito nets. After 100 United Nations (UN) seamen froze to death in lifeboats following their ship sinking, Girl Scouts collected used furs to be turned into warm vests and distributed to the UN. Girl Scouts also collected over 1.5 million items of clothing for Russian refugees through the Clothing for Russian War Relief program.
But perhaps nothing was more important or common than the "fat drives" Girl Scouts held in their neighborhoods. Taking the fat from old bacon grease and other meats, the girls' donations were made into glycerin, which was required to make ammunition. A pound of fat could make either four 37-mm anti-aircraft shells or 10 rounds from a .50-caliber airplane cannon. Girl Scouts from Billings, Montana, impressively collected more than 23 tons of fat in just two months!
GSUSA's leadership understood that in addition to the aid girls could give their families and communities during this time, the Girl Scout Movement could give back to girls by offering them a place to decompress from the stress and anxiety they faced from the current events. Summer camp was a welcome break where they could still be children without adult worries. All but four of the 423 camps were able to overcome transportation and other operational issues and continued to function during the war, with record attendance at many. Troop meetings also gave girls a safe place to laugh, play, and be creative—to forget about the war for a short time.
As with the Minute Maid campaign, GSUSA and its councils not only responded to immediate needs but also prepared for a different kind of service after the war ended. When they began planning in 1944 for the Movement's post-war activities, they focused on "international friendship and understanding, jobs, aviation, rehabilitation and adjustment of returned service men, occupational therapy, family relationships, homemaking, UNRRA [United Nations Relief and Rehabilitation Administration], [and] radio workshops." "The Girl Scouts are trying to live up to their motto 'Be Prepared' and they want to be as ready for the problems of peace as they were for those of war," explained the Girl Scout commissioner from Cicero, Illinois, Emily Zarobaky.
As a result, Girl Scout troops emphasized arts and crafts, particularly weaving, woodworking, and leatherworking, as well as making toys and other small objects. Girl Scouts not only collected materials for the occupational therapy programs at veterans' hospitals, but also taught the wounded soldiers how to make the materials, which would be useful career skills for those with injuries that prevented them from returning to battle.
The Wing Scout program, which GSUSA began in 1942, was part of its postwar forward-thinking attitude. Girls signed up for two years of training in aviation, usually with the goal to find a career in the field after they graduated high school. The training qualified them to serve on a ground crew (at the time, almost no female pilots existed).
At the start of the war, GSUSA telegraphed President Roosevelt to offer the services of its more than 665,000 members to the war effort. By the time the war ended, membership had grown to 1 million members. On March 12, 1944, Girl Scouts presented President Roosevelt with a "check" for over 15 million hours of volunteer service. Once again, Girl Scouts proved that they truly knew what it meant when they pledged to serve their country and to "help people at all times."
---
Abbreviated Resources 
Asbury Park Press, Asbury Park, NJ, March 18, 1943, "Shore Girl Scouts Active in Numerous War Services."
Berwyn Life, Berwyn, IL, November 15, 1944, "Girl Scouts Plan Post-War Work."
Price, Madison E. How Girl Scouts Shaped the World War II Homefront, in East Tennessee and Beyond. University of Tennessee, Knoxville: Trace: Tennessee Research and Creative Exchange.
The Billings Gazette, Billings, MT, October 25, 1942, "Girl Scouts of Billings, Dedicated to Service, Take on Wartime Jobs."
The Indiana Gazette, Indiana, PA, March 14, 1942, "The Girl Scout Road to Preparedness."
The Record, Hackensack, NJ, March 14, 1945, "Scouts Here an Active Part in War, Community Service."
The Times, Munster, IN, October 9, 1942, "Girl Scouts Launch Own Victory Drive."
US Citizenship and Immigration Services, http://www.uscis.gov.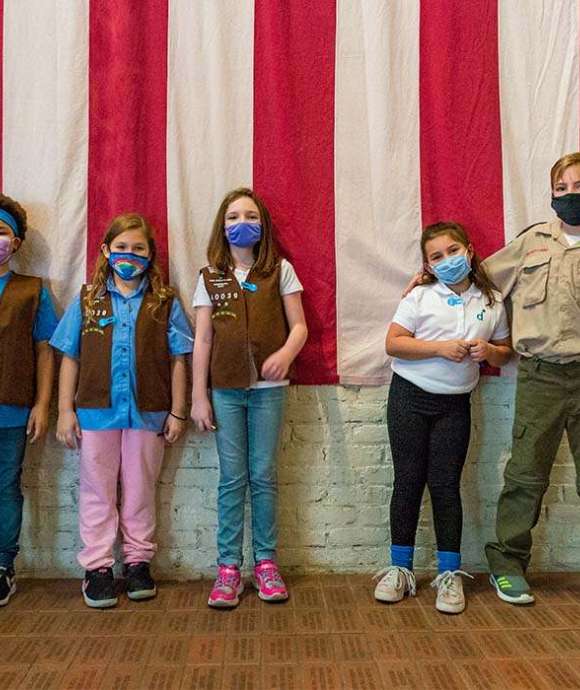 Scout Week at The National WWII Museum
Girl Scouts, Cub Scouts, Boy Scouts, Scouts BSA, and beyond have their own week at The National WWII Museum, with free admission to every Scout in uniform and reduced cost for family members.
LEARN MORE
This article was written by Girl Scouts of the United States of America.