While predominately remembered for her provocative dances, vaudeville routines, and appearances in films, Josephine Baker's efforts to fight the tyranny of Fascism have received regrettably little attention. Throughout her life, the American expatriate turned French citizen fearlessly called out the racism she endured while in the United States. Her bravery again went on display after her adopted country of France fell to Nazi forces. Josephine turned to espionage, using her celebrity status to capture information for the French Resistance. 
Born Freda Josephine McDonald in East St. Louis, Missouri on June 3, 1906, Josephine took to an early life of entertaining and offering performances to neighborhood children when still a small child. In her teenage years, Josephine turned to dancing with vaudeville troupes. At the age of 15, she met William Howard Baker, and after a few weeks the couple eloped. William was her second husband—her first, brief marriage occurred while she was 13—but he gave Josephine the surname that she kept for the rest of her life. 
At 19, Josephine accepted an offer to join an all-black revue set to run in Paris. Unlike the United States, France did not racially segregate public places on a large scale. When Josephine and her castmates boarded a train in France, they were surprised but happy to learn they could sit anywhere they liked. Josephine was also shocked to see the costumes created for her to perform in; one consisted only of a bikini bottom covered in flamingo feathers. After one performance, Josephine quickly took to this kind of erotic dancing and became a rising star. Over time, Josephine became the most successful entertainer in France, transforming from an exotic dancer into a film star and opera singer. Throughout these years, it is believed she became the wealthiest black woman alive.
In 1928, Josephine departed for a European tour, with the first stop in Vienna. Josephine had not been aware of the political unrest building in the region. By that point, Adolf Hitler's autobiography, Mein Kampf, had popularized racist ideologies that spread throughout the region. Before Josephine even arrived in Vienna, posters around the city denigrated her performance, calling her a "black devil." As she rode in a carriage to her hotel, protesters lined the streets. Josephine said the scene reminded her of the race riots that shook her community when she was a child. 
The start of World War II put Josephine's future performances on hold. By that time, she had married her third husband, a French-Jewish sugar broker named Jean Lion. The couple later divorced in 1941, but in that time, Josephine came to represent much of what Hitler and the Nazis despised. She was a successful, black woman in an interracial marriage with a Jewish man, who was also openly bisexual and had multiple long-term, semi-public relationships with other women. When the Germans began to advance on Paris in 1940, Josephine, like millions of other Parisians, fled the city.
Josephine moved to a chateau she rented in the south of France, where she took in other refugees fleeing the Nazis. After the fall of Paris, Josephine came into contact with Jacques Abtey, the head of French counter-military intelligence. Abtey sought to recruit people who could engage in espionage to help resistance efforts against the Nazi occupation. Josephine was an ideal candidate for this work, as her celebrity allowed her to move easily between countries and offered her enhanced protection. When Abtey approached Josephine to see if she would take the risk and join the resistance, she said,
"France made me what I am. I will be grateful forever. The people of Paris have given me everything… I am ready, captain, to give them my life. You can use me as you wish."
Josephine housed resistance fighters at her chateau and supplied them with visas. She attended parties and diplomatic functions, including parties at the Italian embassy that brought her in the orbit of high-ranking Axis bureaucrats. She collected information on German troop movements, and what harbors or airfields were in action. Josephine was confident that her celebrity and connections would protect her, and that no one would suspect her of espionage. She wrote down intelligence on her hands and arms, pinning notes inside her underwear. She did so knowing she would never face a strip-search—and she was right.
The Nazis had gotten wind of the resistance activity happening at Josephine's chateau, and visited the estate. Josephine had been hiding several resistance fighters at the time of the visit. She successfully charmed the Nazis when they questioned her, but she took the close encounter as a sign that it was time to leave France. Abtey contacted General Charles de Gaulle, who instructed both Abtey and Baker to travel to London via Lisbon (which was neutral.) Between them, the pair carried over 50 classified documents and secret intelligence. Josephine carried hers by writing the information down in invisible ink on her sheet music.
Following D-Day and the liberation of Paris, Josephine returned to her adopted city wearing a military uniform. She quickly took note of the terrible conditions many French people endured after the Nazi occupation. She sold pieces of jewelry and other valuables to raise money to buy food and coal for the poor citizens of Paris. Following Germany's surrender in 1945, General de Gaulle awarded Josephine the Croix de Guerre and the Rosette de la Résistance. He also named her a Chevalier de Légion d'honneur, the highest order of merit for military and civil action.
Far more than a vaudeville dancer and a jazz singer, Josephine Baker was a force of nature who vaulted racial barriers of the era and achieved the highest levels of celebrity. Her status became a shield behind which she could fight the horrors of the Nazi regime. Fearless and outspoken, Josephine found new ways to challenge those who sought to diminish or silence the suffering or oppressed. In strengthening her own voice, she found innumerable ways to both charm and resist.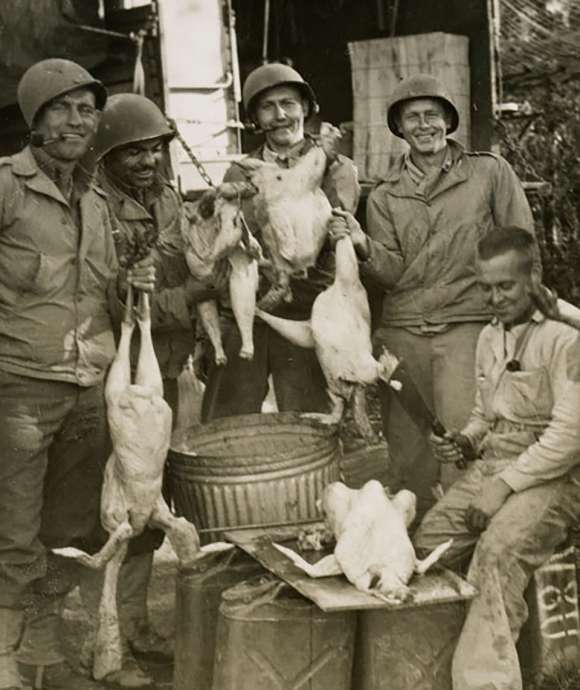 Dinner with a Curator
Kristen D. Burton, PhD, originally presented "Siren of the Resistance: The Artistry and Espionage of Josephine Baker" at a Dinner with a Curator event at The National WWII Museum.
Learn More
Events Calendar

Contributor
Kristen D. Burton is the Teacher Programs and Curriculum Specialist at The National WWII Museum in New Orleans, LA. 
Learn More