Benton J. Broussard, from Crowley, Louisiana, served in the 507th Parachute Infantry Regiment of the US 82nd Airborne Division.  He dropped into Normandy on June 6, 1944, as a part of the liberation of France.  Because he spoke French and English, he served as a translator for his unit.  He was captured near the village of Graignes on June 11, 1944. 
Broussard, along with 18 other paratroopers, two Catholic priests and two elderly women, were executed by German 17th SS Panzergrenadier Division.
The Secretary of War desires me to express his deep regret that your son Sergeant Benton J. Broussard has been reported missing in action since eleven June in France. If further details or other information are received, you will be promptly notified.
June 1944 telegram from the Adjutant General of the United States to Benton Broussard's family
In the days before e-mail, telegrams were the best and fastest method available to send news across the world. Broussard and his family frequently sent telegrams to each other for holidays and when letters from home arrived. When the United States and its allies assaulted Fortress Europe in June 1944, many families across the country began receiving telegrams from the US Government notifying them of the status of their loved ones. 
It soon became apparent that the invasion came at a heavy cost. In August 1944, Benton Broussard's family started receiving telegrams listing him as missing in action.
Broussard's parents began writing frantically to anyone who might have information on Benton's whereabouts in order to learn their son's fate. His family held out hope Benton would be found alive. 
Tragically, confirmation of Benton's death came in a telegram received on the one year anniversary of D-Day, June 6, 1945.
I am deeply distressed to inform you, corrected report just received states your son Sergeant Benton J. Broussard, who was previously reported missing in action was in killed in action on eleven June nineteen forty four in France.
June 1945 telegram from the Adjutant General of the United States to Benton Broussard's family
Benton Broussard was first buried in the United States Military Cemetery in Blosville, France, in plot T, row 7, grave 137. After the end of the war, the US Government notified families that the remains of their loved ones could be repatriated to the United States if the family wished to do so. Bennet Broussard, Benton's father, began the process of bringing him back home to Crowley.  Benton Broussard arrived by train in Crowley in June 1949, where he is buried today.
Sergeant Broussard's story is part of the special exhibit The Pelican State Goes to War: Louisiana in World War II, on display at the Museum through April 2018, then touring the state. Read more about the exhibit here.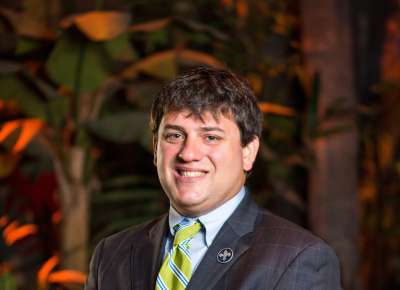 Contributor
A New Orleans native, James Linn first became involved with the institution then known as The National D-Day Museum in 2001 as an eighth-grade volunteer on weekends and during the summer. Linn joined The National WWII Museum staff in 2014 and served as a Curator until 2020.
Learn More