On February 9, 1945, 21-year-old US Army Private Cleto L. Rodriguez rushed across smoking rubble and into withering Japanese gunfire on the island of Luzon in the Philippines. For nearly a week, he and his fellow soldiers from Company B, 2nd Battalion, 148th Infantry Regiment of the 37th Infantry Division battled to liberate the capital city from a determined enemy.
The American advance had pushed the Japanese back to the Paco District's once-elegant railway station, situated on the broad Plaza Dilao. Three companies of die-hard Japanese marines were busily fortifying the building. Nearly invisible entrenched fighting positions dotted the area. Sandbag-lined pillboxes and bunkers protected well-armed and equipped defenders. Rodriguez's platoon launched a frontal assault against the station across the wide expanse, but enemy fire pinned them down 100 yards from the building. Rodriguez developed a plan to save his platoon with Private First Class John N. Reese, Jr., a fellow 21-year-old automatic rifleman and full-blooded Cherokee from Pryor, Oklahoma. Living up to the words on their regimental patch, "WE'LL DO IT," the two grabbed as many grenades and magazines for their Browning Automatic Rifles as they could carry and ran through enemy fire toward the train station.
Even in urban combat where dangers multiply, Rodriguez was not panicked. "I have never known fear," he later claimed. At a young age he had become acquainted with hardship. Born in San Marcos, Texas in 1923, he lost his parents at only nine years old. Selling newspapers to support his family, he often slept in the San Antonio Express's building so he could wake up early enough to deliver the papers before school. Rodriguez dropped out before graduating and joined a gang, leading to an aggressiveness that served him well after volunteering for the Army in March 1943 and joining the "Buckeye Division."
Up against 300 enemy troops, the two Americans fired and maneuvered as a disciplined team. Clearing hostile positions as they went, the pair of BAR men patiently pushed to within 20 yards of the station's main entrance. Without regard for his safety, Private Rodriguez destroyed a 20mm gun and machine gun from close range. After two-and-a-half hours, the two were out of grenades and had nearly burned through all their ammunition. With the help of Reese's suppressive fire, Rodriguez made it back safely to friendly lines. The Oklahoman, however, fell to a sniper's bullet while reloading. Both soldiers displayed exceptional bravery, resulting in 82 enemy troops killed. With the platoon from Company B no longer caught in a deadly position, the American advance continued. Rodriguez once again took the initiative only two days later, single-handedly killing six enemy soldiers and destroying a 20mm gun.
President Harry S. Truman presented newly promoted Technical Sergeant Rodriguez with the Congressional Medal of Honor, the first Mexican American in the Pacific theater of operations to receive the nation's highest military award. One of the most decorated soldiers in the PTO, Rodriguez also received the Silver Star, Bronze Star, Purple Heart, and numerous other awards. For his bravery on February 9, Private Reese received the Medal of Honor posthumously. After the war, Technical Sergeant Rodriguez returned to San Antonio to a hero's welcome. He left the Army in December 1945 and worked for the Veterans Administration, where he began a lifelong commitment to help fellow Hispanic Americans receive continuing education and skills training. In 1952, Rodriguez rejoined the service, initially with the US Air Force before transferring to the Army, retiring in 1970 as a master sergeant. On December 7, 1990, Rodriguez died at 67 years old. He is buried at Fort Sam Houston National Cemetery in San Antonio, the final resting place of eleven other Medal of Honor recipients, six of whom are fellow WWII veterans.
---
Medal of Honor Citation
"The President of the United States of America, in the name of Congress, takes pleasure in presenting the Medal of Honor to Technical Sergeant Cleto L. Rodriguez, United States Army, for conspicuous gallantry and intrepidity in action above and beyond the call of duty on 9 February 1945, while serving with Company B, 148th Infantry Regiment, 37th Infantry Division. Technical Sergeant Rodriguez was an automatic rifleman when his unit attacked the strongly defended Paco Railroad Station during the battle for Manila, Philippine Islands. While making a frontal assault across an open field, his platoon was halted 100 yards from the station by intense enemy fire. On his own initiative, he left the platoon, accompanied by a comrade, and continued forward to a house 60 yards from the objective. Although under constant enemy observation, the two men remained in this position for an hour, firing at targets of opportunity, killing more than 35 hostile soldiers and wounding many more. Moving closer to the station and discovering a group of Japanese replacements attempting to reach pillboxes, they opened heavy fire, killed more than 40 and stopped all subsequent attempts to man the emplacements. Enemy fire became more intense as they advanced to within 20 yards of the station. Then, covered by his companion, Private Rodriguez boldly moved up to the building and threw five grenades through a doorway killing 7 Japanese, destroying a 20-mm gun and wrecking a heavy machinegun. With their ammunition running low, the two men started to return to the American lines, alternately providing covering fire for each other's withdrawal. During this movement, Private Rodriguez' companion was killed. In 2 1/2 hours of fierce fighting the intrepid team killed more than 82 Japanese, completely disorganized their defense, and paved the way for the subsequent overwhelming defeat of the enemy at this strongpoint. Two days later, Private Rodriguez again enabled his comrades to advance when he single-handedly killed six Japanese and destroyed a well-placed 20-mm gun by his outstanding skill with his weapons, gallant determination to destroy the enemy, and heroic courage in the face of tremendous odds, Private Rodriguez, on two occasions, materially aided the advance of our troops in Manila."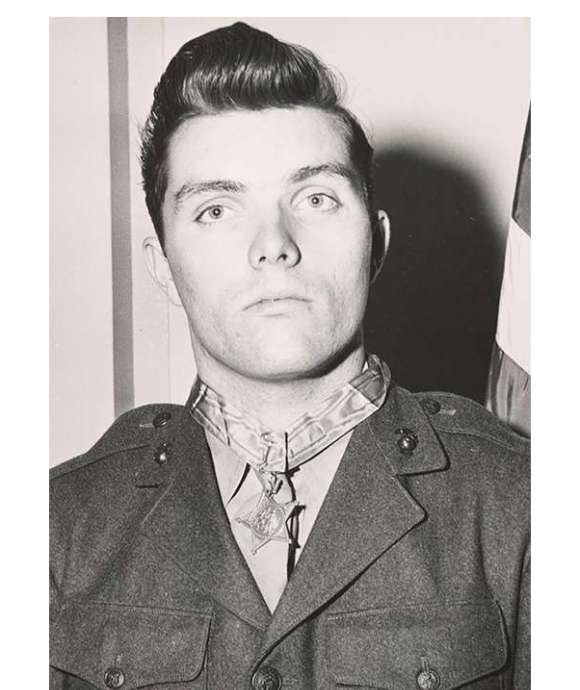 Private First Class Douglas T. Jacobson: Medal of Honor Series
Douglas Jacobson of Rochester, New York, enlisted in the Marine Corps in 1943 at the age of 17. Like many of his fellow Medal of Honor recipients from Iwo Jima, Jacobson was a combat veteran. 
LEARN MORE

Contributor
Adam Givens is the DPAA Research Partner Fellow at The National WWII Museum and earned his PhD from Ohio University.
Learn More