Vernon Baker led by example many times throughout his life. Born in 1919, Baker was orphaned at the age of four and, along with two sisters, was raised in Cheyenne, Wyoming by his grandparents. Because of Baker's struggles with anger and fights with his grandmother, he was sent to live for several years at Father Flanagan's Boy's Town in Nebraska. After high school, Baker, not satisfied with his job prospects, looked to the Army for a career. Initially, he was turned away by the recruiter because he was African American, but Baker did not give up. He tried again, in June 1941, and was eventually accepted into the infantry. Though not his first choice of assignment, the Quartermaster Corps, it would do. He recalled, "I didn't say anything because I was going to get in."
Baker trained at Camp Wolters, Texas. From the moment he arrived there on the bus, he experienced the degradation of the Jim Crow South and had to stifle his anger in order to survive. He heard the words of his grandfather, "If you want to live, boy, learn how to conform." The 25th Infantry, Baker's unit, was moved to Geiger Field in Spokane, Washington, where they stayed for nearly a year. In October 1942, while at Ft. Huachuca, Baker was tapped for Officer Candidate School, a bit to his dismay because his assignment up to then as a supply sergeant was easy. Baker recalled, "I had it made." After 13 weeks of OCS training at Ft. Benning, Baker received his commission as a 2nd Lieutenant on January 11, 1943. Subsequently he was assigned to command a weapons platoon in the segregated 370th Infantry Regiment of the 92nd Infantry Division.
On August 1, 1944, Baker's regiment landed at Naples, Italy to support the Fifth Army with the intent of fighting their way north and penetrating the Gothic Line. Lt. Baker became a skilled and valued platoon leader in the first few months in Italy, building a rapport with the men who he directed on nightly patrols. Above the platoon level, Baker's regiment and most of the others in the 92nd Infantry Division, were commanded by white officers. In October, Baker had a close call while on night patrol. His squad, which was attempting to take a house on the side of a hill, lost three men right away. Baker was seriously wounded and spent two months in the 64th General Hospital in Pisa before being returned to his unit. When he returned in December, he was the senior-most officer in his unit, until Capt. John Runyon and two other white officers arrived in March 1945.
On April 5, 1945, it was the 1st Battalion' s turn to make a push forward, with Baker's C Company in the lead. Seventy percent of the men under Baker's command were replacements with no previous combat experience. The goal was to take Castle Aghinolfi, a German artillery post and stronghold on a hill. Three previous attempts to capture the castle had ended in disaster. The men set out in the morning and after two hours were within 250 yards of the castle. Baker surveyed the terrain and killed two Germans in an observation post and another two near a camouflaged machine gun nest. Captain Runyon appeared and Baker and Runyon were met with a German grenade, which mercifully did not explode. Runyon retreated to the hill summit while Baker continued on, killing at least four more of the enemy. By that point, the Germans had spotted the American platoons and began a mortar attack resulting in high casualties. American artillery temporarily quieted the mortars, but the German soon launched another counterattack. 
Baker discovered the company commander overcome by fear. Capt. Runyon told him that he was going for reinforcements and to cover his withdrawal. Baker knew in the moment, that he would not see Runyon again and that he had to continue to lead, to set the example. Under constant attack, which included mortars and a German weapons platoon disguised as medics, Baker was left with a force of only eight men with little ammunition. He made the difficult decision to withdraw, hoping to save some of the lives in his charge. He recalled, "My men wanted to stay, but I wanted to ensure some of them stayed alive." Baker covered their withdrawal as they retreated, but two more of Baker's men were killed. Under intense fire, Baker managed to crawl and use grenades to destroy two German machine gun nests clearing the way for his remaining men to reach the safety of the nearest forward aid station. The attack had lasted 12 hours and nineteen of Baker's men lost their lives.
The following night, Baker volunteered to lead the battalion's advance through enemy mine fields and heavy fire to secure the occupied mountain objective. Between August 1944 and May 1945, the 92nd Infantry Division suffered as many as 5,000 casualties. Capt. Runyon recommended Baker for the Distinguished Service Cross, which he received on July 4, 1945 in a ceremony in Viareggio. The white commanders also received awards that day and although they were lesser decorations, they occupied the place of honor. Baker stayed in Italy until February 1947 on occupation duty. Baker continued to serve in the Army and led the way again when, after the Army was desegregated, he commanded an all-white Airborne Division company. He retired from the Army in 1968, after which he worked for the Red Cross for more than 20 years.
In 1996, the Army affirmed that seven African Americans, including Vernon Baker, had been unjustly denied the Medal of Honor for actions during World War II. In a 1997 White House ceremony, Vernon J. Baker was one of seven African Americans presented with the Medal of Honor, the US military's highest decoration, by President Bill Clinton. It had taken more than 50 years for this belated recognition of heroic acts performed under the most adverse conditions. Baker was the only one of the seven recipients still living to personally accept the award, which he tearfully and humbly did, recognizing and remembering those that were not there with him.
---
Medal of Honor Citation for First Lieutenant Vernon J. Baker
For extraordinary heroism in action on 5 and 6 April 1945, near Viareggio, Italy. Then Second Lieutenant Baker demonstrated outstanding courage and leadership in destroying enemy installations, personnel and equipment during his company's attack against a strongly entrenched enemy in mountainous terrain. When his company was stopped by the concentration of fire from several machine gun emplacements, he crawled to one position and destroyed it, killing three Germans. Continuing forward, he attacked an enemy observation post and killed two occupants. With the aid of one of his men, Lieutenant Baker attacked two more machine gun nests, killing or wounding the four enemy soldiers occupying these positions. He then covered the evacuation of the wounded personnel of his company by occupying an exposed position and drawing the enemy's fire. On the following night Lieutenant Baker voluntarily led a battalion advance through enemy mine fields and heavy fire toward the division objective. Second Lieutenant Baker's fighting spirit and daring leadership were an inspiration to his men and exemplify the highest traditions of the Armed Forces.
---
In the early days of The National WWII Museum, Vernon Baker was a guiding force and active participant in the creation of the symposium "Fighting on Two Fronts: The African American Experience in World War II." His oral history is featured in the Road to Berlin Gallery and online in the Museum's Digital Collections. Baker's actions are spotlighted in the Separate but Unequal exhibit in the Arsenal of Democracy Gallery, the Medal of Honor exhibit in the US Freedom Pavilion, and in the traveling exhibition Fighting for the Right to Fight African American experiences in World War II.
In 2008, the Museum presented its highest honor, The American Spirit Award, to Baker and the other living WWII Medal of Honor recipients in a poignant special ceremony aboard the USS Midway. Baker died on July 13, 2010. In 2015, the Museum hosted a panel moderated by Al Roker, called "Unsung Heroes" about Vernon Baker and the other Black WWII Medal of Honor recipients Edward Carter, John Fox, Willy James Jr., Ruben Rivers, Charles Thomas, and George Watson. Their legacies live on. Vernon Baker continues to inspire and to set the example.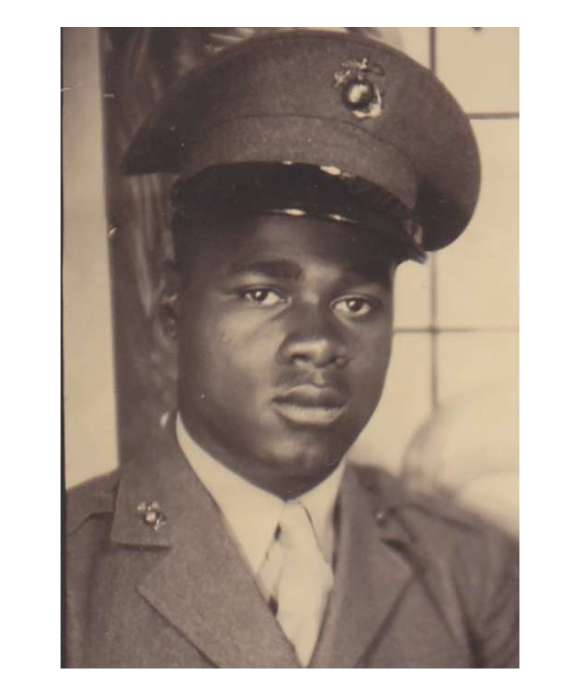 Edgar Cole—"I Still Wanted To Be the Best"
It was only in the wake of Executive Order 8802, and a presidential directive issued directly to the Corps, that the Marines began setting up a new segregated training facility for African American recruits at Montford Point, North Carolina. One of the first recruits was Edgar Cole.
LEARN MORE

Contributor
Kimberly Guise holds a BA in German and Judaic Studies from the University of Massachusetts Amherst. She also studied at the Universität Freiburg in Germany and holds a masters in Library and Information Science (MLIS) from Louisiana State University. Kim is fluent in German, reads Yiddish, and specializes in the American prisoner-of-war experience in World War II.
Learn More