During World War II, roughly 280,000 men and women from Louisiana served in the Armed Forces. There were over 30 military installations in the state, in addition to more than 40 prisoner of war camps. Louisiana industry supplied the Allied war machine with vital materials such as oil, synthetic rubber, and ships of all sizes. Civilians collected scraps, grew Victory gardens, and bought war bonds to build aircraft. Louisianans were all in it together, and this series highlights when the Pelican State went to at war.
If you live in New Orleans or even if you've visited, there's a good chance you've overlooked Molly Marine. Located at the intersection of Canal Street and Elk Place, she stands underneath large live oak trees in what we in New Orleans call the Neutral Ground (the space in between the streets). Most of us hurry past it, fighting traffic on the busy street, and never notice this unique statue which still has importance in the US Marine Corps today.

In the summer of 1942, a bill was passed in Congress which allowed women to join the US military, specifically the US Navy and Marine Corps. The Corps officially opened to women in February 1943. Under the direction of the Commandant of the Corps, Major General Thomas Holcomb, the female members of the Marine Corps would not go by a nickname, such as their Navy counterparts, known as WAVES (Women Accepted for Volunteer Emergency Service). They would simply be known as Women Reservists.
The initial response was promising as young women enlisted in an early rush. But negative press towards women in uniform soon led to recruiting challenges that were met with various solutions. In New Orleans, Marine Technical Sergeant Charles Gresham, a Marine Corps recruiter, decided a statue of a Woman Reservist would help drive up recruitment numbers. He turned to a local sculptor whose work was prominent in New Orleans—Enrique Alférez.
Alférez was born in Mexico in 1901 and was taught sculpting at an early age by his father. At age 12, Alférez attempted to run away from home. Once caught, he was forced to serve in Pancho Villa's army during the Mexican Revolution. There he put his artistic abilities to work as a mapmaker. After 10 years he escaped and made his way to Texas, then eventually further north, enrolling in the Art Institute of Chicago. In 1929, Alférez was making his way to Mexico when he stopped in New Orleans. He never left.
The 1930s were busy for Alférez, who worked on major projects such as the new Louisiana capitol building. In the latter part of the decade, the Works Progress Administration (WPA) began projects in New Orleans and Alférez directed the sculpture program for the WPA. He worked on projects including bridges and statues in New Orleans City Park, the façade of Charity Hospital, and a fountain in front of the new Lakefront Airport (then known as the Shushan Airport). Alférez's work could be found all over New Orleans, and it was to him that Sergeant Gresham turned.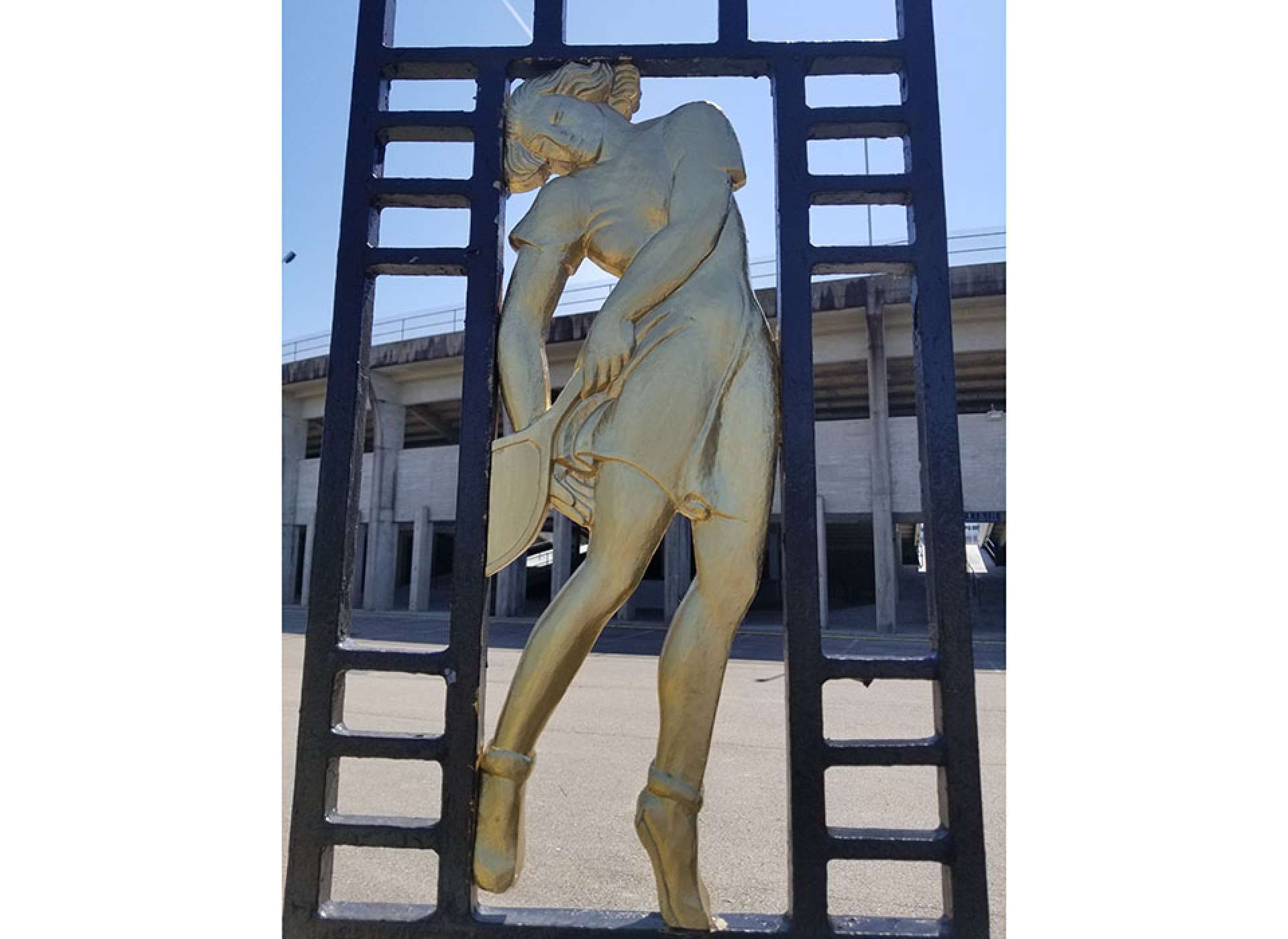 Alférez agreed to make a statue of a Woman Reservist and generously offered to donate his time to create the statue. He had desperately wanted to join the Marine Corps, but limitations on immigrant draftees had kept him out of the Corps. Wartime rationing required Alférez to work with materials not usually suited to permanent statues. Bronze, the most common material for a statue of this type, was out of the question., Sso Alférez used cement made from granite and marble chips.
Dubbed "Molly Marine," the statue depicts a young woman in a Women Reservist's uniform with a clipboard in her left hand and binoculars slung around her neck and held in her right hand. She looks skyward, ostensibly searching the sky, perhaps for aircraft, be they friend or foe. Standing on a pedestal inscribed with the Women Reservist's motto "Free a Man to Fight," Molly reaches 12 feet high. She was unveiled on November 10, 1943, the 168th birthday of the US Marine Corps. Adding to the pride Women Reservists had in seeing Molly was the fact that Molly was the first statue of a woman in uniform erected in the United States.
Molly's role in the Corps was not to be short lived. In 1969, the first Molly Marine Awards were approved. There were three, honoring a single graduate from each of the Woman Officer Basic Course, Woman Marine NCO Leadership Course, and every graduating platoon. The initial recipients received a miniature of the Molly Marine statue. The awards for officers (both commissioned and non-com) were eventually discontinued, and the supply of the statuettes depleted.
Over the years Molly Marine has suffered wear but has withstood the storms that have battered New Orleans. Groups of women Marines have banded together every few decades to have her repaired. And the original remains on display in New Orleans still. In the late 1990s, a mold was made, and two bronze replicas were cast. One stands at the Marine Corps Recruit Depot Parris Island, South Carolina, the other at the Marine Corps base at Quantico, Virginia.

The current Molly Marine Award is given to one recruit in each platoon graduating from boot camp. At Parris Island, where all female enlisted Marines attend boot camp and earn their Eagle, Globe, and Anchor, each graduating platoon gathers at the base of the statue of Molly Marine. There, they select one recruit to receive the Molly Marine Award. She is chosen by her peers for demonstrating "qualities of an exemplary Marine."
Successful as a recruiting tool, for over seventy-five years Molly Marine has inspired young women to embody the values of the United States Marine Corps. Marines visiting New Orleans often stop and leave flowers or small tokens for Molly Marine. So next time you're driving down Canal Street, remember Molly Marine and the thousands of women who have served in the United States Marine Corps.
To see more of Enrique Alférez's work, visit The Helis Foundation Enrique Alférez Sculpture Garden, part of the Botanical Gardens at City Park, where 15 of his works are on display.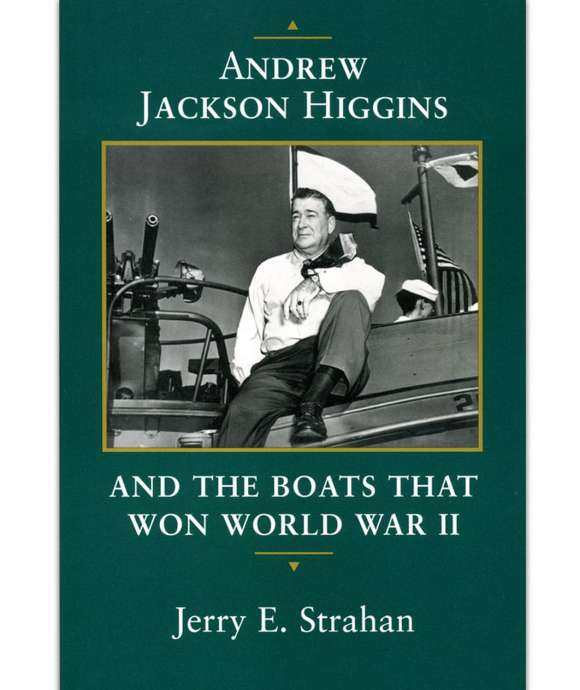 Andrew Jackson Higgins
To learn more about New Orleans during World War II, read the biography of perhaps the most forgotten hero of the Allied victory. Every Museum Store purchase helps fund our education mission. 
Museum Store

Contributor
Kali Martin earned a bachelor's degree in International Studies and German at the University of Miami and a master's degree in Mili...
Learn More