During World War II, roughly 280,000 men and women from Louisiana served in the Armed Forces. There were over 30 military installations in the state, in addition to more than 40 prisoner of war camps. Louisiana industry supplied the Allied war machine with vital materials such as oil, synthetic rubber, and ships of all sizes. Civilians collected scraps, grew Victory gardens, and bought war bonds to build aircraft. Louisianans were all in it together, and this series highlights when the Pelican State went to war.
It was a scene of indescribable chaos. Men and machines poured onto Omaha Beach in Normandy, France, on June 6, 1944, some landing in the wrong spot, few of them able to advance under intense fire from German machine guns and artillery on the bluffs above. The beach had to be taken, but more importantly, it had to be held, and the beachhead had to be expanded so that the Allies could ultimately push German forces out of France. The plan for Operation Overlord was not just a plan for fighting the enemy, it was also necessary to plan for the influx of men and material landing on the beaches and making sure it all happened in an organized fashion. But as the saying goes: "the best laid plans of mice and men often go awry." When Baton Rouge native Frank H. Walk landed on Omaha Beach at 8 a.m. on June 6, the Allies' best-laid plans had gone awry.
Tall and lean, with a face that gave away his age, Walk was only 23 when he stepped off a landing craft on Omaha Beach. He had grown up in Baton Rouge and graduated from Louisiana State University (LSU) in 1941 with a degree in mechanical engineering. At LSU Walk had been a cadet with the ROTC and was commissioned as a second lieutenant in the US Army Reserve upon graduation. He was called to active duty in 1942, and with his educational background, was assigned to the US Army Corps of Engineers.
By the spring of 1944, Walk had been promoted to captain and was serving with the 6th Engineer Special Brigade, part a provisional engineer group put together for the landing in France. These engineer units were organized with a myriad of specialists, from truck drivers to signalmen, and beachmasters, like Walk. The hundreds of thousands of men and millions of tons of material that would have to cross Omaha Beach on, and after, D-Day would require organization, and the Army Corps of Engineers were to take command of the beach as the fighting forces moved inland.
H-Hour on June 6 was 6:30 a.m. and Walk and his fellow engineers had been assured that the beach would be ready for them to get to work when they landed at 8 a.m. But things went wrong from the beginning. Bombers missed their targets, dropping their bombs miles inland. The naval bombardment that followed did little more than rattle the nerves of the German forces waiting ashore. Walk and the other engineers scheduled to land after H-Hour were prepared to land on a secure beach and get to work directing the movement of subsequent waves ashore. What they ran into instead was to test their nerves and skill.
As the ramp on the landing craft dropped and men ran out, six-foot-three Walk found himself in water up to his armpits. His radio operator lost his equipment and one of his runners was dead before they reached the shore. By 8:00 a.m. Omaha Beach was not under American control. Walk and his team had landed in a killing field, with well positioned German defenses raining bullets, shells, and mortars down with lethal precision. Walk pushed ahead, determined to "find a way to say alive." He hit the ground by a knocked-out tank and began digging a foxhole. He recalled in interview with the late Dr. Stephen Ambrose in his book D-Day: June 6, 1944: The Climactic Battle of World War II : "It is a natural instinct when you're under fire to dig a hole as fast as you can even if you have to do it with your fingernails. No one has to teach you to how to dig a hole." But the rising tide quickly made the foxhole useless, forcing Walk and his men up the beach.
Amidst the chaos, Walk and his team finally reached their designated command post. There he found his commanding officer who had landed in an earlier wave. The slaughter on the beach had shaken the man to his core, rendering him shell-shocked and unable to lead. Walk took over and got to work. More men and vehicles were on their way to the beach and traffic had to become organized as other engineers began to clear the exits.
The 6th Engineer Special Brigade had landed across Charlie, Dog, and Easy sectors on the western end of Omaha Beach. Walk found himself on the far eastern end of the 6th's sector on Easy Red. There, the first break came when WN 65 (Widerstandnest, a German strong point) was taken and the E-1 draw (beach exit) was opened up. The disorder on the beach continued, despite Walk's best efforts. He ran into difficulty when, as a young, junior officer, he had to tell higher ranking officers what they should be doing on the beach. It took some work, but Walk was able to convince senior officers he was indeed in charge of traffic on the beach.
Beach traffic was not Walk's only difficulty. He had to first direct landing craft in. The small landing craft had to rendezvous with a larger ship 12 miles offshore to pick up their cargo of either men or equipment, and then follow Walk's directions into the correct spot on the beach. Communication was spotty, and even if a route was clearly communicated, wind, waves, and the tide often caused landing craft to come ashore in the wrong spot. When they did, Walk had to sort them out and get their loads, be they men, vehicles, or equipment, moving in the right direction. When the decision was made to slow down the movement of troops onto the beaches until they were better under control, Walk had to communicate this decision to ships far offshore. The decision to slow progress allowed Walk to get men moving off the beach and through the exits that had opened.
Walk worked all day and all night to clear troops off the beach, sneaking a ration when he could but getting no sleep. With the amount of movement on the beach, Walk didn't stop for three or four days. He recalled in an interview with Elizabeth Mullener for her book, War Stories, Remembering World War II: "I didn't sleep for three or four days…It's just a marvel how much the human body can stand and still keep going." As more exits opened, troops began to pour onto the beach. Walk kept them moving in the right direction.
Within days a sense of order became evident, and the beach became better organized. Walk recalled the grisly aftermath of the first few days, remembering a "terrific stench." Graves Registration units began to remove bodies for burial while German prisoners were brought to the beaches to await transportation to POW camps. Walk had had a few close calls, but had made it through unharmed, if exhausted. The 6th Engineer Special Brigade remained on Omaha Beach throughout 1944, and Walk left France in December, returning to the United States.
By the war's end, Walk had served in Europe and the Pacific. Before landing on D-Day, Walk had served as an army liaison to Higgins Industries in New Orleans. As part of the Engineer Amphibian Command, Walk supervised the shipment of LCVPs (Landing Craft, Vehicle, Personnel) to the Pacific. Known as "knockdown" landing craft, these LCVPs were constructed in pieces, shipped to the Pacific, and assembled in theater. This allowed for a far greater number of landing craft to be shipped than when they were moved completed. Walk traveled to the Pacific where he trained crews to assemble the boats, as he had learned at Higgins's shipyard in New Orleans.
After being discharged at the rank of Lieutenant Colonel, Walk attended graduate school, eventually moving to New Orleans, where he and his wife Connie raised their family. There, he co-founded Walk, Haydel & Associates Inc., which became a successful engineering firm. The Walk family have been supporters of The National WWII Museum since its opening in June 2000. Walk donated a large collection of his personal items from the war, including items he used on Omaha Beach and material from his work as a liaison with Higgins Industries. On campus, students gather for summer camps and field trip work in the Frank H. Walk Educational Classroom. Some of Walk's donated items can be seen in "Everything We Have" D-Day 6.6.44  by Dr. Gordon H. "Nick" Mueller, President and CEO Emeritus.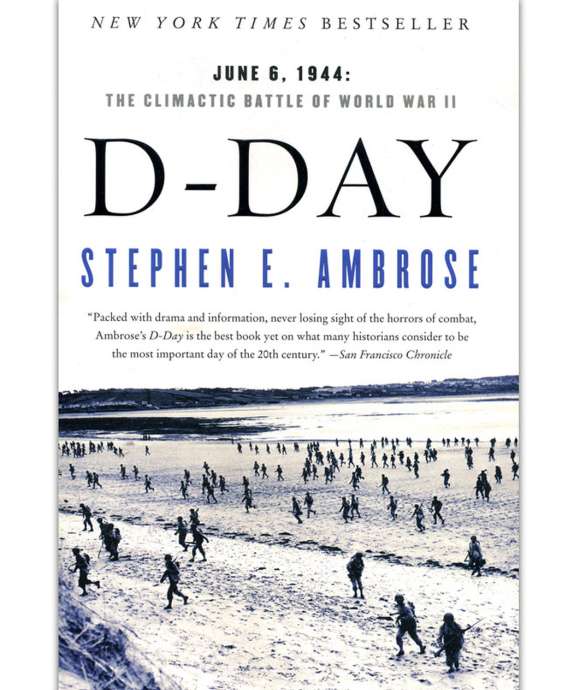 D-Day: June 6, 1944: The Climactic Battle of World War II
Stephen E. Ambrose draws from more than 1,400 interviews with American, British, Canadian, French, and German veterans to create the preeminent chronicle of the most important day in the twentieth century. 
VIEW BOOKS

Contributor
Kali Martin earned a bachelor's degree in International Studies and German at the University of Miami and a master's degree in Mili...
Learn More