In an ordeal as vast and destructive as World War II, a common question for consideration by students today is how did people manage to keep going, to perform their duties, in the face of carnage and the deaths of others, or even potentially to themselves? Members of the war generation have often credited religious faith as crucial to their ability to survive, or even transcend, their wartime experiences. The National WWII Museum is currently developing plans for its Liberation Pavilion exhibits, devoted to the lasting legacies of the war on our world today, and one of those exhibits will examine the role of religious faith in wartime.
I have often told students that history is all around them if they but look for it, and last year noticed three different intersections of religious faith and WWII history which all came together within walking distance of each other during a museum tour in Wroclaw, Poland (formerly known as Breslau, and part of Germany before World War II). What is memorable upon reflection is that two of the three monuments were surprises on the itinerary, but taken all together they formed a distinct story.
The first of these was a memorial to the Protestant pastor Dietrich Bonhoeffer, who was born in Wroclaw (Breslau). Bonhoeffer is notable as an opponent of the Nazi regime from its earliest days in power. Just days after Hitler assumed the chancellorship in January 1933, Bonhoeffer gave a radio speech in which he warned that a leader who made an idol of himself would turn out to be a misleader of the people before he was cut off the air (whether the Nazis were responsible was never firmly established). From that point onward, he was identified as an enemy by the Nazis, as Bonhoeffer stressed in his preaching that supreme allegiance was due to the Christian faith and not racial or nationalist ideology. In April 1933, he publicly called for resistance to Nazi persecution of Jews in Germany. He was then active in the "Confessing Church," organizing underground seminaries within Germany which promoted traditional Christian values.
Having studied at the Union Theological Seminary in New York in the early 1930s, Bonhoeffer could have arranged to stay in the United States on a more permanent basis during a return visit in 1939, but told his friend the American theologian Reinhold Niebuhr that he felt he could not in good conscience rebuild a postwar Christian Germany if he did not share the burdens of his fellow Germans in the trials he knew were coming. After his return, by 1941 the Nazis had banned Bonhoeffer from making public speeches or publishing within Germany.
Bonhoeffer was brought into the Abwehr (German military intelligence agency) by members who shared his concerns about the regime, and argued that his wide international contacts would be useful to the agency. The Abwehr provided cover for Bonhoeffer to travel in Europe, and he attempted to use these contacts to alert the Allies to resistance to the Hitler regime within Germany. However, when the Nazis discovered anti-Hitler plots within the Abwehr, Bonhoeffer was arrested in April 1943 and sent to Tegel prison in Berlin. After the failure of the July 20, 1944, plot against Hitler, he was accused of association with the conspiracy, and ultimately was transferred to Buchenwald and then Flossenburg concentration camp in 1945. In early April, as the Allies closed in on Berlin, Hitler ordered the execution of all of the Abwehr suspects. After concluding his Sunday sermon, Bonhoeffer was led away and hanged on April 9, 1945.
Bonhoeffer's legacy was that of a man who lived what he preached, and was willing to follow his beliefs even though he knew his pathway could cost him his life. His pacifism, resistance to evil, and martyrdom have inspired many protesters and dissidents across the world in the decades since the war, ranging from the American Civil Rights movement to the refusniks of Eastern Europe to anti-apartheid leaders in South Africa.
So it was with delight that on a quiet morning I came upon the Bonhoeffer memorial, erected to his memory near St. Elizabeth's church in his hometown of Wroclaw, standing in the shade of trees and café table awnings with fresh flowers at the base. I believe the sculpture of a kneeling human symbolizes the willing submission of Bonhoeffer to God for ethics of compassion and life. It is a fine reminder of the responsibility we all bear for the decisions we make, the courage necessary to be faithful, and the grace which might come through conviction. 
But as I mentioned at the beginning of this post, the walk we were on would yield two other scenes to contemplate the roles of religious faith during war, and these will be the subjects of my next two posts. 
This is the first of a three-post series. Read Part Two. Read Part Three.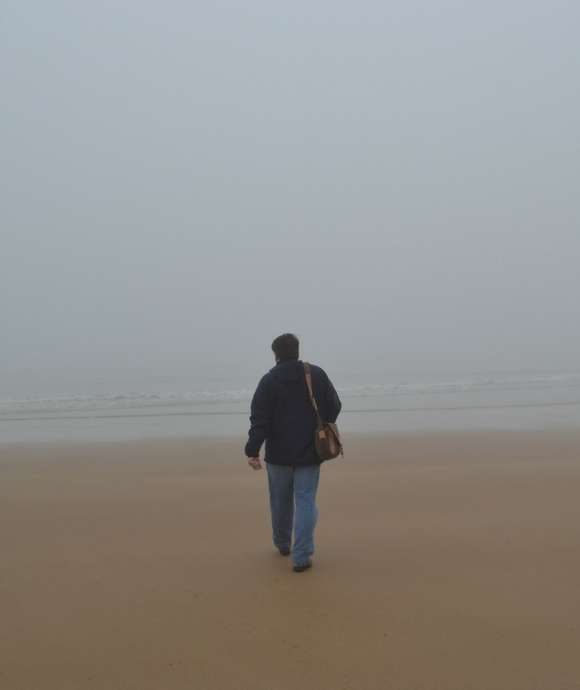 "No matter one's age, travel is a unique and exciting educational experience. In my work, I have had the opportunity to reflect on history, events, and people in the places where they experienced life. Through the viewfinder, we can not only find history and perspective, but create memory, and evoke our evergreen past."
– Keith Huxen, PhD, Senior Director of Research and History, The National WWII Museum 

Contributor
Keith is the former Senior Director of Research and History in the Institute for the Study of War and Democracy at The National WWII Museum.    
Learn More