Mildred Bonvilian (later Aupied) grew up in the bayou country near Houma, Louisiana. After graduating from Terrebonne High School she wanted more for her life than the only job she could find working in the five-and-dime store. So like many from small towns across the South, she moved to the city. In New Orleans, Aupied took a job at the telephone company and roomed with her sister, who had already made the move. A year later, Aupied saw a defense training school advertisement for a welding program targeted at women. "That's for me," she said. She knew right away that her life would change. She wanted to do something fruitful, something productive. She had sat at that desk long enough.
For women, war work provided opportunities unlike anything previously available. No task was unlearnable or a job too unusual for those seeking employment on the home front. Many women were driven to work outside the home for the first time during the war, but a larger number had already been employed previously in some capacity, like Mildred Aupied. These women were able to "trade up," leaving lower paying, often more traditionally female jobs, for higher paying positions in the production sector.
Opportunities in production were plentiful in the state of Louisiana and in the city of New Orleans, in particular. The state received over $1,733,713,000 in federal funds for war contracts through October 1944, and New Orleans retained a sizable portion of this new money. There were numerous businesses throughout the city that had to actively recruit workers in order to keep up with the production demand and contract quotas. One of these manufacturers was Delta Shipbuilding Company, Aupied's future employer.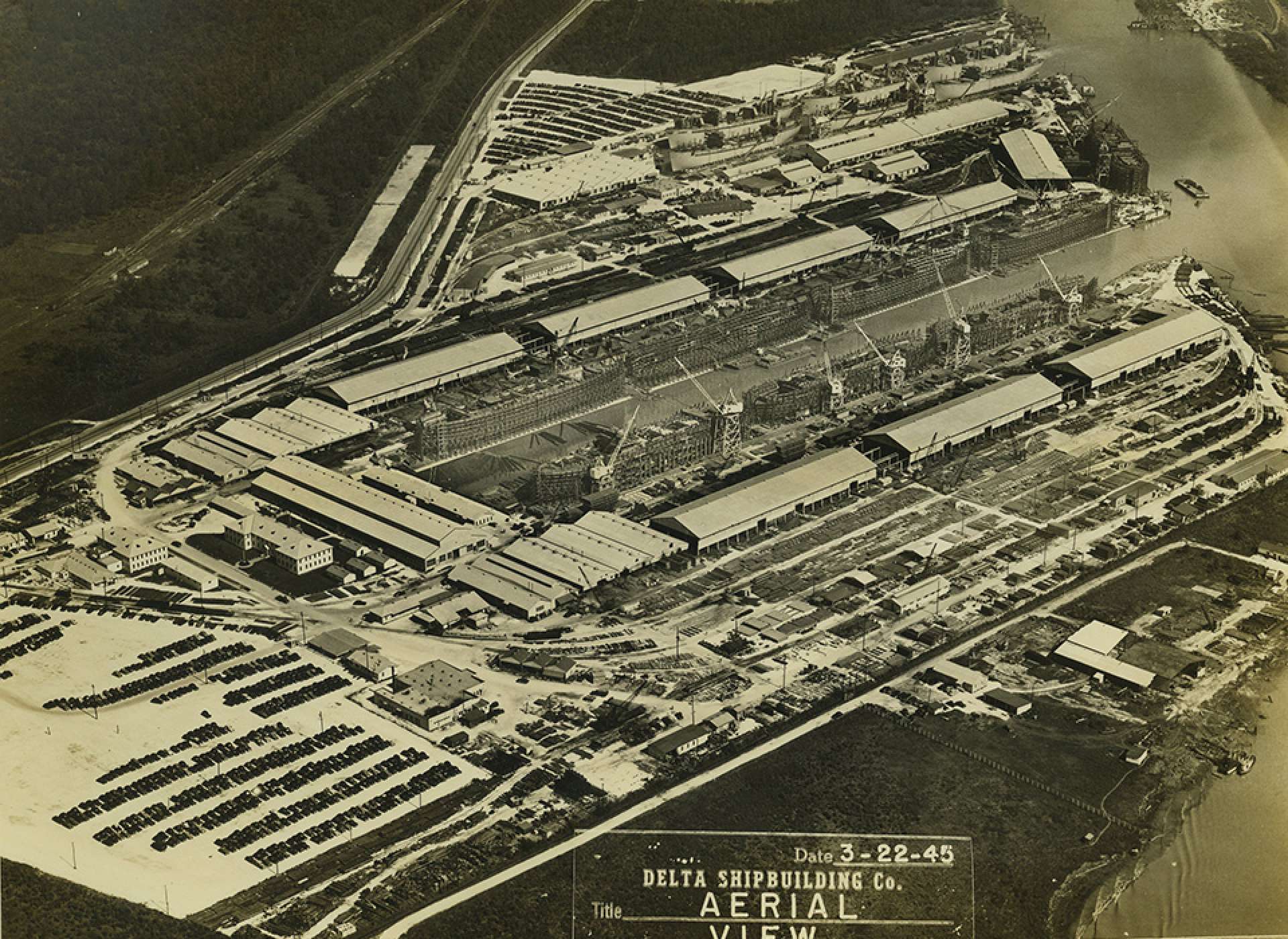 Delta Shipbuilding was one of the nine emergency shipyards established in 1941 by an initiative of the United States Maritime Commission to speed production of much-needed cargo vessels both for the United States and her Allies. One of the central products of the Emergency Shipbuilding Program was the massive Liberty ship. Liberty ships weighed more than 7,000 tons and became the backbone of the US merchant fleet, delivering 6,000 tons of cargo every hour during the war. Liberty ships were often referred to as "Ugly Ducklings," but the speed at which resources were made available and the rate at which American workers were able to turn out these enormous vessels were miraculous.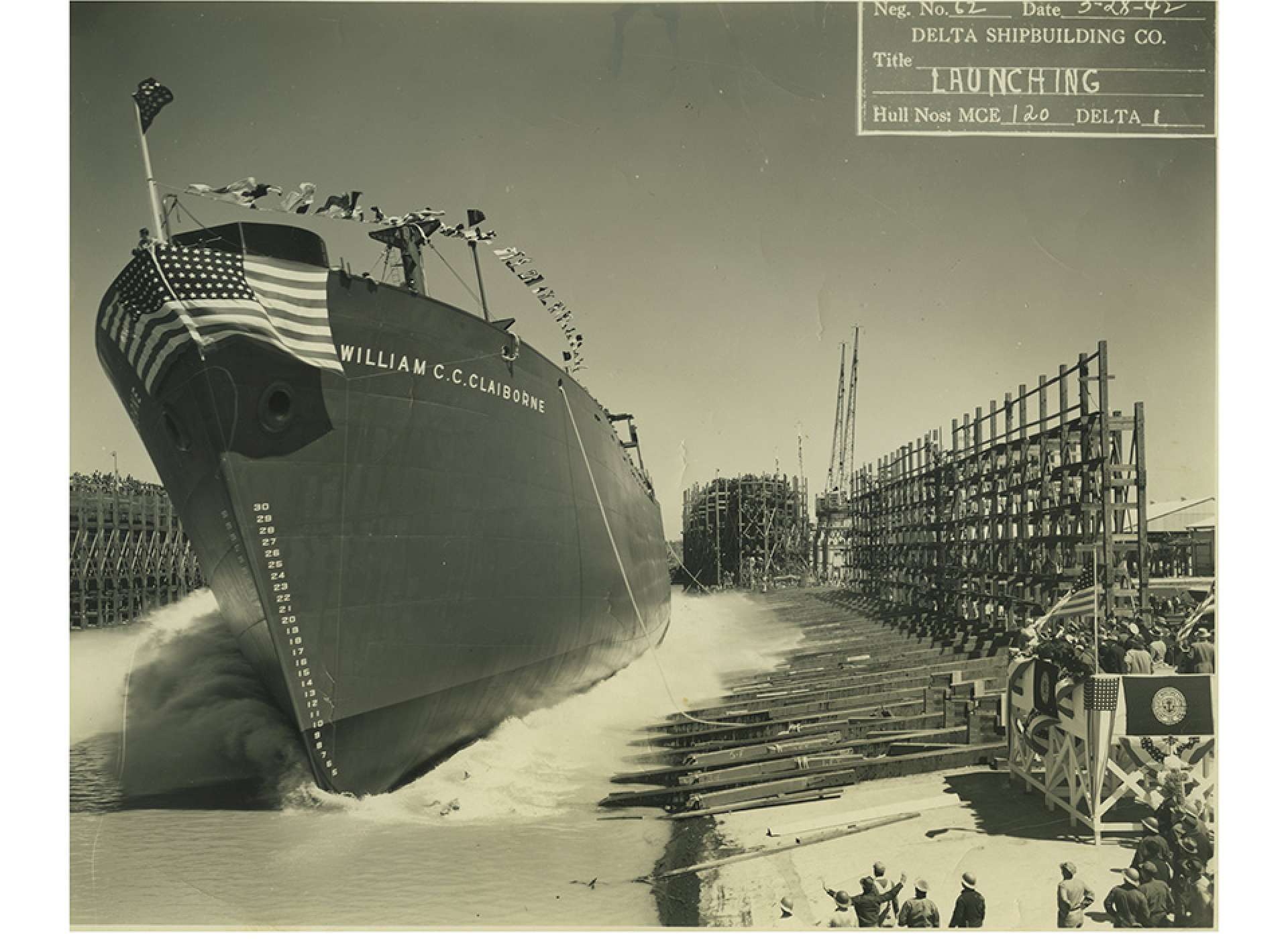 Delta launched a total of 188 Liberty ships (out of 2,710 produced overall) during the war. The average time it took the Delta workers to build one of these massive ships was on average 82.8 days. On March 28, 1942, Delta launched its first Liberty ship, the SS William C.C. Claiborne, named after the first governor of Louisiana. Just a few months later, in the summer of 1942, Mildred Aupied and a class of 20 other women began their training. The course lasted two months during which the women trainees devoted themselves to practicing welding.
After completing the program, they didn't even have to look for jobs; they were all immediately hired by Delta and went straight to work.
Delta had three shops and Aupied worked in Shop 1. She and the other female welders worked alongside the men, pulling their own cables and carrying their own equipment. They were determined to succeed. They pushed themselves, practicing different welds just for fun. They would experiment and try things out to see what they could do. Aupied said she and the other women welders worked harder than  the men in their shop who didn't have as much at stake. She told of being able to spot the difference between a woman's weld and a man's. The women welded in smooth, neat lines, whereas the men who had nothing to prove, showed a less meticulous approach. Aupied attributed this to a more carefree attitude, "They didn't care, but we did. We wanted to do good, so we did."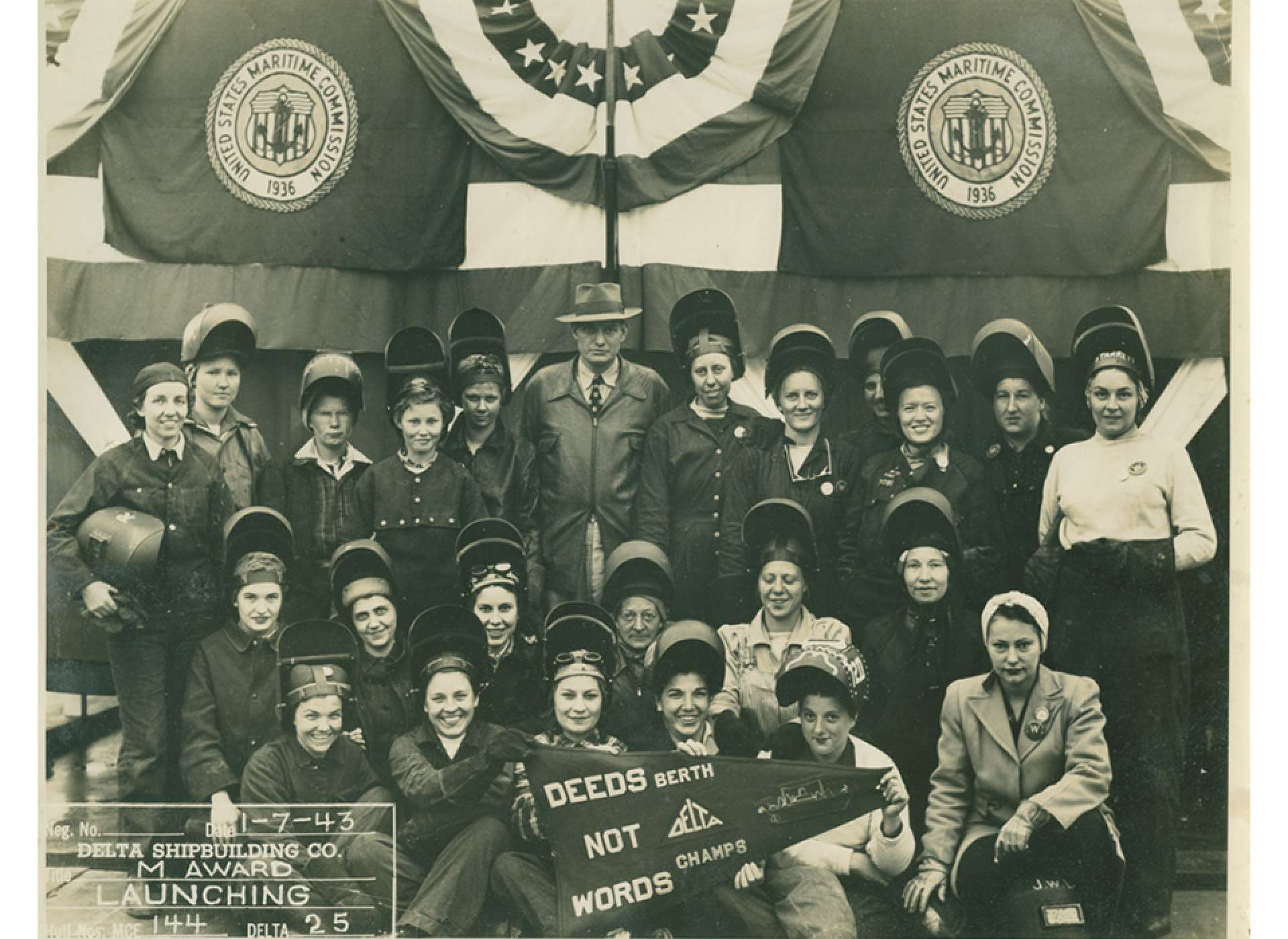 The work was hard, dirty, and dangerous. Aupied suffered  burns  when her welding rod fell in her shoe. Another workplace hazard was that Aupied was "scared to death of water," but she worked for years on ships sitting just above the water. A big part of the motivation was the paycheck for her eight-hour shift with the $1.25 rate of pay per hour. "Money makes you do a lot of things," Aupied stated in her oral history interview. Although she sent part of her earnings back home to her mother and siblings, she was able to save $2500 working at the shipyard.
Like most women who worked in production during the war一welders, burners, buckers, riveters一Aupied did not make a career out of shipbuilding. It wasn't necessarily because they were forced out by male veterans, who returned home to jobs in the field. She also didn't simply become a homemaker, never working again. Aupied held a variety of jobs throughout her life. She enjoyed shipbuilding as much as any other. But she was proud of learning and mastering a new and challenging trade. 
The women at Delta relished the opportunity, the pay, and the camaraderie. In addition, all of this hard work benefited their country during a time of tremendous labor shortage and need. Aupied had a message to future young women that she drew from her wartime experience:
"Follow your mind…when I heard…about the school for welders, I jumped at that right away. I said, 'This is what I want to do,' and I succeeded and did it…"

Contributor
Kimberly Guise holds a BA in German and Judaic Studies from the University of Massachusetts Amherst. She also studied at the Universität Freiburg in Germany and holds a masters in Library and Information Science (MLIS) from Louisiana State University. Kim is fluent in German, reads Yiddish, and specializes in the American prisoner-of-war experience in World War II.
Learn More