WAC Battalion's Wartime Service in England and France
In February 1945, the 6888th Central Postal Directory Battalion, self-proclaimed "Six Triple Eight" part of the Women's Army Corps (WACs), arrived overseas, landing in Glasgow, Scotland with orders to proceed to Birmingham, England. Led by Major Charity Adams, the highest-ranking black female in the US Army during World War II, the "Six Triple Eight" fought racism, sexism—and the Nazis.
Their wartime mission was to clear the two-year backlog of mail stacked to the ceilings in warehouses in Birmingham, England then Rouen, France. By war's end, the "Six Triple Eight" processed for delivery over 17 million pieces of mail in just three months. Their stories have appeared on CNN, BBC, NBC, ABC, CBS, The New York Times, USA Today, and the Washington Post. There are seven known surviving women from the unit ranging in age from 98 to 101 years old.
Seven Short Stories of "The Arlington 14"
Ever since the premiere of the documentary at the Military Women's Museum at Arlington National Cemetery in April 2019, extensive media coverage has resulted in significant interest  in the women's lives before, during, and after their service. An article about the "Six Triple Eight" and some of the women's adventures and achievements after the war appeared on the Museum's website in February 2021, The SixTripleEight: No Mail, Low Morale. Our most recent research project led to the extraordinary discovery of 14 women buried at Arlington National Cemetery. Below are seven short profiles.
Gatha Louise Amos enlisted in the US Army from Illinois. After serving in Europe, she remained in the army throughout the Korean and Vietnam wars. According to a February 14, 1970, article in the Afro Newspaper, Amos was a licensed mortician in the WACs. There is no evidence that she was involved in the burial preparations of the three women (SGT Deloris Browne, PFC Mary Barlow, PFC Mary Bankston) killed overseas and buried at Normandy American Cemetery, Colleville-sur-Mer in France. We may never know if Amos was involvedor even inspired by that experience, but it certainly is a curious proposition. She retired with the rank of Sergeant First Class. Amos died on November 8, 1996. She was interred on November 19, 1996, in Section 67, Grave 1603.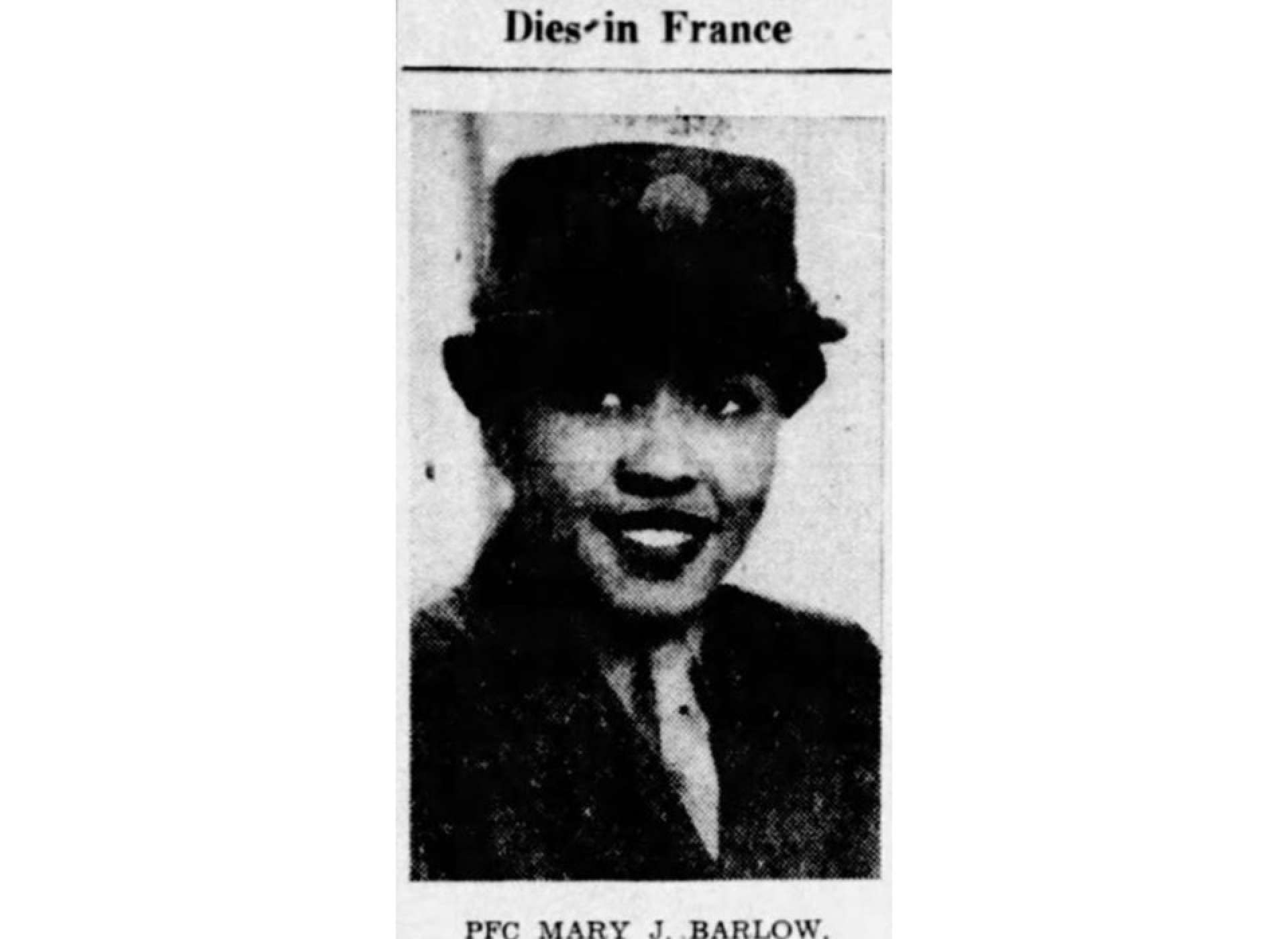 Catherine Louise Bowie from Texas was one of several "Six Triple Eight" women who served in World War II, Korea, and Vietnam. She passed away on October 6, 2010 and was interred on November 5, 2010 in Section 54, Grave 1432.
Allie Harshaw had a remarkable military career that spanned 30 years from 1943 to 1973. After her wartime service in Europe, she joined the Air Force where she became the first black female Master Sergeant to retire with 30 years of service. She fought in World War II, Korea, Vietnam, and the war against racism and inequality for her entire life. Harshaw passed away on November 28, 2013. She was interred on December 13, 2013 in Section 64, Grave 5494.
Major Margaret Ellen Barnes Jones served with the "Six Triple Eight" during World War II. Her first post as an officer was in Kentucky, where she was over a unit of African American women assigned to clean floors and latrines in the Camp Breckinridge hospital. After that, she began lobbying for better work assignments for the women she commanded. She and Myrtle Anderson were the first African American women Army officers stationed in Kentucky. She was a graduate of Howard University. Jones died on April 14, 2000. She was inurned on May 5, 2000 in Court 6, Section N1, Column 14, Niche 3. Her husband, retired Major Everett L. Jones, died in 2004. He was inurned with his wife.
Annie Beatrice Knight Jordan, a Georgia native, lived in Washington, DC after World War II. In 2019, a family member contacted Six Triple Eight researchers and advised them that she was a member of the unit. She attended Howard University and became a member of the Sigma Gamma Rho Sorority Inc. Jordan is pictured in the iconic 1946 Staten Island photo when the "Six Triple Eight" returned from Europe. She died on January 13, 2010. Jordan was interred on January 22, 2010 in Section 3, Grave 4353-B.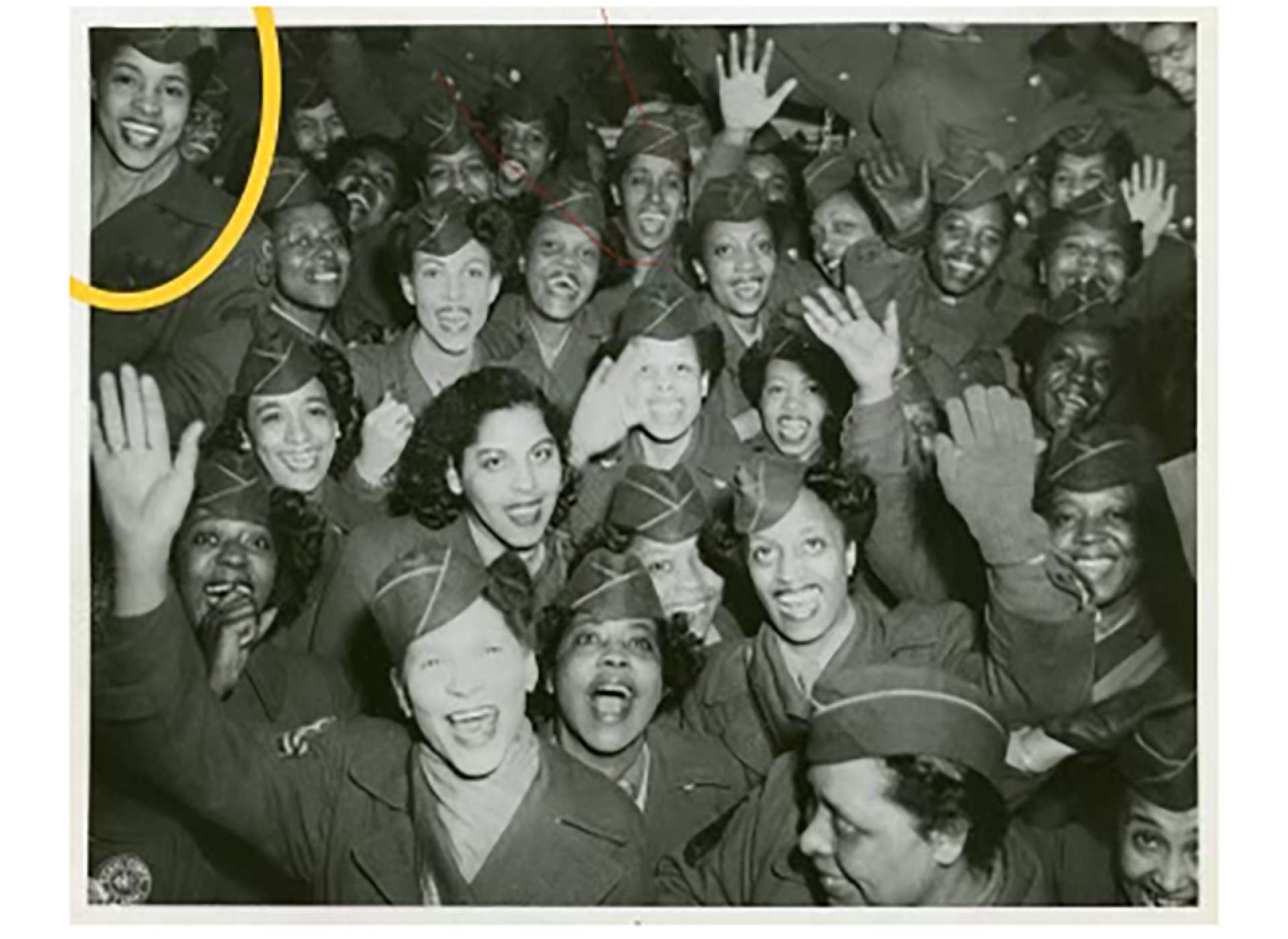 Mary Crawford Ragland was raised in Wilmington, Delaware, and enlisted in the US Army right out of high school. She decided to join after seeing a recruiting advertisement in the newspaper that offered black women a chance to go overseas. With the war in Europe over, the Battalion transferred stateside in an abrupt process. Despite the quick discharge, Ragland looked back fondly on her service. "We represented our country, our organization and ourselves. We were so proud." Ragland died on July 30, 2010. She was inurned on August 25, 2010 in Court 7, Section PP, Column 2, Niche 5.
Major Blanche L. Scott of Boydton, Virginia, was known to her friends as "Scottie." She worked as a nurse's assistant at St. Elizabeth's Hospital in the 1930s and enlisted in the Women's Army Corps in 1942. After completing Officer Candidate School, she served as battalion personnel officer with the "Six Triple Eight." She remained in WACs after the war and served in the public affairs office at the Pentagon under then-Colonel Benjamin O. Davis, Jr. "Scottie" passed away on February 26, 2007. She was interred on March 26, 2007 in Section 64, Grave 2962.
The remaining "Six Triple Eight" women interred at Arlington National Cemetery are:
Hortense Pollard Cole in Court 7, Section NN, Column 19, Niche 1
Lila Virginia Burt Dale in Section 68, Grave 1308
Margaret Y. Jackson in Court 8, Section PP, Column 23, Niche 1
Mary Louise Peterson in Section 66, Grave 1657
Ardella C. Pitts in Section 59, Grave 1762
Bessie Lee Robinson in Section 43, Grave 887
Willia G. Knighton in Section 64, Grave 6306
A Monument, A Documentary, and the Congressional Gold Medal
In November 2018, after several years of planning and fundraising, a monument to the 6888th Central Postal Directory Battalion was dedicated at Buffalo Soldier Park, Fort Leavenworth, Kansas. In April 2019, a documentary "The SixTripleEight" by Lincoln Penny Films premiered at the Military Women's Museum and served as the impetus for Congress to author legislation to honor the women with the Congressional Gold Medal, Congress's highest expression of national appreciation for distinguished achievements. George Washington was the nation's first recipient on March 25, 1776. Other recipients from World War II include the Montford Point Marines, Tuskegee Airmen, the crew of the USS Indianapolis, and the "Hidden Figures" women from NASA.
On February 11, 2021, Congresswoman Gwen L. Moore (D-WI-4) introduced H.R.1012 - 'Six Triple Eight' Congressional Gold Medal Act of 2021. The House bill needs 290 cosponsors to pass and currently has over 200 House members in support of the legislation. The goal is for the House to pass their legislation by Veterans Day 2021. When passed, the Congressional Gold Medal will secure the Six Triple Eight's legacy alongside our nation's other distinguished military units, organizations, and individuals.
On February 12, 2021, US Senator Jerry Moran's (R-Kan) introduced legislation (S. 321) to award the Congressional Gold Medal to the members of the Women's Army Corps who were assigned to the 6888th Central Postal Directory Battalion,the "Six Triple Eight,"during World War II. The unit served at home and in Europe where they sorted and routed mail for millions of American servicemembers and civilians. On April 30, the Senate bill passed unanimously.
A Virtual Cemetery Reveals Other Significant Final Resting Places
Thanks to the efforts of Vietnam veteran, Marsha "Cricket' Holder, we now have insights into the final resting places of 456 "Six Triple Eight" veterans found in the All-Black WAC 6888th Postal Directory Battalion: a Virtual Cemetery.
The 6888th Virtual Cemetery shows clusters of women who are buried together—either by circumstance or by choice. Due to southern Jim Crow laws, many "Six Triple Eight" women left the south and joined the Army from New York. We know of 20 gravesites at Virginia's Calverton National Cemetery and 11 gravesites at Long Island National Cemetery in New York. Riverside National Cemetery in California is the final resting place for 13 of these unsung heroes and Quantico National Cemetery in Virginia counts eight women.
When retired Army Major General Mari K. Eder, The Girls Who Stepped Out of Line, the Untold Stories of Women Who Changed the Course of World War II, learned of the Arlington 14, she said, "I knew that Charity Adams Early wasn't buried in Arlington. She is with family in her hometown of Dayton, Ohio. What I didn't know is that there are 14 members of Adams' groundbreaking unit buried in Arlington. I haven't been to visit these pioneering women yet, but I will."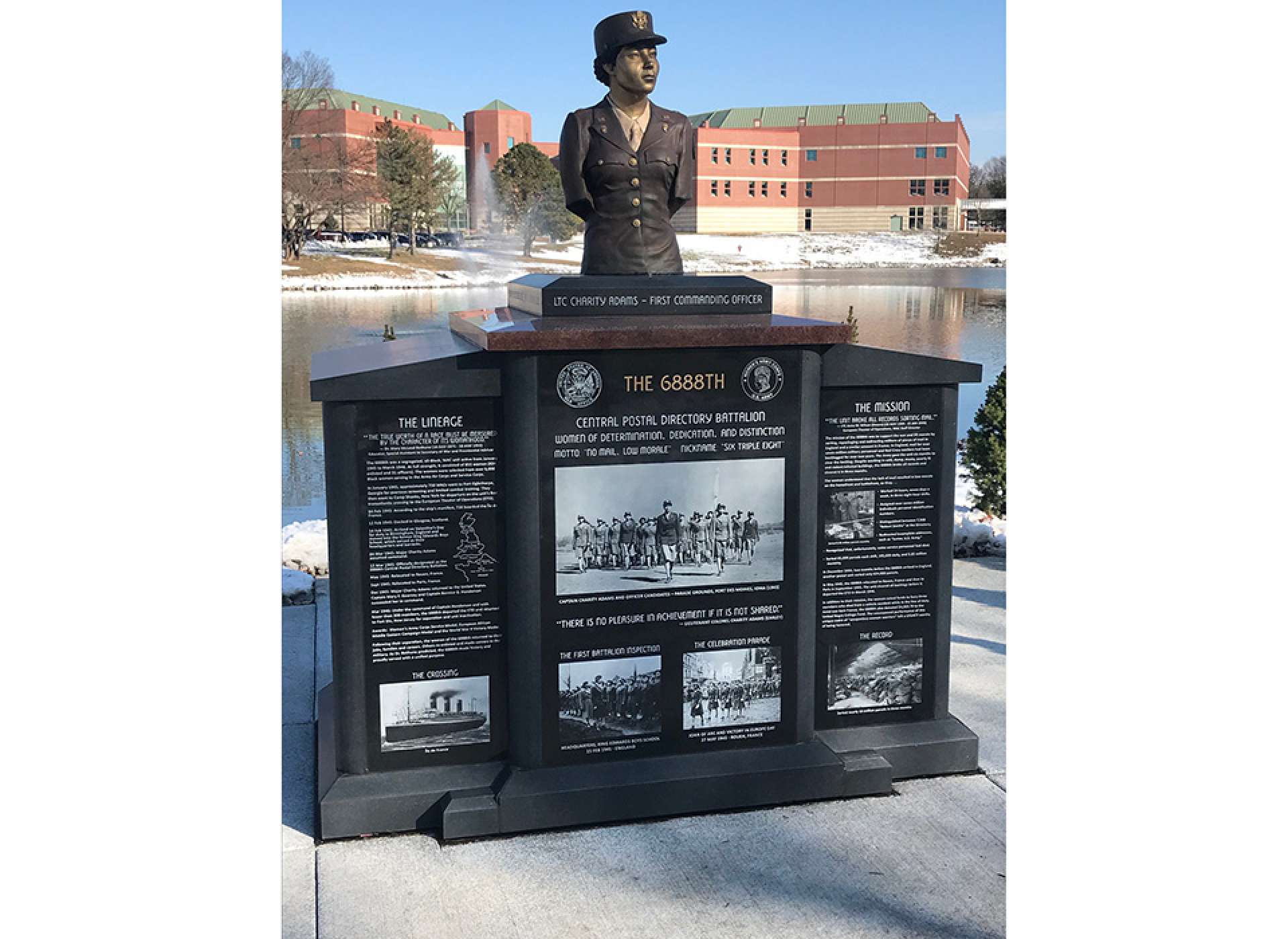 ---
Meet the Author
James William Theres is an award-winning Executive Writer at the National Cemetery Administration, Department of Veterans Affairs in Washington DC. He has received 10 Veterans Affairs national awards for speech writing, feature writing, event planning, and media affairs. As an independent filmmaker, he has written, directed, and produced three documentary films, The 30th of May (2016), The Hello Girls (2018), and The SixTripleEight (2019). His films have received over 40 filmmaking awards and have appeared on Mississippi and Wisconsin Public Television: and on National PBS. In 2019, for his documentary The Hello Girls, James received the prestigious Daughters of American Revolution (DAR) Media and Entertainment Award, and a Special Recognition Award from the US Army Women's Foundation. On November 11, 2018, the 100th anniversary of the WWI Armistice, James screened The Hello Girls in Chaumont, France, the former headquarters of General John J. Pershing and the American Expeditionary Force (AEF). His next film, The SixTripleEight, received a Special Recognition Award from the Congressional Black Caucus. In May 2019, the SixTripleEight screened throughout the UK at the invitation of US Ambassador to the Court of James, Robert Wood Johnson.  
His work has screened at film festivals in the United States, England, India, South America, and Taiwan; and at public institutions such as the Women in Military Service to America (WIMSA) museum, the National Archives in Washington DC, National WWI Museum in Kansas City, The National WWII Museum in New Orleans, the Harry S. Truman Presidential Library in Independence, Mo, and the Jimmy Carter Presidential Library in Atlanta, Ga. James has a BA in History from the University of Wisconsin-Whitewater (1988), an MBA from Cardinal Stritch University (2007), and an MA in History from Jackson State University (2016). In May 2016, James received the prestigious Dr. Margaret Walker Alexander Award for his graduate paper, "The 30th of May" at Jackson State University's 10th Annual Creative Arts Festival. James is a Persian Gulf War/US Army Veteran.