On May 12, 2018, nearly 400 students and coaches from 37 teams gathered at The National WWII Museum's US Freedom Pavilion: The Boeing Center to compete in the sixth annual Robotics Challenge. Many of the eager competitors arrived up to an hour before registration opened to prepare for the day. They came armed with displays about WWII people, places, and objects in their community and with robots programmed to complete a specific set of mechanical tasks on competition tables. 
All of the tasks were linked to this year's Robotics Challenge theme: The Pelican State Goes to War, also the title of a Museum special exhibit set to begin touring Louisiana in fall 2018. Judging was done by volunteers from Chevron (supporting sponsor of the event along with Motorola and the Bruce J. Heim Foundation), and referees were provided by Fontainebleau High School's robotics team. 
Patrick F. Taylor Science & Technology Academy took home the Grand Champions trophy, judged on team spirit and overall performance. Florida Avenue Elementary won the robot competition, and Gretna No. 2 Academy for Advanced Studies won the project-presentation competition. 
The 2019 Robotics Challenge will carry the theme Arsenal of Democracy: The Home Front, and thanks to a recent commitment of generous funding by Boeing Corporation will expand to regional competitions leading to finals at the Museum. Full details will be released in October, with team registration scheduled to open in January 2019.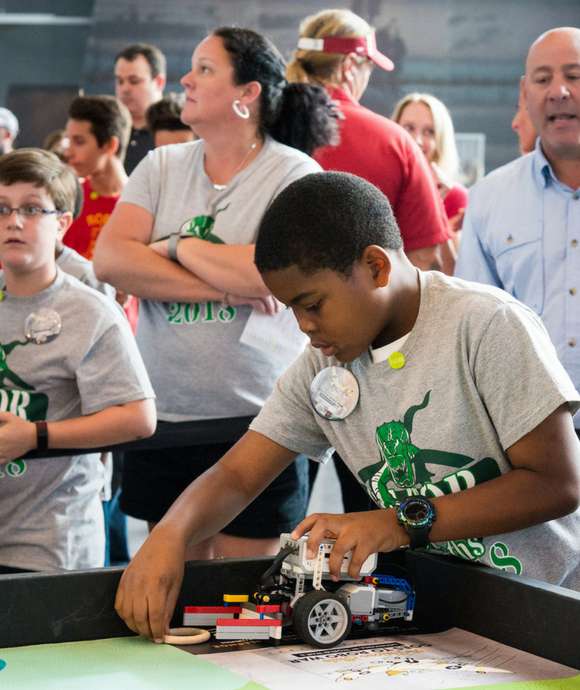 STEM Learning at the Museum
Read about how the Museum incorporates WWII-era science, technology, engineering, and mathematics (STEM) into its K-12 education curriculum. 
Learn more!