The Associated Press reported on the Museum's record-breaking December, and the story ran far and wide, including the websites of US News & World Report, Houston Chronicle, San Francisco Chronicle, San Antonio Express-News, Miami Herald, Charlotte Observer, Kansas City Star, and Seattle Post-Intelligencer, among dozens of other outlets.
In Louisiana, the story was picked up by New Orleans CityBusiness, Biz New Orleans, and Baton Rouge's WVLA. The New Orleans Times-Picayune ran the AP story in its January 7, 2018, Sunday print edition (see photo at top), and New Orleans network affiliates WWL (CBS), WDSU (NBC), and WGNO (ABC) carried stories on local TV newscasts.  
December capped a great year for The National WWII Museum, with a new record for single-day attendance (6,642 on December 27), single-week attendance (30,030 on December 26-31), best December attendance (67,119 visitors), and best total-year attendance (706,000, an increase of 31,000 over 2016).
"We are extremely proud to share the Museum's unprecedented growth with visitors from around the world," said Stephen J. Watson, Museum President & CEO. "In just the past 12 months, we dedicated our Founders Plaza, launched a fully restored patrol-torpedo boat, opened a new permanent exhibit, and broke ground on The Higgins Hotel & Conference Center. We are proud to continue to advance our educational mission, while simultaneously supporting the cultural economy in the city of New Orleans."
Thank you to the Members and visitors who make such growth possible by supporting the Museum's mission to tell the story of the American experience in World War II. And thank you to all of our Museum staff members and volunteers for their hard work during the busy holiday season.
There's more—much more—to come at The National WWII Museum in 2018 and beyond!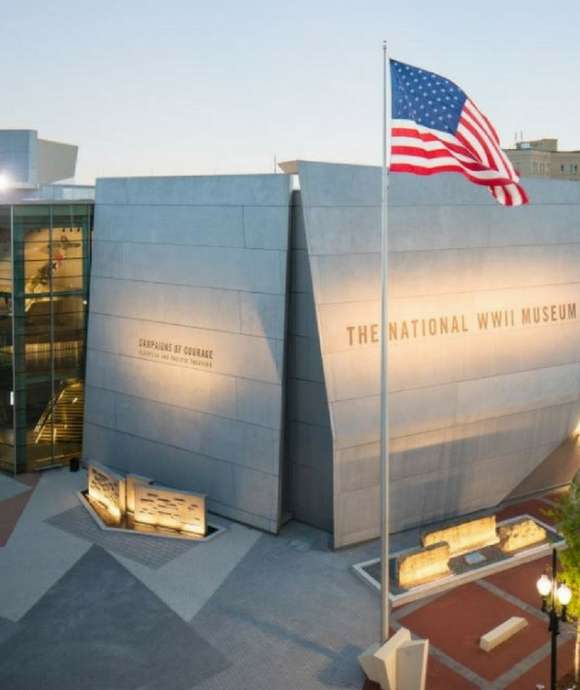 The National WWII Museum
Telling the story of the American experience in the war that changed the world. 
Plan your visit!