One of the final touches to the restoration of PT-305, finished in November 2016, was a fresh coat of paint. But this was not just a fresh coat, it is the camouflage pattern applied to PT-305 in November of 1944, called "Measure 32 modified."
During World War II, US Navy ships were rarely painted gray. There existed a large and diverse number of camouflage schemes for a number of tactical situations. Generally speaking, camouflage is not intended to make a ship disappear, but rather to make a vessel's course, speed, and class difficult to determine. For large vessels, the US Navy issued specifically designed camouflage patterns. For PT boats, the camouflage patterns were inspired by official designs, but were ultimately determined by squadron commanders.  
"Measure 32 modified" was an experimental pattern intended specifically for making torpedo attacks. The "Thayer blue" on the forward part of the hull made it more difficult to see from a distance at night coming head on, while in the initial stages of a torpedo attack. The color transitions to a "deck blue" on the after part of the boat to aid in the retirement from a torpedo attack. Up close, darker blues are more difficult to see, making class and course more difficult to determine. Deck blue also reduced visible shadows from concentrated light sources, such as searchlights and star shells, making it more difficult to determine the boat's location. The blue painted on the deck was intended to reduce visibility of the vessel when viewed from aircraft. 
In addition to the three shades of blue on the boat, PT-305 also carried aircraft recognition coloration. "Insignia yellow" was painted on the bow, "insignia red" across the stern, and a large red and yellow star was painted on top of the radar dome. This was intended to make PT boats in the Mediterranean easily identifiable to Allied aircraft.   
Over a year of research using photographs and period documents went into determining the camouflage pattern applied to PT-305. The recreation of the "Measure 32 modified" applied to PT-305 restores her unique identity and highlights her combat history.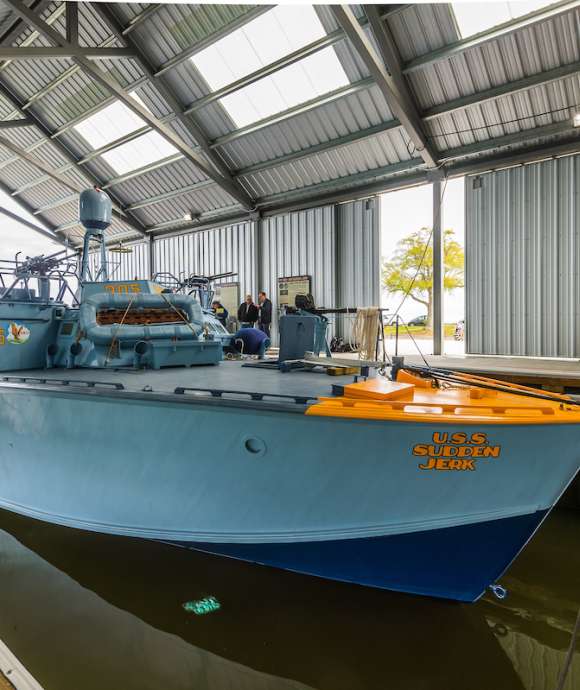 See PT-305 Up Close With A Deck Tour!
A 45-minute deck tour is a great, affordable way to experience history like never before aboard the world's only fully restored combat-veteran PT boat in operation today.
Book Your Tour