The first time I met General Eisenhower was in the spring of 1964, at his home in Gettysburg, Pa. He had asked me to become an editor of his papers. When we completed a discussion of what would be involved, he said he had noticed I was teaching at LSU in New Orleans. "Did you know Andy Higgins?" he asked.
"No, sir," I replied. "He died before I came to town."
"That's too bad," Eisenhower said. "He is the man who won the war for us."
My face showed the astonishment I felt at such a statement from such a source, so Eisenhower explained: "Without the Higgins' boats, we could never have landed on an open beach. Had Higgins not designed and then built in such quantities the LCVP (Landing Craft, Vehicle, Personnel), the whole strategy of the war would have been different, and probably not successful."
Other firms made different types of landing craft (as did Higgins), other industrial plants in New Orleans produced ships (the most important was Delta on the Industrial Canal, which made Liberty Ships), but the story of New Orleans in World War II will forever be linked with Higgins Industries. Upwards of 30,000 New Orleanians worked at the Higgins boat yards; they produced upwards of 20,000 landing craft. "Let's thank God for Higgins Industries," Eisenhower declared in a Thanksgiving address in 1944.
Andrew Jackson Higgins is all-but-unknown in New Orleans today. There are no markers or memorials to him in the city that forgot to care, no streets or schools named for him. But he was never forgotten by the man who was in the best position to know how critical was his – and New Orleans' – contribution to the victory. It is, therefore, altogether fitting and appropriate that The Historic New Orleans Collection is featuring Higgins Industries in its exhibit on New Orleans in the war years.
The war years were wonderful years for New Orleans. The city had been as hard hit by the Great Depression as any in the nation, with an unemployment rate that sometimes went over 30 percent, but during the war the city boomed. Higgins, Delta, and other plants provided full employment and then some. Many of the workers were women, many were black, holding full-time, well-paid jobs for the first time in their lives. Personal savings doubled, then doubled again. A steady job and money in the bank was something most New Orleanians under 35 years of age had never before experienced.
Visitors came to the city in record numbers. They were servicemen, not tourists, either in transit to the combat zone or stationed at Camp Leroy Johnson, the Algiers Naval Base, Jackson Barracks, Camp Plauche, or the Naval Reserve Aviation Base (on site of present-day UNO), one of the largest flight-training centers in the nation.
A city famous for his hospitality did all it could for these young men, ranging from houses of prostitution (there were over 100 known whorehouses) to bars to city- or USO- sponsored dances to reading rooms to a popular program that arranged for lonely servicemen to have Sunday dinners at the homes of New Orleanians. Brian Altobello, in his new and highly recommended book New Orleans Goes to War: An Oral History of New Orleans During World War II, points out that tax revenues from the sale of beer more than doubled between 1942-1944 – without an increase in the rate! The love affair that the American people have with New Orleans got its start during the war; the city today hosts more veterans associations' reunions than any other.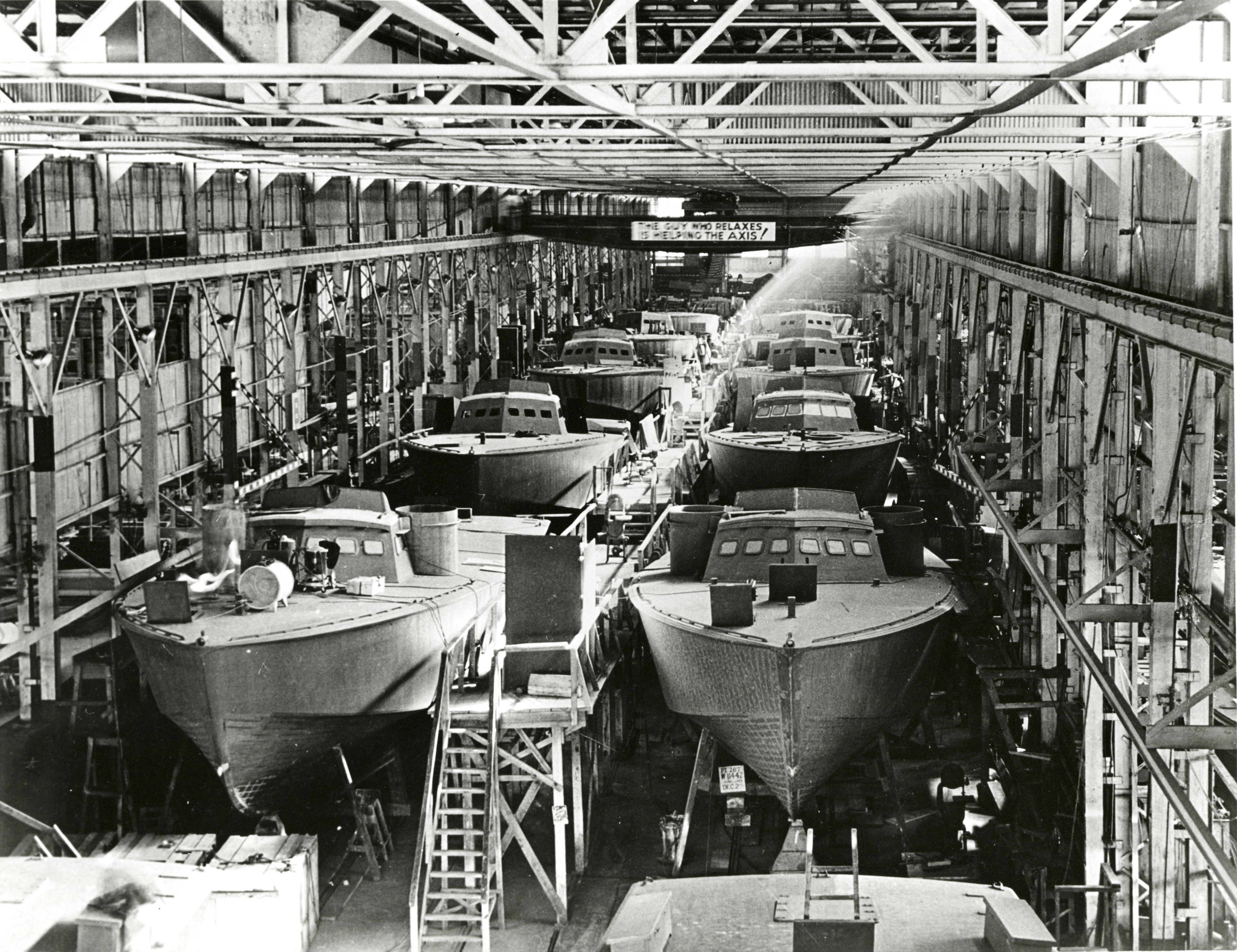 Although Mardi Gras was canceled for the duration, there were plenty of parades – as always, any excuse would do. There were Army Day parades, Navy Relief parades, Higgins Industries parades, Mother's Day parades, and so forth.
Of course there were difficulties ("Don't you know there's a war on?"). Gas rationing, meat rationing, no tires to be had any price, no new cars or washing machines or other consumer durables for sale. Two technological breakthroughs that were to permanently change life in New Orleans that had been ready to take off in 1940 had to be postponed until after the war – air conditioning and television. People went to the movies (in record numbers) or to dances for their entertainment; they found such relief from the summertime heat as they could by fanning themselves on their front porches.
Some things never change in New Orleans. The lead story in The Times-Picayune on December 6, 1941, was an attack on the newly elected mayor, Robert Maestri. It blasted Hizzoner for allegedly mishandling public funds, for expensive private parties at the taxpayers' expense, and other indiscretions.
Patriotic as always, New Orleans sent tens of thousands of her young men off to war. On Monday morning, December 8, 1941, there was an enormous rush to enlist. Altobello reports that the first in line was Lymen Crovetto of 1705 Gallier Street. Crovetto worried that his occupation, dice dealer at the Jefferson Inn, would force the Marines to turn him down, but he was accepted.
The panic that swept the nation hit New Orleans hard. On January 22, 1942, Governor Same Jones warned: "We are not safe in our homes. Do you know that an airplane can fly in a line from the Pacific to New Orleans in five hours? We are not safe." General Campbell Hodges, president of LSU, predicted that New Orleans would "sooner or later get its share of bombings."
What it got instead was more than its share of sinkings of ships by German submarines off the mouth of the Mississippi River. They began in May 1942 and continued for more than a year. Initially the pickings were easy for the U-boat commanders, as lights from automobiles and coastal villages and cities silhouetted oil tankers. Eventually General Walter Kreuger, commander of the Southern Defense Command, ordered a blackout for all coastal towns along the Gulf, effective ten miles inland for all small towns and 25 miles inland for cities of 5,000 or more.
Except for those who got jobs at Higgins Industries or who went into the armed services, blacks saw little improvement in their lives. New Orleans denounced Hitler for his racism while maintaining a rigid system of segregation at home. Blacks sat in the back of the bus (or street-car), they got their water from separate drinking fountains, used segregated toilet facilities, were not allowed to eat in white restaurants, sat in the balcony in their own section movie theaters, and otherwise were degraded in public in every way possible. That racism stood in sharp contrast to the central theme of New Orleans at war. The theme was teamwork. "We are all in this together" was a phrase heard almost as frequently as "Don't you know there's a war on?" In the Depression, New Orleanians had felt isolated, alone, fearful. In the war, they felt a sense of belonging. There was a commitment to the notion that society's needs come before individual desires. The war created a "we" generation, as opposed to today's "me" generation. We were faced with a great challenge, we met it, we overcame all obstacles and we won.
On the day the war ended, Marjorie Haselton wrote her husband, in the Navy in China, a letter that summed it up perfectly: "You and I were brought up to think cynically of patriotism by the bitter, realistic writers of the twenties and thirties. This war has taught me -- I love my country and I'm not ashamed to admit it anymore. I am proud of the men of my generation. Brought up in false prosperity and then degrading depression, they have overcome these handicaps. None of you fellows wanted the deal life handed you – but just about every one of you gritted your teeth and hung on. You boys proved that you had a fighting spirit and team work that couldn't be beaten."
Everything that Mrs. Haselton said applied to New Orleans in the war, most especially to the men and women who served in the armed forces or worked for Andy Higgins. In these days of the "me" generation, it is no wonder that those New Orleanians over 55 years-of-age look back with a certain nostalgia and think of it as "the good war." That is the spirit that The Historic New Orleans Collection has captured in its exhibit.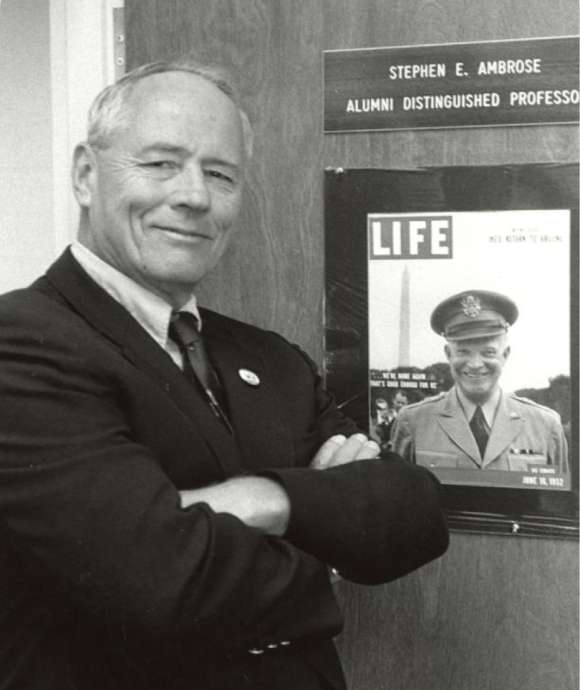 Stephen Ambrose
Stephen Ambrose, (1936-2002) PhD, inspired and guided the early development of The National D-Day Museum. Ambrose's role as founder of the institution that would later become The National WWII Museum was strengthened in many ways by his celebrity as a bestselling historian who was sought after as a speaker and film consultant.
Learn More