By December 1944, World War II had become a zero-sum game for Germany. Operation Watch on the Rhine, subsequently known to the Americans as the Battle of the Bulge, began on December 16, 1944 as an effort to split the Anglo-American armies and seize Antwerp. At the least it would set the western Allies back on their heels; but Adolf Hitler also hoped it might force them to seek a separate peace, allowing him to redeploy Germany's shrinking military assets to the eastern front against the Soviet Union. It was a strategy born of desperation, for everyone with a scrap of sanity recognized that Germany could not survive 1945 without a miracle—and maybe not even then.
This sense of desperation only hardened attitudes among German soldiers, both Wehrmacht and Waffen SS, on the battlefront. Hitler had from the beginning posited the war effort as presenting only two possible outcomes: total victory or absolute defeat. Germany's catastrophic defeats on the eastern and western fronts, which had now brought Soviet and western Allied forces to the country's doorstep, reinforced perceptions that the end was near. So did Allied strategic bombing campaigns that laid waste to many German cities.
Atrocity was anyway nothing new to the Waffen SS—or, in some cases, the Wehrmacht. Veterans of fighting on the eastern front had already witnessed innumerable atrocities committed against captured soldiers and helpless civilians, to say nothing of the Waffen SS's frequent participation in the wholesale campaigns of extermination against European Jews. In the west, the Allied invasion of Normandy on June 6, 1944 triggered a series of German war crimes against captured soldiers (some of the American paratroopers who landed on the night of the invasion were tortured and murdered by Wehrmacht soldiers) and French civilians. The most notorious of the latter took place on June 10, 1944, when a company of the 2nd SS "Das Reich" Division murdered some 642 French civilians in the village of Oradour-sur-Glane.
Such events formed the context for the notorious murder of dozens of American soldiers at Malmedy, Belgium, on December 17, 1944. On that date, German troops of the 1st SS Leibstandarte "Adolf Hitler" Division under SS Obersturmbahnführer (Lieutenant Colonel) Joachim "Jochen" Peiper crashed into a convoy of American rear-echelon troops near the town of Malmedy and, after a brief firefight, captured 113 men. Most of the captured came from Battery B of the 285th Field Artillery Observation Battalion. The Americans were not, it should be emphasized, front line troops who had fought stubbornly and then thrown up their hands at the last moment. Nor did they pose any particular threat to the Germans. Peiper, however, was in a hurry to keep on schedule with his drive to the Meuse River, and he and his troops were accustomed to executing prisoners as a means of projecting "shock and awe."
What happened next is reasonably well documented. After speaking briefly to his subordinate, SS Sturmbahnführer (Major) Werner Pötschke, Peiper moved on ahead. About an hour later, some time after 2:15PM, the Americans were assembled in a field. German machine gunners then opened fire and massacred them. SS men walked among the wounded, shooting some of them in the head; and they also murdered a Belgian widow who owned a local café. Consideration was given to massacring other Belgian civilians who witnessed the atrocity, but the Germans were not particularly interested in concealment, and they were eager to move on. It was thanks to this that some Americans were able to feign death and escape afterwards. By Waffen SS standards, it was a sloppy massacre; but eighty-four defenseless American prisoners of war lay dead.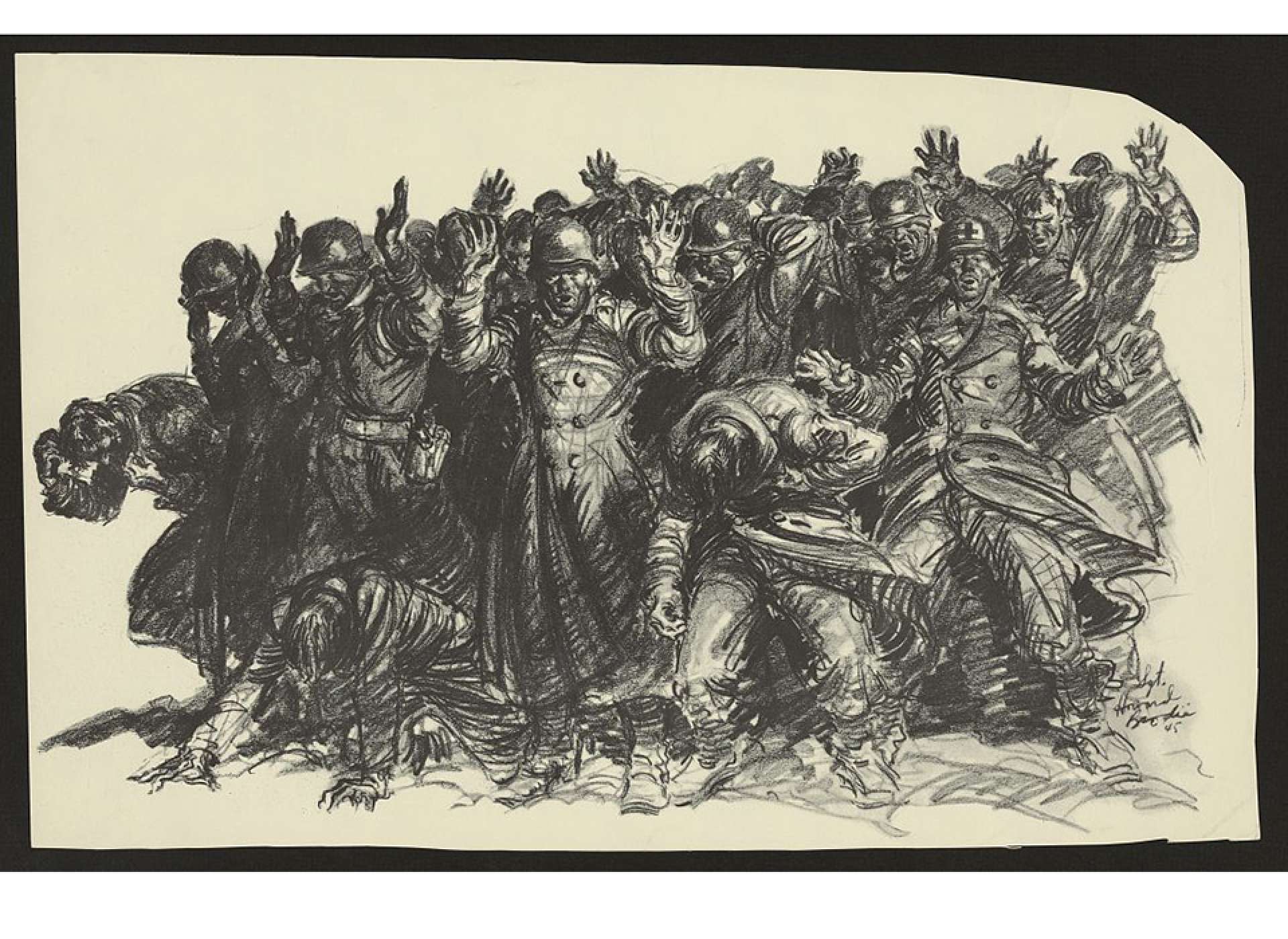 News of the atrocity appeared almost immediately, thanks to those Americans who were able to escape and make it back to their lines. The bodies of those murdered were not recovered, however, until the following month. In the short term, the Malmedy massacre incensed the Americans fighting in this sector, as few other atrocities had managed to do. And the US Army didn't forget. Unfortunately, the war crimes trial that took place from May-July 1946 on the site of the Dachau Concentration Camp was botched by American prosecutors. Perhaps more important, the SS men who had been so casual about committing murder on December 17, 1944, now closed ranks to defend each other and foment grossly exaggerated claims of torture at the hands of their captors. In the end, the perpetrators, including Peiper, escaped with no more than several years' imprisonment. Yet justice has a long arm. Peiper, an unrepentant Nazi to the end and living brazenly in France, was himself murdered when unknown assassins set his house on fire on July 14 (Bastille Day), 1976.

Contributor
Edward G. Lengel is Senior Director of Programs for the National WWII Museum's Institute for the Study of War and Democracy.
Learn More