In 1942, Big Band music was at its height of popularity. As American servicemen began to leave for distant shores, the songs of Big Band orchestras became the soundtrack to a long and trying war. In 1942, few acts were as popular at home and abroad as The Glenn Miller Orchestra. Seventy-five years later, the Orchestra's songs are still the soundtrack to the war for many. It's practically impossible to visit a museum covering the war without hearing one of the band's popular songs such as "In the Mood" or "Moonlight Serenade." During the war, Glenn Miller's music was more than just entertainment for Americans far from home, even after his tragic disappearance in 1944. 
Alton Glenn Miller was born in Iowa in 1904, moving around with his family several times before settling in Colorado, where Miller graduated from high school in 1921. Music had quickly became Miller's passion and he skipped his high school graduation for a gig in Wyoming. He attended the University of Colorado in Boulder off and on before dropping out to focus on his music career. In the late 1920s through the mid-1930s, Miller played in various bands around the country, working with notable artists such as the Dorsey Brothers and Benny Goodman- some of the kings of a new type of music, Big Band jazz. An emerging genre of swing music, Big Band jazz took its name from the larger bands being formed, which gave their music a different sound. In 1937, Miller put his first band together. The band was well-received, even playing at the Roosevelt Hotel in New Orleans in the summer of 1937. Internal difficulties led Miller to dissolve the group by the end of 1937, though he quickly came back with a new band in the summer of 1938.
The new group Miller organized became known as the Glenn Miller Orchestra. Already well-established by late 1939, Miller's band skyrocketed into the limelight when they performed with the highly popular African American quartet The Ink Spots at the Paramount Theatre in New York. Following on the success of that performance, the Orchestra was signed to a reoccurring series on CBS radio, the "Chesterfield Moonlight Serenade." The fifteen-minute program ran three times a week from December 1939 until September 1942. The next year Miller added an NBC radio program, which meant audiences across the country could hear the Glenn Miller Orchestra on a radio program almost every day of the week.
In 1941, the band ventured into another medium—film. First came the film Sun Valley Serenade, starring Norwegian skating star Sonja Henie as a foreign refugee adopted by a band led by Ted Scott, played by John Payne. The band performs throughout the film and accompanies numbers by Dorothy Dandridge and a gravity-defying dance routine by the Nicholas Brothers. A second film, Orchestra Wives, about a young woman marrying a trumpet player and the difficulties they faced, followed in 1942. Along with Ann Rutherford, Orchestra Wives featured George Montgomery and Cesar Romero, who both joined the armed forces before the war was over.
The band's foray into film, constant touring, and radio programs lifted their music to the top of the charts. As the nation began to gear up for war and men were drafted through the Selective Service Program, the Orchestra began to tour military installations. In 1941, Miller started a new radio program, "Glenn Miller Sunset Serenade." Five military installations were selected each week to participate. Each installation would choose a favorite song, which the Orchestra played on that week's program. The public audience then wrote in to vote for their favorite of the five. The installation with the winning selection won a new RCA radio-phonograph and fifty recordings. Miller paid for this himself at an estimated cost of one-thousand dollars a week. For the patriotic Miller at the height of his success, it was a small price to pay in support of America's Armed Forces. This was just the beginning of Miller's support for a soon-to-be war effort.
In the summer of 1942, despite several radio contracts renewing and new opportunities coming his way, Miller applied for a US Navy commission. The navy rejected his application. Undeterred, Miller quickly offered his services to the US Army, which was all too happy to offer him a commission. During a rehearsal for the Chesterfield program, Miller asked that everyone but the band leave the studio. He had news: Miller was breaking up his band to accept a commission in the US Army. America's favorite band leader was to become Captain Glenn Miller, US Army.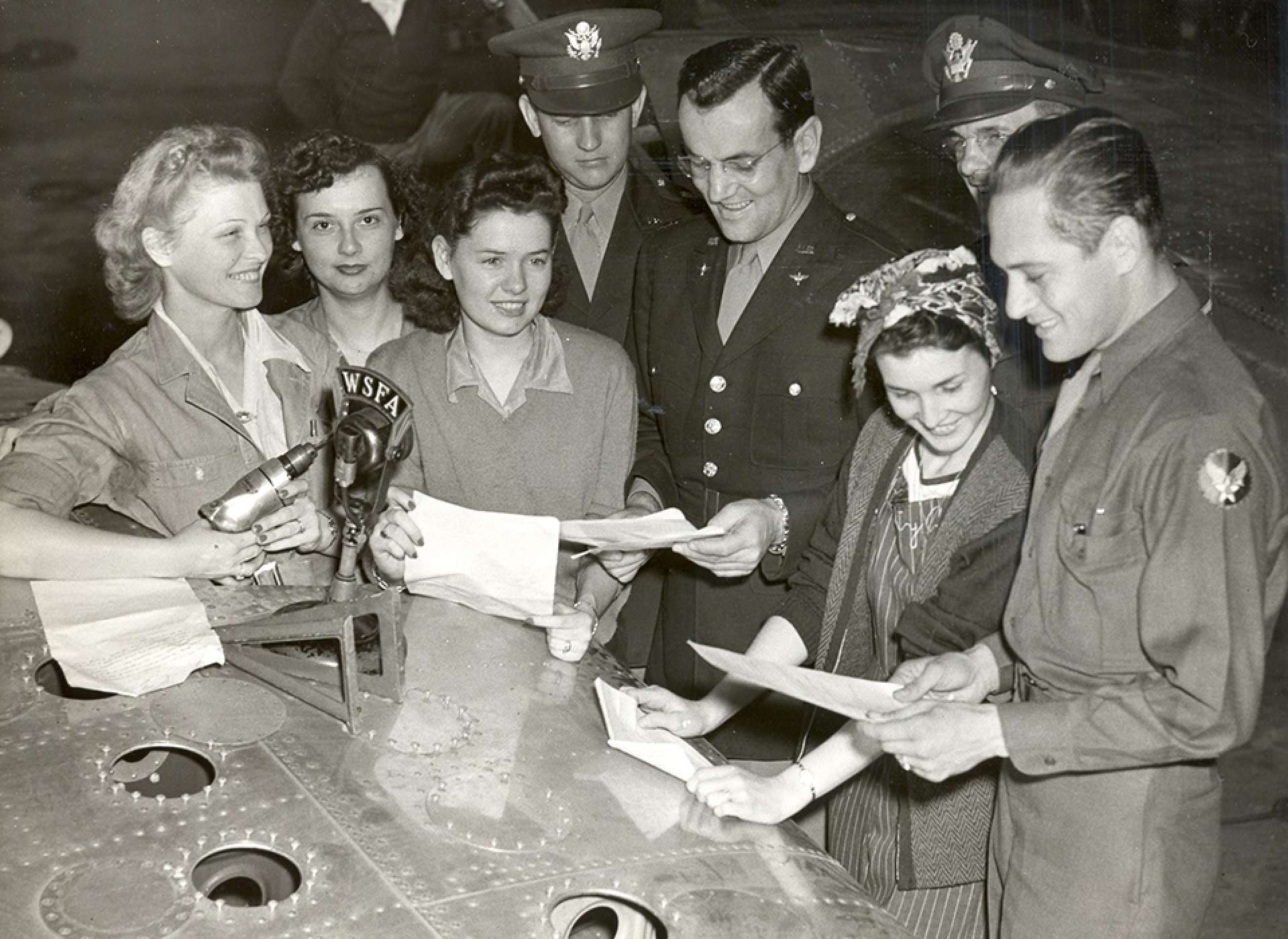 Reporting for duty on October 7, 1942, Miller received his formal commission as captain in November, was transferred from the US Army to the US Army Air Forces (USAAF), and assigned to Maxwell Field, Alabama. By 1943, Miller was named the Director of Bands, Training, for the Army Air Forces Technical Training Command and moved to the USAAF Basic Training Station #2 in Atlantic City, New Jersey. As Director of Bands, Miller began to recruit. Any civilian who wanted to play for him in the Army Air Forces simply had to write him a letter of intent and give him details on their skills. Upon enlistment, Miller could request almost any man he wanted and have them pulled into his unit. Several of the musicians who had played with Miller in civilian life followed him into uniform and joined his band again.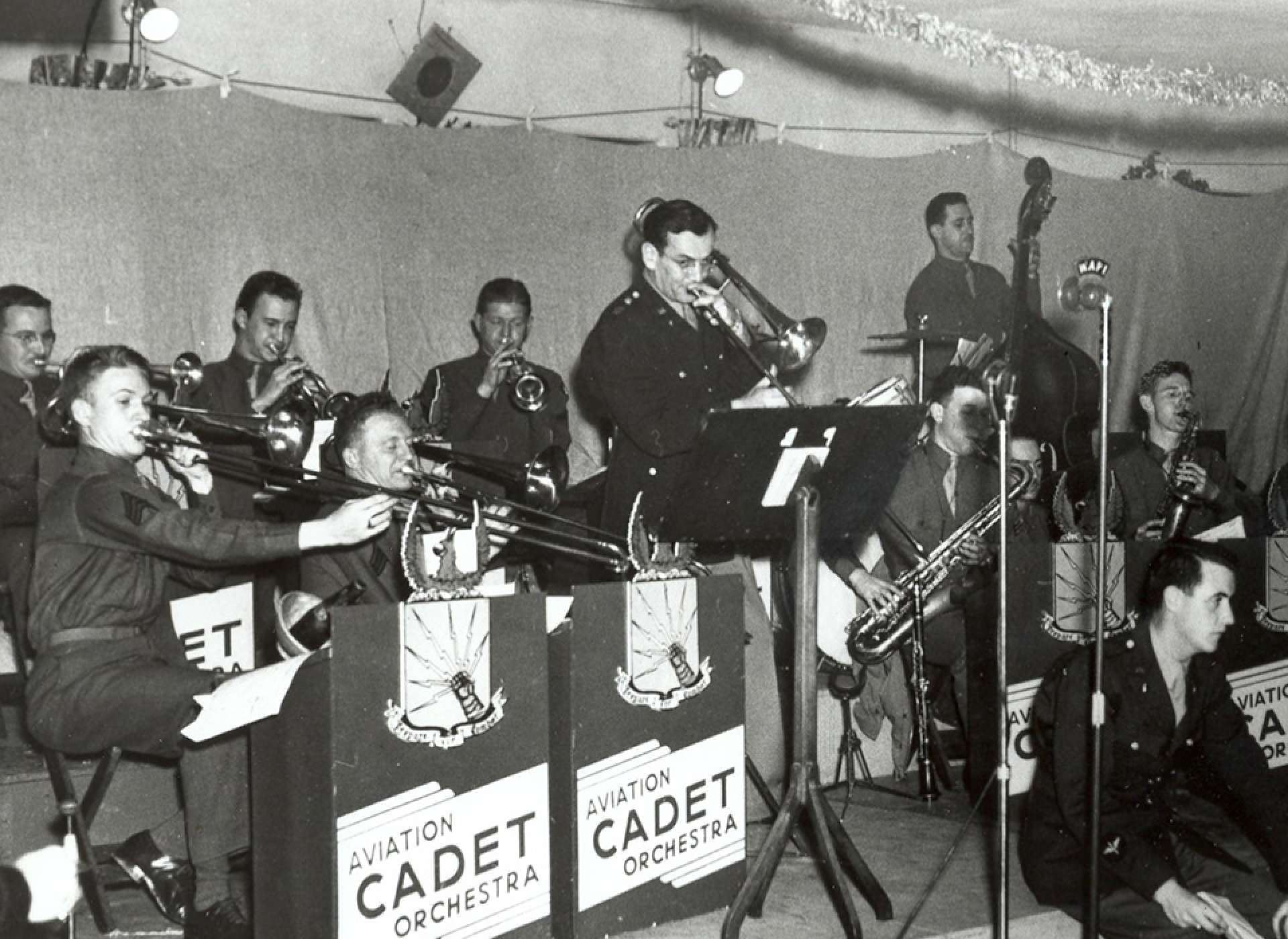 Another move in 1943 took Miller to New York City where he was assigned to Yale University to set up a radio production unit and concert orchestra. This Army Air Forces Band was larger than any Miller had led before joining, and he was able to mix smaller elements into the group which could play dance and jazz numbers, broadening what his orchestra could offer audiences. Never one to focus on one outlet at a time, during 1943, Miller and his orchestra toured the US, contributed to Office of War Information recordings by recording "Uncle Sam Presents" for use by American forces and "Music from America," which targeted foreign audiences. A larger project was "I Sustain the Wings," a program of music and sketches detailing Army Air Forces units, job specialties, and more in hopes of obtaining recruits. Appearances by the band at bond drives easily netted upwards of four-million dollars in pledges in a single night. Although Miller had joined the Army Air Forces and created a new band, he remained as popular as ever with the civilian population. But Miller was not satisfied; He wanted to play in person for troops overseas.
Fortunately for Miller, Supreme Allied Commander, General Dwight Eisenhower had already put the wheels in motion to get Miller to the European theater. In 1943, Eisenhower ordered a radio network to be put together for the entertainment of troops awaiting further deployment in England. There was much about life in Britain that American GIs found strange, and the radio broadcasts by the British Broadcasting Corporation (BBC) were at the top of that list. They craved familiar songs from home, American news, and American sports in familiar accents with comedy that they understood. The American Forces Network (AFN) was born out of a need to improve morale, and it went live in the summer of 1943. Filled with familiar news and music from home, it had an instant effect, improving morale. Eisenhower was pleased, but wanted more.
He wanted Captain Glenn Miller.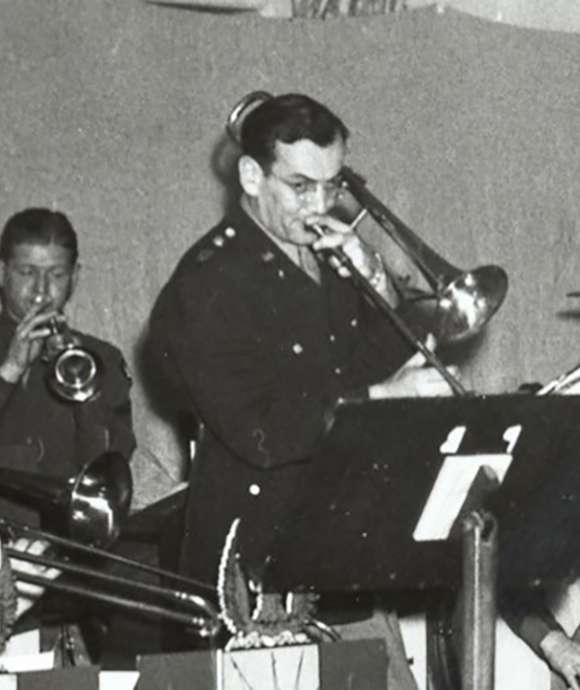 Major Glenn Miller: The Loss of an Icon
"We didn't come here to set any fashions in music. We merely came to bring a much-needed touch of home to some lads who have been here a couple of years." – Glenn Miller
Read More

Contributor
Kali Martin earned a bachelor's degree in International Studies and German at the University of Miami and a master's degree in Mili...
Learn More